Affiliate Marketing on Pinterest is a great way to drive traffic to your website that will convert.
Pinterest is the social media platform considered as one's best friend when it comes to DIY projects and design inspiration. Most of us rely on it like a bedrock while others open it when in need for some quick inspiration strike ups.
However, Pinterest is not only made for DIY aficionados but is also a very lucrative platform for anyone wishing to make online passive income.
If you're confused about how one can possibly make money through a bunch of images shared on boards, it's understandable.
Pinterest has a great advantage for online business owners – it's a subtle way of using affiliate links.
Unlike, Facebook and Instagram which bombard you with advertisements and force your money out of your wallets, Pinterest actually gives you content that you were looking for.
And when you click on something that you are genuinely interested in; you are taken to websites that talk more about the subject.
Here you can be given recommendations to purchase different products catered to your need which you can ultimately choose to purchase.
And if you're the blog owner, this is the time you get your pot of gold!
The process described just now is a gist of what affiliate marketing on Pinterest looks like.
The opportunities that Pinterest offers to people looking to earn money online are endless, and for someone working in affiliate marketing, Pinterest is a treasure chest waiting to be unlocked.
So, if you really are interested in generating online income, here is the complete guide for affiliate marketing with Pinterest.
This post may contain affiliate links. If you use these links to make a purchase I may earn a commission at no extra cost to you. I only recommend products that I love, personally use, or are thoroughly researched. Your support is what makes this blogging thing possible!
What Actually is Pinterest and How Does it Work?
Simply put, Pinterest is a visual search engine.
Imagine Google but instead of getting your search queries answered in texts, you get it in beautiful graphics that give you information or redirect you to a detailed blog post. This is what Pinterest does.
Largely, Pinterest is a content-sharing platform that focuses mainly on community engagement. More than anything, it encourages the option to share images or pins, as it is commonly known.
What this means is there are greater chances of your content going viral on the platform than on any other social network.
You also attract people who are actually interested in your content. This is because Pinterest optimizes on relevancy and so the more relevant your content is to a user's query, the more likely your pin will come up in the top results.
But, what about stats? How popular is Pinterest and is it on par with platforms such as Facebook or Twitter?
Well, to save you some time, Pinterest is actually better than Facebook or other social media platforms.
Here are some stats that will help you understand how competitive and widely used Pinterest is and why affiliate marketing on Pinterest is important:
In mid-2020, Pinterest has had over 1.1 billion user visits with an average visit duration of 5 minutes.
The number of monthly active users on Pinterest is approximately 416 million people.
Pinterest can send 33% greater traffic to your website than Facebook can. 
Now, let's look at the statistics that really count for someone who's planning on using Pinterest to earn money from:
More than 90% of Pinterest users make purchase decisions on the platform weekly.
97% of the searches on Pinterest are unbranded content, meaning small businesses can easily reach the topmost feed through organic promotion.
Around 50% of users have stated that they use Pinterest to discover new products and purchase them.
Nearly 100% of Pinterest users have claimed that they use Pinterest to try out new things.
So, what does it all mean? For a newly established online business, it means that they are more likely to get exposure through organic content and can attract more people to purchase from them.
Therefore, unlike Facebook or Instagram where you need to put advertising money before you earn anything, Pinterest allows you to earn and grow without spending a meager buck.
Affiliate Marketing on Pinterest
If you're not familiar with the concept of affiliate marketing, here is a short description of what it is:
Affiliate marketing is a method of earning money through commissions.
You can sign up with intermediaries online, the reputed ones being ShareASale or Awin, and connect with different companies that want you to promote their goods and services.
They will give you a customized tracking link where if someone clicks on your link and purchases something from the company, you will get a percentage of that sale.
Here are some Affiliate Programs that I am a part of and recommend.
With Pinterest, you can promote your affiliated company and its products through two ways:
a) having your own website with content that markets the company and their products, or
b) uploading images as pins that are directly linked with your tracking code.
The cool thing about Pinterest is that you can do Pinterest affiliate marketing without a blog. But if you are looking to start a blog read this great article to learn how to start your blog from scratch and make money.
Because Pinterest is great at generating relevant and valuable traffic, utilizing its platform to earn money through affiliate marketing is something you must get on.
Furthermore, you are spending a total of zero dollars on advertisements to get visibility for your content.
All you are doing is uploading pins with proper Pinterest SEO (more on that later). Therefore, there is virtually no cost involved unless you want to boost up the speed at which you get results.
So, you can understand why Pinterest is the most amazing tool online to earn money from, right?
But there are different ways that you can start with affiliate marketing on Pinterest.
3 most popular strategies:
#1: Link Up Your Pins
This method is as simple as it can get.
Suppose you are promoting a face cleanser. You can spend a few minutes creating a Pinterest appropriate image titled 'The Best Face Cleanser for Oily Skin'.
While you upload this image on Pinterest, you can add your affiliate link to the post, and voila – you have an affiliate pin, this is all the work you need to do!
Whenever a person searching for 'the best face cleanser for oily skin' finds your pin and clicks on it, they will be redirected to your affiliated company's website.
This strategy can only take about 5 minutes of your time at maximum, and a bit longer if you want to jazz up your graphics with tools such as Photoshop or Illustrator.
But this being quick and easy also means that everyone else is doing it too, and there's little to separate you from the clutter.
So, you are going to fall back into the crowd, making it harder to sustain your income for the long-term.
This method is perfect for whoever is just testing the waters and isn't ready to put a full-time commitment towards online earning.
I purchased Pin templates from Creative Market to make it easier for me to get started.
This is just one of the many styles Creative Market has. I'm sure you can find one that fits your brand style.
#2: The Blogging Wizard's Traffic-Generating Machine
This is significantly more time-consuming than the previous method but it all pays off in the long-term (yes, it can even get you sipping mocktails under the sun as money continues to flow into your bank account).
For this method, you need to open up your own blogging website and create or curate content that will actually engage people.
You can post reviews, informative articles, tutorials and more – all of which will give people visiting your site a push to purchasing your affiliated company's products.
But how do you get the people to come to your website? This is where affiliate marketing with Pinterest comes in.
After you have created and organized your blog's content, you can create around 5-6 pins that promote these blog posts.
You can then upload these pins to Pinterest and attach links to the relevant content.
Because Pinterest is amazing at bringing organic traffic to websites, you're sure to get loads of people reading your articles and taking action on your affiliate link.
For example, I will use this pin to promote this article on Pinterest. If you found this article helpful, please do share and PIN IT!
#3:  An Email A Day Keeps the Debt Away
This can be slightly more technical and in need of a proper strategy to be successful but believe me, it works like magic when you do it right.
In this method, you need to collect emails from potential customers. You can do this either through opt-ins on your website or by giving free workbooks or cheat-sheets to people if they sign up with their emails.
Once you have collected all emails, you can set up an email sequence using third-party software such as MailChimp or Convertkit (my software of choice).
With each email that you send, try to offer something valuable and build trust with the people you're communicating with.
After a while, send them an affiliate link for a product that you recommend. Because all of your previous emails have built a sense of trust in your subscribers, they will be more receptive to hearing you out and actually taking action on your recommendations.
The way Pinterest helps is by getting you these potential subscribers. You can promote your freebie by uploading pins and linking them to the appropriate landing page.
You can also promote your website content and lead people to sign up with their emails.
This may be the workman's way but all of your hard work is sure to get you that dream salary that you've always waited for.
The Nine Steps to Success: Growing Your Pinterest From Ground-Up
Now that you know about the different strategies available to promote your affiliate links, here is the step-by-step tutorial for you to actually attain your dream.
You need to realize that spamming content will not get you anywhere; in fact, it will get you to the opposite of anywhere: nowhere.
If you are interested in sincerely making online passive income, you need to put in the work for it.
If you constantly post content without a proper strategy in place, you will only be getting a few pennies in the short-term and absolutely nothing in the long-term.
Therefore, you must focus on a definite plan to ensure Pinterest affiliate marketing success.
So, here are 9 steps that you can follow to reach your own online pot of gold through Pinterest (no leprechauns involved):
Step One: Read the Guidelines
We all know that rules are meant to be followed, and not doing so is going to cost us.
For affiliate marketing, the rules are slightly astringent. This is because you will have to follow rules set forth by the Federal Trade Commission, your individual affiliate program as well as Pinterest Business guidelines.
Here's a quick run-down on what these rules are and the things you need to be aware of to not get banned:
Federal Trade Commission Endorsement Guidelines
The FTC guidelines dictate that whenever you post an affiliate link, you must clearly mention that your post contains affiliate links from which you will be receiving a commission whenever someone chooses to purchase a product through it.
Some of the general things that the FTC recommends you to follow for social media affiliate marketing include:
Make sure to write a clear statement or denote your post with hashtags such as #sponsored or #ad to let people know that your content is endorsed by the company that you are promoting.
Your written disclosure should be in a position that is visible to readers, namely at the top of your content.
Even if your post is on someone else's website, you still need to put up a proper disclosure notice.
Your disclosure has to be briefly explained with a statement such as 'I get commissions for purchases made through the links in this post' instead of putting up just 'affiliate link' in the description.
If you are someone living in the United States, this guideline is important for you to follow to avoid legal issues.
Proper disclosure protects both you and potential customers. As a customer, you would like to know whether a recommendation from someone is motivated by something else, such as a company sponsoring them or offering them commissions for each sale.
This helps customers to evaluate their purchase decision by being more aware.
None of this is supposed to dissuade potential customers from purchasing through your link – instead, it actually makes them appreciate you more for being transparent about your affiliation with the company you are promoting.
Affiliate Program Guidelines
These can vary depending on which company or intermediary you are joined up with.
Some affiliate programs love to constantly make changes to their guidelines (Amazon being notorious for it). So you must keep tabs on your affiliate program to avoid being penalized for rules you weren't even aware of.
There are often specific guidelines as well. If you are using sites such as Awin or ShareASale, you'll find companies giving you a set of rules to follow.
An example of a rule that is commonly set is that you cannot bid on certain keywords in Google Ads (which isn't really important to you if you're using Pinterest for marketing).
There can also be some companies that restrict you from marketing their products on specific social media sites. This is a rule you need to be aware of since you will be using Pinterest.
Pinterest Business Guidelines
If you are using Pinterest for marketing, it is best to open up a Business account instead of a Personal account. This helps you get more tools to promote your content.
For Pinterest Business accounts, there are some general rules that you need to follow, such as not posting content that violates laws or regulations, etc. You can read the full Terms and Conditions here.
For affiliate marketing, you simply have to follow FTC guidelines. Other than that, Pinterest also doesn't allow you to shorten or hide your affiliate link. Therefore, you need to post the full link with your pin.
Step Two: Decide on a Suitable and Profitable Niche
This is perhaps the most defining stage when you begin affiliate marketing.
Your chosen niche is what you will base your entire content on, and so it must be something that you are knowledgeable about and that is profitable in the long-term.
It must also have a narrow enough audience that you don't have to promote to a market that is already saturated but the size of the audience must be wide enough for you to target enough people to earn from for a long time.
 Some niches work better on Pinterest than others. Since the platform is largely revolved around people who are interested in artistic or creative knowledge, these are some of the very popular niches:
Home décor – 60.5 million followers
Art – 54 million followers
Travel – 52 million followers
Photography – 47.1 million followers
DIY and Crafts – 45 million followers; and more…
Pinterest also releases yearly and monthly predictions for upcoming popular niches. Here is the Pinterest prediction on the most popular trends for this year.
Step Three: Work on Your Pinterest Profile to Gain Followers and Rank
Once you have selected the niche that you want to work in, it's time you begin setting things in motion.
How you set up your profile is important because Pinterest considers the quality of your profile before letting your posts rank up in their search.
The best and only way to optimize your profile is to ensure that the graphic design of your page and pins are appropriate and appealing.
But you don't have to worry too much if you're not a graphics designer or have no skill whatsoever in this process – there's an array of free programs out there that can cater to this step.
Tools such as Canva and Design Wizard are brilliant if you want to design your pins by yourself.
If you are working with a large number of pins or you don't want to take up the task of designing altogether, you can easily outsource the work by hiring freelancers in the field.
Other than graphic design, here are a few more things you need to keep in mind to truly optimize your content:
Research keywords and include them in your profile
Your niche will have some keywords that people are constantly looking for.
You can research for these keywords by simply typing your niche on the Pinterest search bar and looking through all the suggested keywords – these are the words that your target audience typically uses.
Once you have a set of keywords that are relevant to your niche, integrate those in your profile description as well as in the description for each of the pins that you post.
However, do not spam these keywords hoping that you will rank somehow because Pinterest is likely to ban you for this. In fact, you can only post three keywords from your research.
Enable Rich Pins on your Pinterest profile
Video on How to Set up Rich Pins for Affiliate Marketing on Pinterest:
If your website has been claimed in your Business account and your posts have proper metadata, you can enable rich pins.
Rich pins are incredibly helpful because it automates a lot of the process.
It syncs the information from your website to your pins and if the information on your website is updated, the rich pin is automatically updated as well.
Pinterest also differentiates rich pins from normal pins through different formatting. You can change up the call-to-action buttons on your pins and the titles of your pins come up as bolded on your feed.
Create Boards that your audience will appreciate
Here is an example of my boards. I recently revamped my account and organized my boards.
Your boards are what will organize your content neatly and cleanly. It is also something that will help you gain higher visibility and followers.
As a small profile, try to create different boards that are relevant to your niche. You need to diversify your boards with different sections so that your audience can actually see a bit of variety in your content.
Take for example that you are working in the fitness niche.
You can create separate boards for weight loss diets, bodyweight exercises, muscle building exercises, weight loss routines, and motivational quotes to lose weight and be healthy.
Furthermore, try joining group boards as well and pin your content there for greater visibility.
You must also ensure that your board names and descriptions have relevant keywords from your research.
Step Four: Create Content with Your Affiliate Links
Once the initial bases have been covered, this is time you slave away by creating high-quality, relevant and optimized content for your target audience.
You need to start by getting a website. This is a moderately simple process – you just need to pay for webhosting, fill up some information, add a theme to your website and the basic framework is completed.
Now you spend working on developing content. These can be blog posts which touch on different subjects.
Some of the types of content that you can have include:
Lists
How-to guides
Reviews
Personal stories
Comparison articles
Information about new updates and releases
You can also create an e-book or a cheat-sheet that you offer up for free to get email subscribers.
Afterward, you have to design an email sequence with your affiliate links to send to your subscribers.
All in all, you need to have interesting and relevant content on your website if you use the last two methods mentioned above.
Once you have done these, you can attach your affiliate link and a disclosure notice before you move on to the next step.
You can also follow the first method where you only post graphics that directly link to your affiliate link. However, there are some general rules you must follow for this method.
Step Five: Create Attractive Graphics and Post Them as Pins
It is best that you have three pins for every one of your blog post content. All of these pins should have different images to create a sense of variety in your posts.
Having different pins will also ensure that you are targeting people who have different preferences or attractions towards certain imageries.
You can change up the main image, the color scheme, the font types, and the overall layout of your graphics for this purpose.
Some affiliate programs will supply you with their own images that you can use. Others may not, which is where you have to use your own creativity.
If you are making your pins from an empty canvas, you do have some options.
Here are some of the general rules and tips to create attractive Pinterest graphics:
Create vertical pins that fit in the Pinterest-specified aspect ratio
Pinterest doesn't easily promote square-shaped pins. If you use Pinterest, you will most see really long graphics that take up a large percentage of your mobile or desktop screen.
When you're creating a Pinterest graphics, make sure the document size has a 2:3 aspect ratio. The ideal Pinterest document size is usually 1000×1500 pixels.
Use photos that look interesting and eye-catching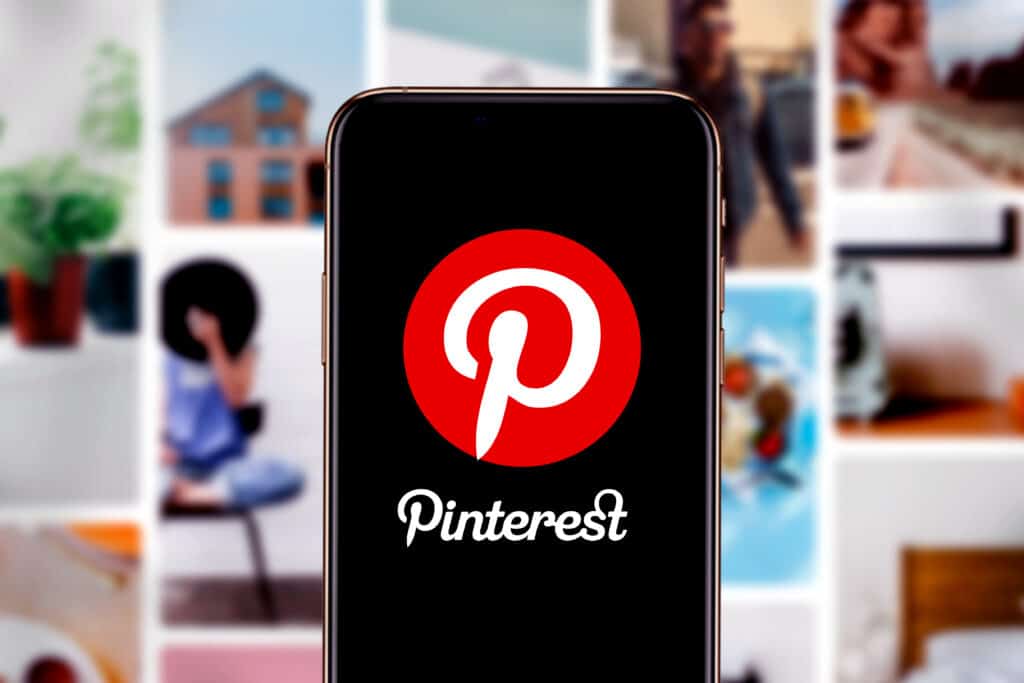 For someone who is genuinely committed to affiliate marketing on Pinterest, it is recommended that you take a further step and distinguish yourself from other marketers by actually buying the product for yourself.
You can test how it is and provide genuine opinions about your experience using a company's product.
Taking this step might be a bit time-consuming but it pays off and it shows potential customers that you're not simply recommending a product because you're getting money out of it, but also because you really do like the product.
If you're willing to take this step, you can take live photos of the product that you're using in different settings.
You can experiment with product photography to take some truly unique pictures that no one else is using.
However, if you don't want to take this extra step, that's all fine too. You can use company-provided images or stock photos. If you have some Photoshop skills, now is the time to use it.
Use dominant colors to grab attention
Pictures that have more dominant colors, such as red and purple work better at grabbing people's attention. According to this study by Yahoo Labs and Georgia Tech, colors play a significant role in how people take action on your Pinterest posts.
Therefore, it is good practice to use more red, purple, and pink to increase shares and engagement on your pins, while avoiding colors such as green, blue, black, and yellow as this dissuades engagement.
Add text overlay and include your logo
In this outline of what makes a great pin, Pinterest encourages that you place your brand logo or identity (website address) in your image.
Don't place your logo on the lower-right corner of your posts because the Pinterest 'Pin it' icon covers this up.
You should place your website address at the bottom or at top of your image, right underneath or over your headline.
Your text overlay should also be something that stands out and is readable by people. It shouldn't be too small but it should be concise and straightforward.
Step Six: Increase the Number of Your Followers
Getting followers on Pinterest isn't a difficult task. There are some ways you can expedite the process and earn more followers in your niche.
Here are the two main ways you can get more followers on Pinterest:
1. Find other people to follow
You can't expect others to follow you if you're not facilitating their process of discovering your content. There's only so much you can leave up to Pinterest to do.
If you want to get within the radar of people in your niche, you need to give them a slight nudge in your direction. This can be easily achieved by you following their accounts on Pinterest.
The way you can do this to is find popular companies or profiles that are relevant to your niche and go through their list of account followers. You can then follow these accounts.
Another way to do this is by going through the board followers list and repeating the process.
You should only do this process once you have created boards and pinned enough of your content.
You want people to come to your profile by sending them follow requests and let them see how interesting your content is. This way, they will actually want to follow you back.
2. Re-pin content that is trending
Content that is already successfully growing on Pinterest is something you need to look out for.
Not only can you see what is actually working in the market and what people are looking for, but you can also get more followers through these.
Trending pins already have followers. You can look for around 30-50 images every day to re-pin to your boards.
This will let others discover your boards and thus, encourage them to follow your account.
Step Seven: Join Group Boards and Expand Your Pinterest Profile
Once you have consistently worked on your Pinterest profile, you will likely see positive results in terms of more followers and potentially more sales from your affiliate link.
However, your work hasn't stopped yet. You have only just built up the foundation for your success in Pinterest affiliate marketing.
Now is the time you begin to scale up your business and get more traction in your profile, and to do this, you must increase your profile visibility by joining group boards.
Group boards are boards on Pinterest where Pinners can be invited in to join. This is largely like an online community but with thousands of followers.
When someone joins a group board, all of their followers automatically join as board followers as well and they begin to see content from other Pinners on the board as well.
While this might be a bit competitive, it also means that you get to place your content in front of thousands of other people.
To join a group board, simply type in a keyword alongside the words 'group board', for example 'weight loss group board' or 'skincare group board'.
Some group boards have certain rules that you must follow before you join but if you don't see these rules, you can always text the founder of the board to get an invite.
To find the founder of a group board, you simply have to click on the list of contributors to the board. The first person that you see is the one who's in charge.
Once you have successfully joined a group board, remember that you're in a race now and you have to come up on the front.
So, drink up some coffee and begin re-pinning or pinning your content on the board as much as you can.
The more you pin, the higher your visibility. And the higher your visibility, the more money you get.
Step Eight: Analyze Your Performance
Like any business that you create, there always needs to be a time when you take a pause and look through what you have done. This is the time you retrace your steps and develop a repeatable course of action to follow when posting other content.
You also need to analyze what is working and what is not for your business. You should focus more on the content that is received well by others while lessening your time and effort on content that isn't ranking.
Pinterest Business has added features where you can use Insights to analyze your performance. You can look through this resource page to find out more about Pinterest Analytics and what the key terms mean.
Another thing that's crucial for your long-term success is to pair up your website with Google Analytics.
This web tool gives you access to a host of metrics that will let you pinpoint some key data, such as where are people coming from when they land on your website, what behavior do they show, how many leave your website without interacting with it.
This information lets you track all the activities that take place on your Pinterest account and your website, giving you the means to know exactly what's going on with your affiliate marketing business.
You can use this to either identify your weaknesses and rectify your mistakes, or you can see what is yielding the best results for your business so that you can duplicate the process for more of your content.
Step Nine: Automate Your Work for the Best Results
Working all day and night is likely to overwhelm you soon, and you'll face the burden of being overworked and burnt out.
This does take the fun out of the process and you'll begin to think a 9-5 job is significantly better than earning an online passive income.
However, this is only because you haven't taken advantage of the tools which will let you relax as your business continues to grow on autopilot.
These tools work by scheduling your content to be posted on the days and times that you choose. You can prepare about a month's worth of work in just one day simply by using such software.
Some software will let you see the best times to post, which is crucial for your business.
You need to know when most of your audience is online and browsing Pinterest so that you can capture their attention right then and there.
A popular tool that you can use is Tailwind, which not only schedules your posts but also lets you see detailed analysis and provides recommendations for your content.
Through social media management software such as Tailwind, you can measure your business strategy and employ ways that constantly lead you to successful and viral posts.
Pro Tip for Affiliate Marketing on Pinterest using Tailwind:
Although Tailwind is great for helping you to pin, do not neglect to manually pin some of your pins. Pinterest favors activity, so you should spend about 5 to 10 minutes per day on Pinterest to show that you are active.

Tweet
Conclusion on Affiliate Marketing with Pinterest
Pinterest is an incredible platform that you must use if you're thinking about affiliate marketing.
The best part is, you can cash in on just talking about your hobbies and your own interests by recommending products that help aid these.
But, you need to remember that this is a business and therefore, you must treat it as such.
If you aren't willing to put in time and effort in helping your business to grow and succeed, you won't have much luck in getting an online passive income source.
At the end of the day, you need to consider your content as building a brand. It is always important to get the trust of others before you expect them to follow your lead.
So, don't think about the money at first but think about gaining the love and trust of the people you're asking to follow you.
Money comes later, it's the trust that gets you to where you want.
Do you currently use affiliate marketing with Pinterest? Let me know in the comments.