Looking for a gentle, skin-perfecting, and all-in-one exfoliant? Look no further than Paula's Choice skin perfecting liquid exfoliant.
If clogged pores, blackheads, wrinkles and redness plague you, you may want to use this exfoliant to achieve healthy and radiant skin. Unlike most exfoliants in the market, Paula's Choice liquid exfoliant is made with science-backed ingredients to deliver a range of skin benefits.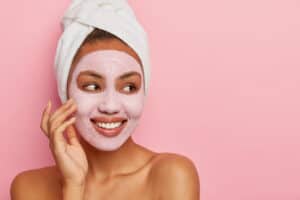 This exfoliant is blended with 2% Beta hydroxyl acid (salicylic acid) and green tea. Salicylic acid helps to slough off dead skin cells, combats signs of aging, and unclogs and diminishes enlarged pores. Green tea soothes the skin, reduces wrinkles and fine lines, and prevents sun damage.  
If you're searching for an exfoliant that will help you achieve a healthier complexion, even out your skin tone, and improve your skin texture, the search ends here.
*This post may contain affiliate links. If you use these links to buy something we may earn a commission. I only recommmend products that I use, love, or thoroughly researched.
How to use
At first, apply once daily after cleansing and toning. You can apply with your hands or soak a cotton pad and gently pat on the entire face and neck. You can use up to twice daily depending on your skin's response.
Pros
Diminishes signs of aging, including fine lines, wrinkles, and sunspots.
Eliminates redness, evens out skin tone, and improves skin texture.
Sloughs off dead skin cells to improve skin complexion.
Soothes the skin, combats enlarged pores and unclogs skin pores to combat acne and blackheads.
Protects the skin from damage caused by external factors like the sun's UV radiation.
Hydrates the skin to give your outer layer a radiant and youthful skin.
Made with clinically proven ingredients, so you can use the formula to exfoliate knowing that it's 100% safe.
This formula is gentle enough on your skin as it is specially formulated with soothing elements. So you can use the liquid exfoliant without worrying about irritation or inflammation. This makes it the best skin formula for sensitive, dry, and delicate skin.
It works for all skin types, be it dry, oily, acne-prone, aging skin, or sensitive skin.
 Cons
Can be messy if you don't apply as recommended.
May not be ideal for people who are allergic to salicylic acid.
Bottom line
Paula's Choice 2% BHA liquid exfoliant is a game-changer for a wide range of skin concerns like redness, dryness, clogged pores, wrinkles & fine lines, blackheads, acne, and many more. It's affordable for just about anyone, safe to use, and guarantees the best results.
Do you suffer from acne? If so, what products are you using?
Video Review on Paula's Choice 2% BHA Liquid Exfoliant