Spring and summer are arriving and I am excited to spend some more time outdoors with my family. But before we all soak up some sunshine, here is your important reminder to take care of your skin and wear sunscreen every day! This post highlights the best sunscreens in different categories including for hyperpigmentation and women of color.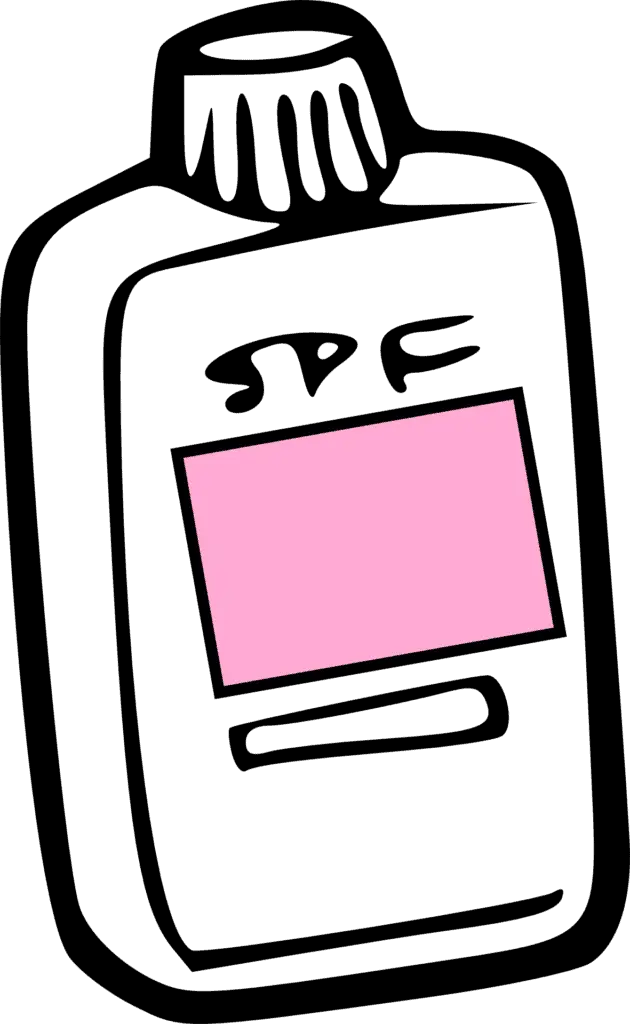 If you have darker skin, you may have been told that you don't need to wear sunscreen because the melanin in your skin naturally protects you from the sun. It turns out this is a dangerous misconception!
While melanin does provide a little protection from sun exposure, it does not protect your skin nearly as much as sunscreen. Everyone, regardless of skin darkness, should include a SPF product in their daily skincare routine to protect against the harmful effects of the sun.
Women with darker skin tones are also more susceptible to hyperpigmentation which is the medical term for darker patches on the skin. These patches are a result of over production of melanin which can be caused by acne scars and sun damage.
Dermatologists recommend wearing at least a SPF 30 every day. Areas that are exposed to the sun the most, like your face, are the most important to protect.
But us darker-skinned (black and brown) girls know that not just any sunscreen will do.
Most sunscreens are white and leave a chalky or ashy residue on the skin. They can be thick and heavy and hard to blend in. They were clearly not formulated with black women in mind.
Luckily, there is a growing selection of sunscreens that were formulated for darker skin tones of all types that won't leave a white cast on your beautiful skin.
If you need help finding the best sunscreen for your skin type, read on!
*This post may contain affiliate links. If you use these links to buy something we may earn a commission. I only recommmend products that I use, love, or thoroughly researched.
The Best Overall Sunscreen
If you're looking for a sunscreen that can not only protect you from the sun, but also help reduce redness, inflammation, dark marks, and acne — look no further than EltaMD UV Clear Broad-Spectrum SPF.
I know, it sounds too good to be true!
But it is for real. This sunscreen is a top-rated, dermatologist-recommended sunscreen that is very sheer and won't leave any white residue on the skin.
It is safe for acne-prone skin and can help reduce rosacea and hyperpigmentation. It provides UVA/UVB protection and helps fight the aging effects of sun exposure.
The Best Sunscreen for Dark Skin Tones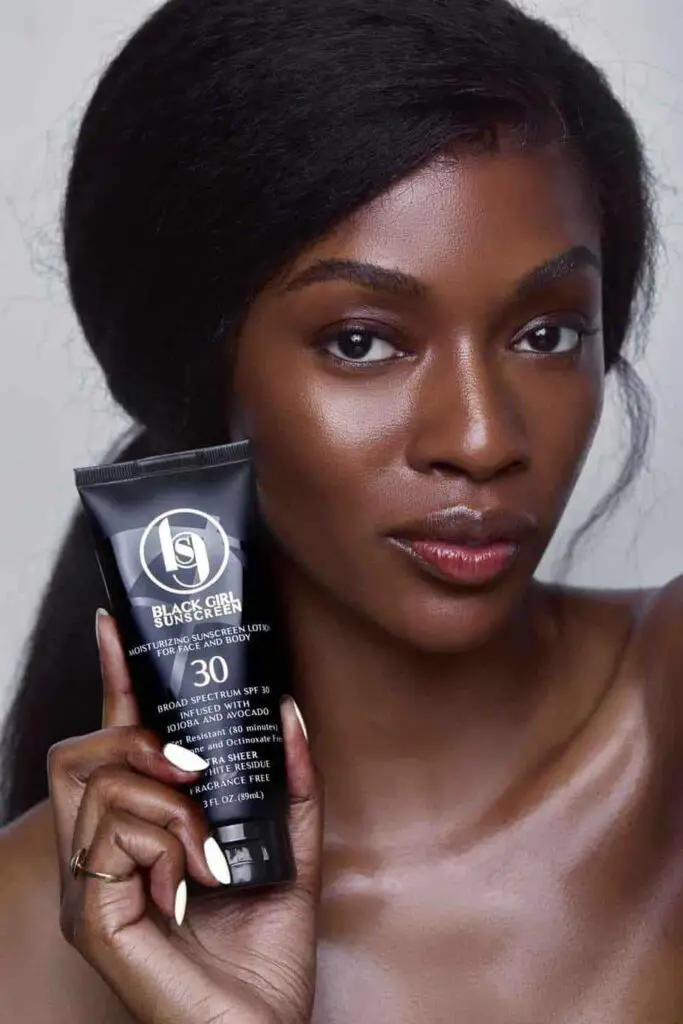 A staple in many black girl's skincare regimens is the aptly named Black Girl Sunscreen.
Made by a Black-owned business, Black Girl Sunscreen truly understands how to make a product for darker skin tones. It is ultra-sheer and will not leave any white residue on your skin.
Additionally, it is packed with cocoa butter, avocado oil, and jojoba oil so it is super nourishing and hydrating. Black Girl Sunscreen is truly a best-in-class product for black women.
Another great option for black and brown girls is Unsun Tinted Mineral sunscreen. Unsun is also a Black-owned business.
It is a color-correcting tinted mineral sunscreen that works on a wide range of skin tones without leaving behind any white residue. They say it works on skin tones from olive to dark chocolate.
The Best Lightweight Sunscreen
Paula's Choice Clear Ultra-Light Daily Hydrating sunscreen is a great choice for anyone looking for ultra-lightweight sunscreen.
If you aren't already using sunscreen in your daily skincare or makeup routine, I get it! It can be hard to add another product to your routine, especially something with such a difficult reputation as sunscreen. But remember, not all sunscreens are created equally.
Paula's Choice sunscreen is the best lightweight sunscreen that goes on smooth and sheer. It is oil-free, so it won't clog your pores or leave your face feeling heavy or greasy. It can even help those with oily skin to control shine, calm the skin, and reduce the appearance of enlarged pores.
Another great option for lightweight sunscreen is Supergoop! Unseen Sunscreen. Many sunscreens are like a cream, but this super lightweight sunscreen is a gel.
It is super sheer — essentially clear — and absorbs very quickly.
This sunscreen applies so smoothly and easily that many people even use it as a makeup primer as part of their daily routine.
The Best Sunscreen for Hyperpigmentation
Hyperpigmentation can be frustrating to manage, and sun exposure can actually worsen the appearance of hyperpigmentation and dark spots.
That's why it is essential for anyone with hyperpigmentation to add sunscreen to their daily routine. Any sunscreen will help, but some sunscreens are specifically designed to help reduce the appearance of hyperpigmentation.
NeoStrata Sheer Hydration sunscreen is the top-rated sunscreen for those struggling with hyperpigmentation.
NeoStrata is formulated with a skin-changing ingredient called NeoGlucosamine. NeoGlucosamine is a gentle exfoliator that helps reduce the appearance of hyperpigmentation and dark spots.
The Best Sunscreen that Doubles as Makeup
When you think of sunscreen, you probably think of creams or liquids, right? But did you know there is also mineral powder sunscreen?
Colorscience Brush-On Sunscreen is an amazing new product that is unlike any other sunscreen I've ever seen.
It is a brush-on powder that comes in an easy-to-use, portable brush applicator that looks and works just like makeup. It comes in several colors to match your skin tone, including a color for dark skin tones called Deep.
Since it can be applied on top of your makeup, it is a great choice for anyone who struggles to reapply their sunscreen throughout the day without messing up their look. It can also be used alone on top of your skin.
Another great option for those looking for a sunscreen that doubles as makeup is to use a BB cream with SPF. Boscia Skin Perfecting BB Cream with SPF is a great option.
Boscia's natural BB Cream is super smooth, providing some coverage to even out your skin tone and reduce the appearance of blemishes, fine lines and wrinkles, and other imperfections. It is also packed full of antioxidants, so it helps defend the skin against sun and free-radical damage and preserves a healthy-looking complexion.
The colors Newport and La Jolla are formulated to match dark skin tones.
The Best Sunscreen for Anti-Aging
This Multi-Protection Broad-Spectrum sunscreen by Revision Skincare is an amazing product for anti-aging.
As with many anti-aging products, this sunscreen is a little pricey but definitely worth the cost for girls who can afford it.
It is a lightweight, oil-free, moisturizing sunscreen that reduces the appearance of fine lines, wrinkles, and age spots. It is formulated with antioxidants like Vitamin C, Green Tea, Pomegranate Extract, and Hyaluronic Acid, which are all great ingredients that brighten your skin and keep it healthy, hydrated, and glowing.
The Best Sunscreen for Acne-Prone Skin
ISDIN Photo Eryfonta Ageless Tinted Mineral Sunscreen is recommended by dermatologists for those with acne-prone skin who are looking for a great sunscreen.
I know, it is an anti-aging sunscreen, but it is not in this category by mistake. It is great for acne-prone skin because it is an oil-free, lightweight physical sunscreen that will not clog your pores or leave your skin feeling greasy. It also supports skin health and healing and can reduce inflammation and damage from acne.
The Best Sunscreen for Those on a Budget
A budget-friendly alternative for anyone looking for a great moisturizing sunscreen is Aveeno Positively Radiant Daily Moisturizer with SPF.  You can find this sunscreen at almost any drug store.
It is an oil-free moisturizer that includes a broad-spectrum SPF 30 sunscreen, and it absorbs quickly without leaving any heavy film or white residue and it won't clog your pores.
It is formulating to help even skin tone and texture, reduce the appearance of dark spots, fight aging, and of course protect against sun damage.
It competes pretty well with some of the more expensive products on this list and provides many of the same benefits.
Last Word on Best Sunscreens
Whether you are adding sunscreen to your routine for the first time or wanting to upgrade from the one you are using, the above products are some of the best recommendations to start with. They will protect your skin from the sun while also nourishing and enhancing your complexion.
What are some of your favorite sunscreens?