The age-old debate in skincare communities has always included some version of a 'Cerave vs. Cetaphil' argument. Considering that they are both equally backed up by dermatologists, it is hard to know which one is superior to the other.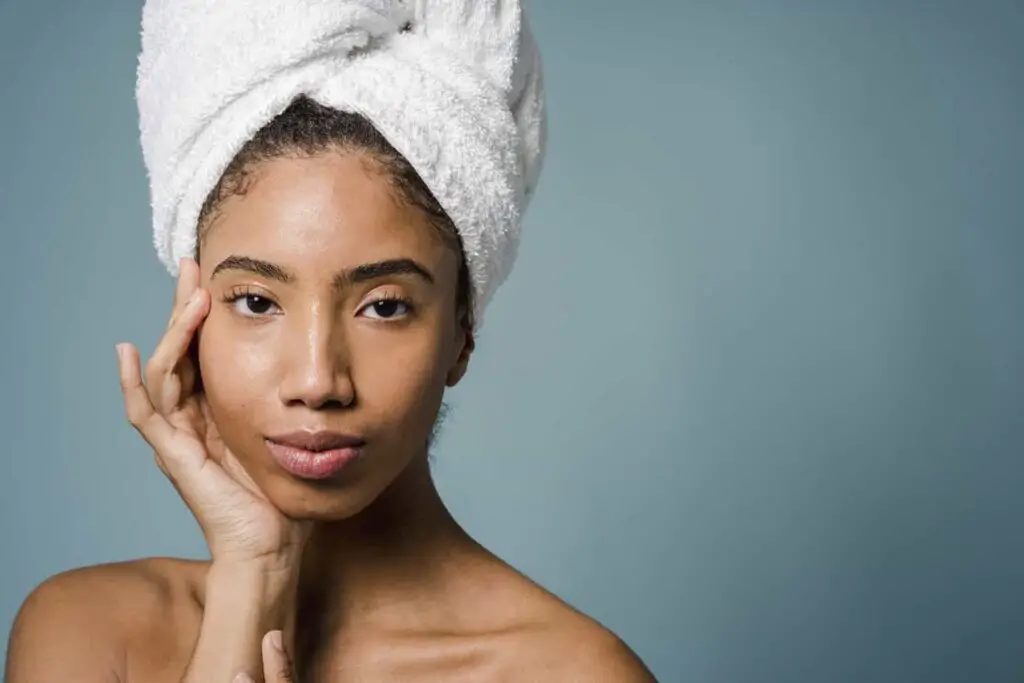 Even harder is the fact that both products look the same. And apart from a few phonemes, they even sound the same. Finding the perfect moisturizer between these two skincare legends is certainly a tough job but we must understand that every product works differently for specific skin types.
Despite having 5-star ratings and a big 'thumbs-up' from famous skincare professionals, both Cetaphil and Cerave products can have different effects (or none at all) depending on who is using them.
It isn't an easy task to find products that are suitable for your skin type, and there's a reason behind it. The formulas that skincare companies come up with are often made while thinking about a specific skin type or condition. For example, you'd have a company creating something specifically to treat acne but you can't trust that it would clear your eczema. Skincare products are never one-size-fits-all.
To make matters simpler, I have meticulously gone through each product from Cerave and Cetaphil's line-up to analyze which one suits which need. From acne, eczema, dry skin, psoriasis to more, here is all the information you need on both the brands!
But before we hop on this skincare rollercoaster, there's a disclaimer. You need to know that everyone's skin is made uniquely no matter how common your skin condition or type is. Effective skin care is all about trying out one and the other before coming to a product you absolutely adore.
Even with that, I'll try to make things clearer so you know which direction to follow in your skincare journey. Now, let's put on our Sherlock Holmes cap and investigate!
*This post may contain affiliate links. If you use these links to buy something we may earn a commission. I only recommmend products that I use, love, or thoroughly researched.
A Complete Look into CeraVe Vs. Cetaphil:
Here is a comparison table that draws out which brand has the better product for each skin type:
| Product | CeraVe | Cetaphil | Winner |
| --- | --- | --- | --- |
| Cleanser | Good for Sensitive, Dry, and Oily Skin | Good for Sensitive and Dry Skin | CeraVe |
| Moisturizer | Good for Dry and Normal Skin types | Good for Combination and Sensitive Skin types | CeraVe |
| Sunscreen | Good for all skin types | Good for sensitive skin types | Cetaphil     |
| Eye Cream | Good for all skin types | Good for dry and combination skin types | CeraVe |
curlygirlysays.com
The table shows a quick snapshot of my findings, but keep reading this extremely detailed article if you want to know how and why I came to these conclusions!
Is Cerave or Cetaphil Better?
Looking at the chart above, there's no doubt that CeraVe is a better brand than Cetaphil, especially because of their advanced ingredients and technology that enables their products to be even more effective than any standard brand.
Furthermore, the fact that CeraVe includes zero fragrance is a bonus for all of us who detest the addition of unnecessary chemicals. CeraVe is a great non-comedogenic brand that has targeted consumers with different needs to allow for a more inclusive and efficient brand, which in my books is a definite A+.
Therefore, I can confidently say that CeraVe is better than Cetaphil but you must understand that not everything will work for everyone. If CeraVe doesn't work for your skin type and condition, try your hand at one of Cetaphil's products. Cetaphil is as equally prestigious as CeraVe is, with the only downside being their addition of fragrance in their products.
$16.29 ($1.02 / Fl Oz)
-$2.29
$14.00 ($0.88 / Fl Oz)
$11.03 ($22.06 / Ounce)
-$0.08
$10.95 ($21.90 / Ounce)
$17.78 ($0.94 / Ounce)
-$5.68
$12.10 ($0.64 / Ounce)
A Deep Dive into CeraVe
CeraVe has recently emerged into the limelight, having been only founded in 2005 by American dermatologists. The reason why it's gotten so famous is that it's the only company that has trademark features in its formulas, notably the use of three essential ceramides (I'll explain why that's important later).
What's more interesting and even revolutionary about CeraVe is that they've equipped themselves with the latest tech to expedite skincare research. They've patented a specific technology called Multivesicular Emulsion (MVE) to incorporate that into their product formulas. While all of this might sound too scientific, here's the reason why you should both learn about it: MVE technology allows a very equal and gradual distribution of ceramides to your skin.
Ceramides are basically the fat that exists on your outer skin layer and this fat enables you to retain moisture over the surface of your skin. While most moisturizers or products dry out on your skin and don't allow that 24-hour protection, CeraVe's improved tech allows the ceramide to stay on your skin for extended periods.
If you haven't gotten the gist yet, CeraVe has really invested in getting their skin products right. Their tech is ground-breaking, and dermatologists surely have good reason to love their brand.
So, what's special about Cetaphil to rival CeraVe?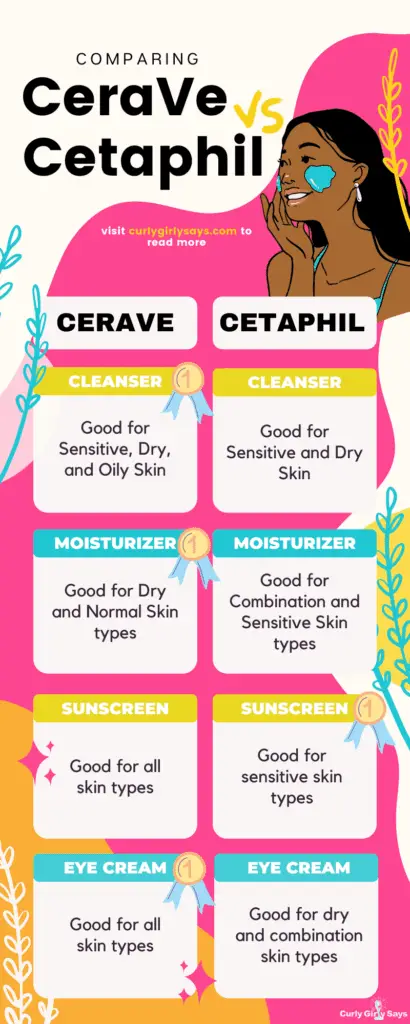 A Deep Dive into Cetaphil
Cetaphil has graced the floors of the skincare industry for a long long time.  The company was founded in 1947 (yikes, are they old) by a Texan pharmacist.
When it was first founded, the aim was to create a gentle cleanser for women and the formula that was developed back then is still pivotal in the Cetaphil products created to this day.
Similar to CeraVe, the company has invested millions in improving the technology of their product line-up, especially to cater to those with sensitive skin.
There are a plethora of active ingredients stored inside of Cetaphil's formula, most of which have been trialed and tested for years to ensure quality and effectiveness. All of their ingredients have been developed with the primary need to help people with sensitive skin or allergy-prone skin.
While CeraVe incorporates ceramides, Cetaphil brings the same results with glycerine alongside an array of other hydrating and cleansing ingredients such as niacinamide, shea butter, aloe vera, and more. They also integrate a vitamin complex and plant oil to elevate their formulas for proper hydration.
Having years of experience in their belt, Cetaphil is not an easy competitor to topple. Both CeraVe and Cetaphil have been rigorous in their production quality, and the A*s from dermatologists prove this.
But now let's look into where Cetaphil and CeraVe win or accepts defeat. The fight begins!
You May Also Like:
The CeraVe and Cetaphil Product Line-up
Cerave vs Cetaphil Moisturizing Cream
It's obvious that the main purpose of any moisturizer is to keep your skin hydrated. After all, if your skin is dry, it won't be able to hold onto its natural oils; therefore, it will look dull and flaky.
The primary concern for both CeraVe and Cetaphil products is moisturizing dry skin, but there are differences in the manner they attain this. Both CeraVe and Cetapli offer a range of different types of moisturizers, so let's start with the basics to understand what we should look for.
Cetaphil Moisturizing Cream:
The Cetaphil Moisturizing Cream utilizes glycerine and shea butter with a host of other active ingredients which deeply moisturizes the skin upon application. This cream deep-cleanses pores without stripping your delicate epidermal barrier, instead of providing an oil-free hydrating glow that follows up with intense hydration.
This intensive moisture lasts for 12 hours. The shea butter in the cream nourishes your epidermis from the moment you apply the product, making it intensely effective from the get-go.
CeraVe Moisturizing Cream:
CeraVe's Facial Moisturizing Cream contains glycerin (a humectant). Similar to Cetaphil's Moisturizing Cream, it makes sure that there is no moisture loss from within the skin. The formula works at the epidermal level where the ceramides in the product both nourish and protect your skin from environmental irritants.
This cream is perfect for super dry skin types because it has the benefit of 3x more moisturization properties than a typical cream would offer. The combination of ceramides with hyaluronic acid ensures that your skin looks soft and healthy.
One of the benefits of CeraVe is that they don't use fragrances in their productions, so if you're someone who dislikes or feels nauseous by fragrance, this one is for you.
The Verdict – Is Cerave or Cetaphil Moisturizing Cream better?
Cetaphil moisturizing cream can be used for any type of skin, but it isn't optimal if you're someone who dislikes fragrance or a greasy residue after application. On the other hand, CeraVe is a great option for those who are underneath the sun all day due to its protective properties. The moisturizer also doesn't make your face feel greasy and there's no pungent smell.
Ultimately, the winner of this round is CeraVe Moisturizing Cream!
[ HYALURONIC ACID MOISTURIZER ] With hyaluronic acid, ceramides and MVE technology for 24 hour hydration. Rich, velvety texture that leaves skin feeling smooth, it is absorbed quickly for softened skin without greasy, sticky, feel.
[ ESSENTIAL CERAMIDES ] Ceramides are found naturally in the skin and make up 50% of the lipids in the skin barrier. All CeraVe products are formulated with three essential ceramides (1, 3, 6-II) to help restore and maintain the skin's natural barrier.
[ DRY SKIN RELIEF ] A deficiency of ceramides in skin can often be associated with dry skin, which can feel itchy and look flaky. CeraVe Moisturizing Cream was shown to increase the skin's level of ceramides after 4 weeks.
[ DERMATOLOGIST RECOMMENDED ] CeraVe Skincare is developed with dermatologists and has products suitable for dry skin, sensitive skin, oily skin, acne-prone, and more.
[ GENTLE DAILY MOISTURIZER ] For face and body or can be used as a hand cream for dry skin relief. Holds National Eczema Association (NEA) Seal of Acceptance. Fragrance free, paraben free, allergy-tested, and non-comedogenic.
Cerave vs Cetaphil Facial Moisturizer
Most people don't consider a facial moisturizer alongside their standard moisturizing cream or lotion. This isn't a good tactic to follow because your face requires more attention that is specifically catered for its needs.
Your facial skin is the softest, most vulnerable, and most visible part of your body. It is what you need to carefully look after and a good facial moisturizer should protect and solve your skin's issues.
The Cetaphil and CeraVe facial moisturizers include various types that address certain skin conditions but we will be looking at the common aspects of each of the company's facial moisturizers to analyze which one is the better of the lot.
Cetaphil Facial Moisturizer
Cetaphil maintains a large variety of SPF daily facial moisturizers which is a big plus if you forget to apply your sunscreen often. There are also moisturizers that are specifically made for oily skin, with a lightweight formula that is not greasy and won't clog up your pores.
The formula in Cetaphil's facial moisturizing range includes ingredients such as Vitamin E and Edelweiss flower alongside other hydrating components. All of them contain restorative and protective properties that smooth, nourish and protect your skin's moisture barrier.
CeraVe Facial Moisturizer
CeraVe actually has dedicated facial moisturizers for night-time and daytime, appropriately named as AM and PM. The AM moisturizer has the special property of containing SPF 30, which is a great amount to ensure complete protection from UV exposure during the day.
The benefit with CeraVe is that it too has a pleasantly lightweight formula that, despite having a significant SPF, is not thick, greasy, and doesn't clog your pores.
Furthermore, the moisturizer, like all CeraVe products, contains the MVE technology with the 3 essential ceramides. These ensure that your skin receives enough hydration for it to look soft and supple all day or night long.
The Verdict: Is Cerave or Cetaphil Moisturizer Better?
While we've only looked at the facial and cream moisturizers from the Cetaphil and CeraVe product line-up, there's no doubt as to who is the winner.
Armed with the recent tech and having no fragrance, CeraVe acts as the better moisturizer between the two. CeraVe is also free of parabens and any irritants that might attack your skin, making it the best option for sensitive skin.
Cerave vs Cetaphil Cleanser
Now, on to one of the most important products: the mighty cleanser! Facial cleansers are pivotal and you can't skimp out on getting a good one for yourself. Luckily, both CeraVe and Cetaphil have incredibly affordable products so you don't have to worry about emptying out your wallet for this.
Cleansers are meant to clear up any residue that's lying on top of your skin. A good cleanser will wash away all dirt, makeup, dead skin cells, and any other pollutants that are clogging up your pores. A great cleanser will allow a clean canvas that prepares your skin for further treatment with toners or moisturizers, allowing enough penetration for the products to work properly.
CeraVe and Cetaphil have produced a large line-up of cleansers that target people with different conditions and skin types. There's also the chance to grab an exfoliating cleanser if you're in the market for one.
While both of these companies dominate the skincare industry with their cleansing products, which one do we think is the better one?
Cetaphil Daily Facial Cleanser
Cetaphil offers an array of facial cleansers but the most popular one is their Daily Facial Cleanser.
This cleanser is a bit milder than its counterparts and it won't foam up as much as you'd hope it would. This isn't entirely a disadvantage considering how the formula is made for sensitive skin. The lack of lather helps the product evenly distribute over the surface of your skin and clear out any residue.
The formula is also non-irritating so you don't have to worry about redness or dryness once you've rinsed your face. It does not strip your skin of its natural oils, and the general effect it leaves is a hydrating and refreshing quality.
Typically, this product is better for those with oily and sensitive skin because it properly clears up the greasy film over your skin without making your skin feel tight.
CeraVe Cleansers
The CeraVe cleansing line-up comes in a variety of types. You can get them as a liquid cleanser, foaming cleanser, or even a bar, depending on your preference.
The most common of the cleansers is the Hydrating Facial Cleanser which works in cleaning out the dirt and other residues on your skin without stripping the surface of any moisture or natural oil.
Since all CeraVe products contain the three essential ceramides, the cleansers provide a refreshing after-effect. The use of hyaluronic acid also nourishes your skin and reinforces the protective barrier that stops environmental pollutants from entering and clogging your pores.
Another interesting cleanser from CeraVe is their Acne Foaming Cream Cleanser. Because this product includes 4% benzoyl peroxide, it is highly efficient in eliminating the acne bacteria that often inflames and irritates your skin to produce those pesky acne spots.
If you want a 2-in-1 effect of both cleansing and treating your skin, the CeraVe Acne Foaming Cleanser is a perfect match for your needs. You can alternatively use it to treat other acne-prone areas in your body apart from your face.
The Verdict:  Is Cerave or Cetaphil Cleanser Better?
Honestly, CeraVe feels like the obvious winner because of how vast their product line-up is. You really do have a cleanser for every need.
But we must give Cetaphil credit too for how innovative their cleansers are, specifically for oily and sensitive skin types. Cetaphil cleansers contain a zinc technology that alleviates the excess oil from your skin without ever stripping it of its natural texture. It's healthy and effective.
Even then, CeraVe is still the better brand to choose for your cleansing needs. Not only are their products diverse, but they incorporate ingredients that give you greater benefits than you would expect from a typical facial cleanser. And if you like lather, CeraVe is the option you have to choose.
[ DAILY FACE WASH ] Gentle cleansing lotion with hyaluronic acid, ceramides, and glycerin to help hydrate skin without stripping moisture. Removes face makeup, dirt, and excess oil, provides 24-hour hydration and leaves a moisturized, non-greasy feel.
[ NON-FOAMING CLEANSER ] Moisturizing facial cleanser with a lotion-like consistency feels smooth as it cleanses, even on sensitive, dry skin. Paraben-free, fragrance-free, soap-free, non-comedogenic, non-drying, and non-irritating. Certified by the National Eczema Association
[ ESSENTIAL CERAMIDES ] Ceramides are found naturally in the skin and make up 50% of the lipids in the skin barrier. All CeraVe products are formulated with three essential ceramides (1, 3, 6-II) to help restore and maintain the skin's natural barrier
[ DERMATOLOGIST RECOMMENDED ] CeraVe Skincare is developed with dermatologists and has products suitable for dry skin, sensitive skin, oily skin, acne-prone, and more
[ MULTI-USE SKINCARE ] Skin Cleanser for face and/or body and can be used as a hand wash. Suitable for daily cleansing morning (AM) and night (PM)
Cerave vs Cetaphil Sunscreen
This is a step that people easily skip during their skincare routine, but it is an important step nonetheless. Sunscreen is pivotal to anyone's skincare regimen, regardless of where they live, what their skin complexion is, or whether they've covered themselves up in layers of clothing.
Our skin is a vulnerable thing, and I must emphasize this. With global warming increasing at a deathly rapid speed, we are more prone to the harmful ultraviolet radiation from sun exposure. I don't think I need to go into how these UV rays are harmful but if you haven't understood it yet, it starts with the letter 'C' and ends with 'R'.
Besides cancer, UV exposure can also cause other immediate skin conditions such as discoloration, burns, early appearance of wrinkles, and more. Using an effective sunscreen is essential to maintain the health of your skin for years to come.
Our two contenders host great quality sunscreen products but there are subtle differences that distinguish them. Here's what you need to know about CeraVe and Cetaphil's sunscreen options:
Cetaphil Sunscreen
The Cetaphil Ultra Sheer Mineral Sunscreen is a great option if you dislike the thick and greasy sunscreens you'd get from drugstores. This product has been made with a super lightweight formula and offers SPF 50, which is plenty to shield your skin from sun exposure.
The product contains a plethora of other active ingredients such as niacinamide and Vitamin E to offer greater benefits apart from mere sun protection. The niacinamide gives your skin a soft, supple, and brightening look while the Vitamin E has antioxidant properties that relieve your skin.
Cetaphil's sunscreen also gives you a matte finish which is great if you have oily or combination skin, and it goes exceedingly well with any makeup you'd like to layer on top of it.
CeraVe Sunscreen
CeraVe's 100% Mineral Sunscreen has SPF 30 that contains ceramides, niacinamide and other ingredients to give a hydrating effect to your skin.
Similar to Cetaphil, the product offers the added benefit of brightening your skin aside from moisturizing and protecting your skin's external barrier. CeraVe's sunscreen is a tinted one too, so you don't have to worry about the greasy white look that most sunscreens often leave after application.
The Verdict:  Is Cerave or Cetaphil Sunscreen Better?
Both CeraVe and Cetaphil's formulas are made to suit sensitive skin, so it really does help people of all skin conditions. Their formulas are non-greasy, fragrance, and paraben-free – all of which make for a healthy sunscreen that you can use with no inhibitions.
But, when it comes to which of them is the best, Cetaphil's Ultra Sheer Mineral Sunscreen definitely wins over CeraVe's one. Cetaphil has the benefit of having a higher SPF while also combining extra ingredients that can elevate the look and health of your skin after application.
Most people won't prefer a tinted sunscreen, especially if it doesn't match their complexion so CeraVe certainly doesn't win this for their innovativeness here. Cetaphil's matte finish is absolutely great since it eliminates the sticky, greasy, and filmy look that off-the-counter sunscreens give.
So, in short, Cetaphil has the better sunscreen because of its higher SPF, matte finish, and extra skin benefits that promise better health and protection for your skin.
CETAPHIL SHEER MINERAL FACE LIQUID SUNSCREEN SPF 50: Nourishes sensitive skin while providing hydrating, chemical free sun protection
MICROBIOME GENTLE FORMULA: Locks in moisture to hydrate and protect skin's delicate microbiome
NON-COMEDOGENIC, ULTRA LIGHTWEIGHT FORMULA: Blends quickly into the skin without leaving a white cast or greasy residue and is water resistant for up to 80 minutes
SHEER, COSMETICALLY ELEGANT: Glides effortlessly onto skin leaving a dry, matte finish for daily use alone or under makeup; dermatologist and ophthalmologist tested
DESIGNED FOR SENSITIVE SKIN: Fragrance, paraben, avobenzone, oxybenzone, octinoxate and PABA free formulas are hypoallergenic and designed to be gentle on sensitive skin
Cerave vs Cetaphil Eye Cream
Those pesky wrinkles and dark circles can be a real job to remove, and most off-the-counter eye creams don't serve their purpose well. Eye creams are another major part to anyone's skincare regimen, purely for the fact that it helps your face look youthful and vibrant.
But more importantly, your under-eye areas are the most sensitive and vulnerable part of your face and a regular moisturizer doesn't do as effective a job to protect them (even if they're from CeraVe or Cetaphil).
A good eye cream must be able to relieve you of any puffiness, smooth out wrinkles and lighten your dark circles. It should also prep your skin for makeup if you're going to use any, and soothe your tired-looking eyes with the appearance of better health.
We'll now be looking at how well our two contenders do the job of what an eye cream must do.
Cetaphil Eyecream
Cetaphil's eye cream comes in a gel form that includes a list of different active agents such as hyaluronic acid, a Pro-Vitamin complex, niacinamide, and even licorice extract.
All of these in combination help to hydrate and brighten your under-eye area and provide enough moisture to last up to 24 hours. The ingredients also help to protect your skin's sensitive barrier from pollutants.
The gel itself absorbs quite easily into the skin and offers the hydrating look and feel that gelatinous textures often provide. The only downside to Cetaphil's eye cream is that it has fragrances that can be irritating for those with extra sensitive skin.
CeraVe Eyecream
The CeraVe Eye Repair Cream is, unlike Cetaphil's, a purely cream-based concoction that contains a list of herbal and chemical ingredients. It has been made specifically to eliminate the look of dark circles and under-eye puffiness.
CeraVe's formula includes a host of hydrating agents such as Vitamin E and soothing aloe vera among other things, all of which ensure long-lasting moisture and nourishment.
Because of CeraVe's trademark MVE technology, you can be guaranteed 24-hour hydration. The absorption is also rather fast and sinks deeply, so if you'd like to apply makeup afterward, there won't be any heaviness.
The Verdict: Is Cerave or Cetaphil Eye Cream Better?
I think the only case against Cetaphil's eye cream is that it has fragrance in it, which is often a bother for people. But if you're someone who prefers fragrance or is not bothered by it, Cetaphil certainly has a great eye cream for you to try out.
But CeraVe's Eye Repair Cream is a great eye cream to use, considering how lightweight and hydrating its formula is. It's suitable to use under any sort of makeup and also provides that brightening effect that just looks beautiful.
So, all in all, CeraVe has the better eye cream because of its fragrance-free, hydrating, brightening, and toning formula that looks and feels great to use.
[ UNDER EYE CREAM ] Helps reduce the appearance of dark circles and puffiness in the under eye area. Brightening cream with a non-greasy finish that leaves under eyes looking hydrated, smooth, brightened, and more awake.
[ HYDRATING INGREDIENTS ] Formulated with Hyaluronic Acid to help retain skin's moisture and Niacinamide to help soothe skin. With CeraVe's patented MVE ingredient-delivery technology to continually release ingredients and provide lasting hydration.
[ LIGHTWEIGHT TEXTURE ] Apply pea-sized amount to ring fingers and gently pat around the eye area and brow bone, both AM and PM. Fast-absorbing formula can be worn alone or under makeup.
[ 3 ESSENTIAL CERAMIDES ] Ceramides are found naturally in the skin and make up 50% of the lipids in the skin barrier. All CeraVe products are formulated with three essential ceramides (1, 3, 6-II) to help restore and maintain the skin's natural barrier
[ DERMATOLOGIST RECOMMENDED & OPHTHALMOLOGIST TESTED ] Tested for use around the eye area & accepted by the National Eczema Association. CeraVe brand is developed with dermatologists & has products suitable for dry skin, oily skin, acne-prone, & more
CeraVe and Cetaphil for Different Skin Conditions
Now that we've assessed Cetaphil and CeraVe for the range of products it has and compared them both against each other, let's look at how each of the products mentioned above works on specific skin conditions.
From dry skin, eczema, psoriasis to acne, our skin issues can range in severity and difficulty. While we can't expect any single product to cure us of our skin issues, Cetaphil and CeraVe certainly have developed their products to be suitable for most skin conditions and to an extent, alleviate these issues to better and healthier-looking skin.
Yet, there are some places these brands work best and, in some conditions, they don't work at all. Let's compare both Cetaphil and CeraVe to understand how suitable they are for various skin issues.
Is Cerave or Cetaphil Better for Dry Skin?
CeraVe is better catered to dry skin because of its MVE technology and the three essential ceramides in their formula. This works exceedingly well in maintaining and properly distributing moisture on the barrier of your skin. This is a common way to fend off any dryness and ensure long-lasting hydration, which is exactly what you'd want to combat dry skin.
Dry skin oftentimes is not a severe issue but it can definitely be quite irritating to handle. The flaky and tight skin texture does not bode well with makeup and can also be resistant to certain product applications.
Dry skin is mostly caused by weather changes, lack of moisture in the air or even using the wrong temperature of water while showering. You might also suffer certain diseases such as diabetes or other skin conditions like psoriasis where dry skin is a side-effect.
An unbalanced skin pH level is another reason for dry skin, and the condition can get progressively worse as you grow older. The issue with dry skin is that it's often a gateway to other skin conditions such as acne or skin deficiencies that may even ensue in the early appearance of wrinkles.
So what's the cure? Moisturizers are a good place to start and you'd want a moisturizer that has the ability to retain water in your skin's surface level as well as act as a natural moisture barrier that disables anything to suck out the moisture in your face.
Is Cerave or Cetaphil Better for Acne?
When you have acne, you need agents such as benzoyl peroxide, niacinamide, salicylic acid to remedy the issue. CeraVe is great here because most of its moisturizers and cleansers include these agents. Cetaphil, on the other hand, uses zinc technology to target this issue which is also a great option to go for.
But, which one do you actually choose? In fairness, the fact that Cetaphil includes fragrance in its formula is a major downside to its products. If you have acne-prone skin, you're better off not risking further issues with a product that includes chemically added fragrance. You might face further irritation that can result in significant scarring from acne.
CeraVe's cleansers and moisturizers are made to be non-comedogenic, fragrance-free, and non-irritating – all of which are perfect for those who have trouble with acne. If you have oily skin with acne, then CeraVe is certainly the brand you should go with.
Acne is common in women, and this can often range from a single pimple to the annoyingly full-blown one. There's no getting rid of acne forever – whatever your skincare regimen may be, acne is something that pops up whenever it desires. But there is a way to mitigate the issue when it comes up.
Acne occurs when there is an excess sebum or oil production, and small bulges are formed around the affected area. You might also have oily or dry skin where such skin textures clog your pores and cause acne.
Sometimes acne is just the visitor coming with your Aunt Flo every month while other times it is a direct result of stress or diet changes. Most acne spots go away after a certain time but terrible are those that leave disgusting acne scars behind.
A good cleanser is the first step to help you reduce acne while moisturizers also ensure that your face doesn't have any dryness that can irritate the skin.
[ EXFOLIATING FACE WASH ] Salicylic acid (SA) is a beta hydroxy acid (BHA), an effective exfoliator that removes dead skin cells and promotes radiance. Salicylic acid acts as a chemical exfoliant which feels less harsh than physical ones like face scrubs
[ ALL SKIN TYPES ] This SA facial cleanser is formulated for acne prone, oily skin and even those with psoriasis. Cerave Renewing SA skin care products provide gentle exfoliation and skin relief to dry skin, rough and bumpy skin, and all other skin types
[ FOAMING CLEANSER ] Dispenses as a clear gel and transforms into a light, foaming face wash as you lather. The gentle wash and exfoliation smooths, hydrates and cleanses skin without leaving a stripped, tight feeling
[ EFFECTIVE INGREDIENTS ] In addition to salicylic acid and ceramides, this face cleanser has hyaluronic acid , niacinamide (vitamin B3) , and vitamin d known for their hydrating, moisture replenishing and enriching antioxidant properties
[ 3 ESSENTIAL CERAMIDES ] Ceramides are found naturally in the skin and make up 50% of the lipids in the skin barrier. All CeraVe products are formulated with three essential ceramides (1, 3, 6-II) to help restore and maintain the skin's natural barrier
Is Cerave or Cetaphil Better for Eczema?
Eczema or dermatitis happens when your skin turns really dry, itchy, and red. This can be the side-effect of allergic reactions to pollutants in your environment or a deficiency in your immune system. Furthermore, your genetics may also play a role in why you have eczema so it is good to check up with a medical professional if you're suffering from this skin condition.
Sometimes eczema emerges as a result of overwhelming stress on your mind and body, and this can also be a warning sign for oncoming depression.
Eczema is often a condition one faces for a long time, possibly even forever. While this cannot be easily eliminated, it can be handled with a healthy skin care routine that includes a good cleanser and moisturizer.
Since eczema mainly has symptoms of dry and irritated skin, it is good to go with a product that allows intense hydration.
An interesting thing is that CeraVe has actually been officially recognized as a good brand to use when suffering from eczema by the National Eczema Association. Their cleanser bar has all the ingredients, namely glycerin, the three essential ceramides, and hyaluronic acid to replenish your skin and offer enough moisture retention to prevent dryness.
CeraVe's moisturizing cream also has an effective formula to treat and manage eczema, and you can expect a healthier skin texture by taking your pick from the CeraVe skincare collection.
Cetaphil too has a good moisturizing cream that calms eczema but unlike CeraVe which contains the ceramides in their formula to properly hydrate skin, Cetaphil does not provide enough hydrating properties to fully combat eczema on your skin.
Therefore, CeraVe is certainly the better product to choose to manage eczema.
[ HYALURONIC ACID MOISTURIZER ] With hyaluronic acid, ceramides and MVE technology for 24 hour hydration. Rich, velvety texture that leaves skin feeling smooth, it is absorbed quickly for softened skin without greasy, sticky, feel.
[ ESSENTIAL CERAMIDES ] Ceramides are found naturally in the skin and make up 50% of the lipids in the skin barrier. All CeraVe products are formulated with three essential ceramides (1, 3, 6-II) to help restore and maintain the skin's natural barrier.
[ DRY SKIN RELIEF ] A deficiency of ceramides in skin can often be associated with dry skin, which can feel itchy and look flaky. CeraVe Moisturizing Cream was shown to increase the skin's level of ceramides after 4 weeks.
[ DERMATOLOGIST RECOMMENDED ] CeraVe Skincare is developed with dermatologists and has products suitable for dry skin, sensitive skin, oily skin, acne-prone, and more.
[ GENTLE DAILY MOISTURIZER ] For face and body or can be used as a hand cream for dry skin relief. Holds National Eczema Association (NEA) Seal of Acceptance. Fragrance free, paraben free, allergy-tested, and non-comedogenic.
Is Cerave or Cetaphil Better for Psoriasis?
Psoriasis can be triggered by problems with your immune system where skin cell production gets messed up. When your skin cells are produced at a faster pace than they die, that is, the cells are replaced quicker than normal, psoriasis can be seen on the skin in the form of flaky and crusty patches.
There can be a range of reasons as to why psoriasis happens but most healthcare professionals believe that it has to do with one's biological state. Problems with your immune system are a common reason for the occurrence of psoriasis, while other reasons include smoking and stress or even a physical injury.
Depending on the severity of your skin condition, psoriasis can or cannot be treated with just skincare products. You should opt for cream-based moisturizers that help you manage the dryness that comes from psoriasis.
CeraVe actually has a dedicated line-up for just treating psoriasis with their CeraVe Psoriasis Cleanser and CeraVe Diabetics' Dry Skin Relief. These two products contain the ingredients required to help treat and alleviate the appearance of psoriasis on the skin.
Cetaphil, on the other hand, does not have any products that cater specifically to those suffering from psoriasis but considering how their products are made for sensitive skin, you can still get good results from trying it out.
In the case for which brand has the better product, CeraVe remains the undefeated champion seeing as how their product line has included a targeted product for women with psoriasis.
Is Cetaphil as Good as Cerave: Why or Why Not?
Even if our concluding remark was that CeraVe is the better contender between the two, there are a couple of Cetaphil products you should still look at. These include:
Cetaphil night cream for redness prone skin
Cetaphil daily facial moisturizer for redness prone skin
Cetaphil deep hydrating refreshing eye cream
Cetaphil purifying clay mask
Cetaphil deep hydration healthy glow daily face cream
… and any other you want to experiment with.
CeraVe perhaps is the newer and shinier brand that everyone is flocking to right now but Cetaphil has dominated the skincare market for decades, so they do have a gold-studded reputation for being a good brand.
If you want to try using a Cetaphil product, don't be hesitant to do so. CeraVe's newest tech makes it a nice thing to get, but Cetaphil also knows what it's doing.
Why Do Most US Dermatologists Recommend Cetaphil and Cerave?
Both CeraVe and Cetaphil have been endorsed by dermatologists worldwide, and this is because how their formulas are safe and trustworthy enough for people to use without inhibitions.
Dermatologists do not simply endorse these products but have also been a part of the production process in these companies for years. The formulas are developed with researchers, scientists, and dermatologists working together to produce one of the best skincare brands, and CeraVe and Cetaphil definitely are at the top!
Have you tried Cereve or Cetaphil? What are your favorites? Let's chat in the comments!
$16.29 ($1.02 / Fl Oz)
-$2.29
$14.00 ($0.88 / Fl Oz)
$11.03 ($22.06 / Ounce)
-$0.08
$10.95 ($21.90 / Ounce)
$17.78 ($0.94 / Ounce)
-$5.68
$12.10 ($0.64 / Ounce)