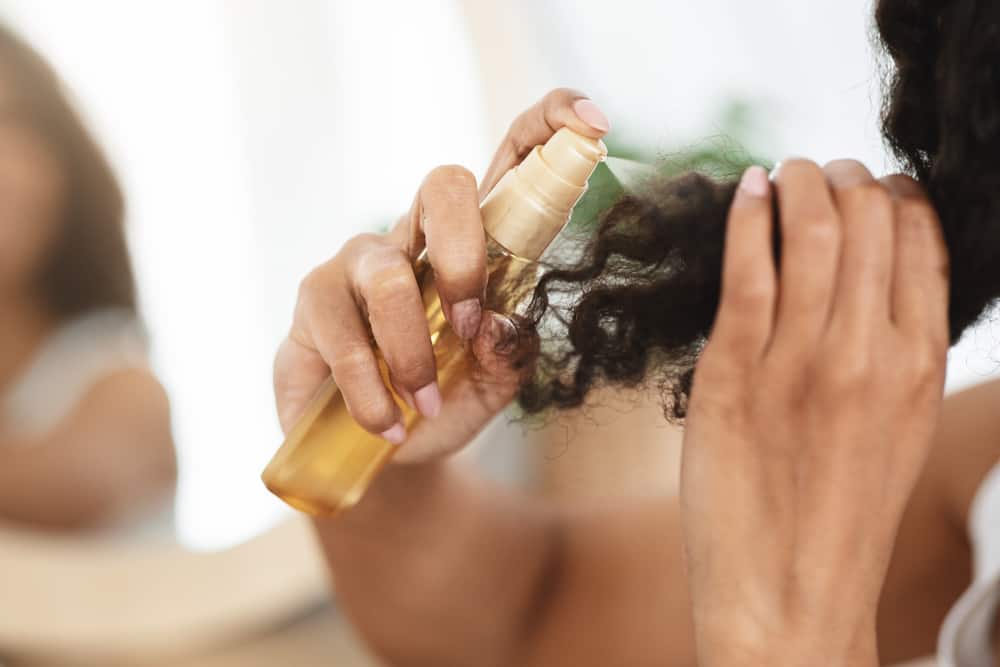 Is coconut oil good for curly hair? Well, it depends! My hair has a love-hate relationship with coconut oil. If coconut oil is towards the bottom of the ingredient list it tends to work for my hair. For example, Cantu coconut curling cream does wonders for my hair. I use it to moisturize my wash and go's throughout the week. I also use their Cantu comeback curl revitalizer which brings my curls back to life.
However, I have used some products with coconut oil that makes my hair feel like hay which is a no-go! We all know that the key to hair growth is moisture.
So, you have to determine if coconut oil is good for your hair and that is through trial and error. If you have curly hair that is dried out and frizzy then coconut oil can be a game-changer.
Coconut oil is a wonder product, made of natural ingredients, that is absolutely perfect for taming curly hair! 
✔️ Naturally Nourishing Coconut Oil for Hair - With its unique combination of natural fats, coconut oil helps hydrate hair and nourish the scalp. It's ideal for use as a conditioner, detangler, or coconut oil hair mask.
✔️ Hydrate Naturally With Coconut Oil for Skin - Coconut oil organic is a naturally moisturizing body oil that can help skin feel soft, smooth and hydrated. Use our coconut oil for face as a makeup remover—or even as a natural alternative to massage oils.
✔️ Perfect Coconut Oil for Cooking and Baking - An unrefined coconut oil with a naturally high smoke point (350°F), this is the perfect cooking oil for baking, frying and sautéing. Our pure coconut oil is cold-pressed from fresh, organic coconuts, delivering a rich flavor and aroma.
✔️ A Kitchen and Beauty Staple - Whether you're using our coconut oil for body moisturizer, as a coconut hair oil or as a cooking oil, it's an all-natural, easy-to-use addition to any lifestyle. It's perfect for keto, paleo, or gluten-free diets, or just as a tastier alternative to cooking with olive oil or butter.
✔️ USDA-Certified Organic & Non-GMO Project Verified - Using some of the world's highest-quality organic coconuts, our cold pressed coconut Oil (aceite de coco) is USDA-Certified Organic, Non-GMO Project Verified, Certified gluten free, Keto and Paleo, plus its grown and harvested organically without the use of harmful chemicals or additives.
Unlike other oils for the hair, coconut oil is capable of penetrating deep into the hair shaft and follicle, instead of creating a layer on the surface. This will in turn help to deeply restore moisture, bounce, and shape in the hair, whilst also strengthening the hair itself over time.
Not only is coconut oil very healthy for your hair, it is also a natural shine booster, which will make your hair look beautiful, feel soft, and add more definition to your natural curls. What's not to love? If you have naturally curly hair, then coconut oil is essential for your hair care routine!
But, how should you use it? 
*This post may contain affiliate links. If you use these links to buy something we may earn a commission. I only recommmend products that I use, love, or thoroughly researched.
How do you use coconut oil for curly hair?
Now you know that you definitely need coconut oil for curly hair, you will want to know exactly how to use it on yours.
The best way to use coconut oil for curly hair is after steaming the hair first, as this will work to lift the hair strands and cuticles. You can do this by taking a hot shower, to open up the hair strands ready for the deep moisturization that coconut oil will bring. 
You can apply and use coconut oil for a number of benefits and uses. For instance, coconut oil can be used on curly hair for moisturization, deep conditioning, detangling, fighting frizz, holding your curls, enhancing the shine, or even as a treatment for dandruff. 
For instance, if you have a dry scalp, then you will want to section your hair, and apply a few droplets of coconut oil directly onto the scalp, and rub this into the areas that you suffer from irritation or dryness the most. Leave the coconut oil to sit on the scalp, and rinse off with a little warm water for the best results.
In addition, you can apply some coconut oil to your curls to really define them, just scoop some coconut oil onto your hands and use it to scrunch up your curls and add some texture to your hair. 
You can also use coconut oil as a shine enhancer, just make sure that your hair is clean and free of any products before adding in coconut oil as you may see a build-up, or it may make your hair look greasy. 
If you struggle with your hair, and you have to detangle your curls frequently, then you may want to use coconut oil. First, start with clean, wet hair, and apply 2-3 drops of coconut oil to the ends of your hair, and use a wide-toothed comb to untangle the hair. 
We also recommend adding some coconut oil to your conditioner once a week for a deep conditioning treatment.
Simply add in as much as you want, and apply to the hair using your fingertips, working from the ends up to the roots, massaging deeply to restore the moisture in your hair and enhance those natural curls! Leave the conditioning treatment on for at least 30 minutes, and rinse off! 
How often should you put coconut oil in curly hair?
For the best results, you should be taking care of your hair with coconut oil about two to three times a week, and shampooing it twice a week.
Keep in mind that coconut oil can be hard to wash out of the hair, and you may have to do two shampoos at a time to eliminate the coconut oil completely.
How do you wash coconut oil out of curly hair?
Although coconut oil is a wonderful product for curly hair, it can be hard to wash out and get rid of after applying. To remove the excess coconut oil from your hair, you are best off either rinsing it away with a natural, healthy solution or using dry shampoo and powders to soak up the oil. 
The natural way to remove coconut oil from the hair is by shampooing, or using a homemade cleansing solution if washing your hair does not work.
For instance, you can use lemon juice to remove coconut oil, by squeezing 2 fresh lemons into a bowl, and mixing with 8 fluid ounces of water. Then, pour this over the scalp and hair, leave it to sit, and rinse away with warm water. The coconut oil in your hair should rinse away with the lemon juice.
You can also try rinsing the coconut oil out with an egg wash technique. This is done by beating 2 or 3 eggs in a bowl and adding 32 fluid ounces of water, before mixing them together until combined. Then, you can pour this over your hair and rub it into the scalp and ends. Leave the egg wash to sit on your hair for 5-10 minutes, and rinse with lukewarm (not warm) water. This should then remove any remaining coconut oil in your hair.
If you want a quick fix, you can use dry shampoo, or a baby powder to soak up any excess coconut oil left in your hair. Simply spray on, or shake the powder onto the hair, and brush it through to the ends. This can soak up the coconut oil completely, but you may want to shampoo and rinse your hair afterward just in case. 
Do you put coconut oil on wet or dry hair?
For most cases, we would recommend putting coconut oil, or any type of hair oil on wet hair after washing, shampooing, conditioning, and rinsing the hair.
This will give it a good moisture boost and will leave your hair looking and feeling soft, shiny, and healthy all day long.
Video: How to Pre-wash Curly Hair with Coconut Oil