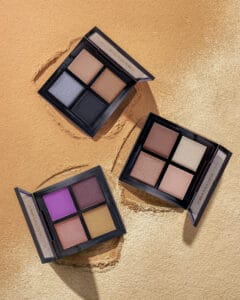 If you get bored with your makeup from time to time, why not consider following a quality beauty blog that shows you industry techniques, insider knowledge, along with the best products around to create original results? Simply bookmark the blog or sign up for the mailing list.
*This post may contain affiliate links. If you use these links to buy something we may earn a commission. I only recommmend products that I use, love, or thoroughly researched.
Pixiwoo
Do you love the makeup you see in the movies? If you want to peek behind the scenes to see how some of these famous stars achieve their results, have a read at Pixiwoo, a beauty blog with a high pedigree. This blog is organized by the makeup artists who worked on Sister Act. 
Sam and Nic Chapman have experienced industry professionals with a ton of techniques and experience to help you achieve the best beauty results. Through a wide selection of video tutorials and posts, you can get an insight into some of the tricks of the trade for movie makeup.
Lisa Eldridge  
Of course, movie makeup isn't the only place to find iconic makeup you dream of having for your own life; the celebrity red carpet is also a winner. Lisa Eldridge works in this area. She works with A-list stars of all kinds, helping them to achieve looks that are on trend and original. 
The master of fresh-faced makeup expects to find plenty of video tutorials and blog posts on her website explaining the techniques used to get natural results. Why not bookmark this blog if you like her style and use it to inspire you; for instance, clear aligners create a perfect natural smile.  
Estee Lalonde
Are you looking for a practical and thorough beauty blog to follow, one that gives you tips and tricks from your makeup, skincare, haircare, and more, one that is updated regularly and sends you emails about your favorite topics? If this sounds relevant to you, check out Estee Lalonde. 
Estee Lalone is more than a blogger and makeup enthusiast; her website is also excellent for product reviews. If you want to have a range of products on your makeup counter ready to serve you for any occasion or event, visit her website and bookmark her blog, it doesn't disappoint.   
Ruth Crilly 
Ruth Crilly has been in the fashion modeling business for years, so she knows what she's talking about on the blogs and video content of their website. Ruth Crilly has a master's degree to draw on, but let's face it, nothing beats the knowledge and expertise of industry experience. 
If you still have doubts about her credentials as a reliable resource, check out her parenting blog as well; she runs two successful blogs because of the quality of the content, insider techniques, and practical advice. Ruth also has a sharp eye for the latest beauty trends and products. 
Final Thoughts
There's a tendency for people to find what they like a stick with it; this is understandable because techniques and processes for creating the best beauty results can be challenging to learn and practice. If you follow these blogs regularly, you can pick up techniques naturally.