James Charles' looks are iconic. He is one of the youngest beauty icons and getting your hands on his looks at an extremely affordable price is a steal.
Because James Charles is an iconic star, he does use very expensive beauty products to create his looks.
But today, we're going to walkthrough:

So let's get to it.
*This post may contain affiliate links. If you use these links to buy something we may earn a commission. I only recommmend products that I use, love, or thoroughly researched.
James Charles Looks 1: Sunset Eyeshadow, Wing liner, and Eyebrows Makeup Look For Beginners

As James Charles would say, "hey sisters," this is one of the most iconic James Charles looks.
He goes in-depth to ensure all beginners trying to figure out how to do their eye makeup understand how to recreate this look to perfection.

The look is basically an orange-red eye shadow that would be absolutely stunning on anyone going on a date or to a special event. The eyeshadow colors are extremely vibrant and give off celebration and fun date vibes.


James Charles does an iconic job in this 30-minute video explaining how to recreate this eyeshadow look.
However, if you prefer a written tutorial, read on!
I also included some of the products below used to create the makeup look.

Products Used To Achieve First James Charles Eye Makeup Look

Anastasia Brow Pencil

You May Also Like: WUNDERBROW Full Product Review
Worth the hype Mascara NYX

Morphe Brushes

Tarte Shape Tape Concealer

Affordable Alternative Products to Use to Recreate First James Charles Makeup Look

Revolution – The 35b Morphe Palette Alternative

35B morphe palette's best alternative is this beauty right here. Going for $30, it is absolutely amazing with all the colors you'd need and more to recreate this James Charles look. It has great pigments that blend in well, are bright, and stay on for the entire day.

Morphe brush Alternative

The morphe brushes are extremely expensive. And to achieve this look, you really need to use good brushes to make sure the application is smooth and you're able to blend and get the transitions to look as seamless as James Charles' eye look.

NYX mascara Alternative

NYX mascara has no alternative. It's quite inexpensive. And I must give it to James Charles in this makeup look for choosing NYX mascara because not only is it affordable, but it also does a great job.

Tarte Shape Tape Concealer Alternatives

Now, it's no secret that James Charles has light skin and the concealer he uses might not work for your skin tone. For that reason, here are four alternatives to this concealer based on your skin shade.

Concealer 1: Kiko Milano Concealer

Concealer 2: Maybelline Age Rewind Concealer

Concealer 3: LA Girl Pro Concealer

Concealer 4: Loreal Paris Infallible Concealer

Nyx professional Eye Brow Pencil – Anastasia Brow Pencil Alternative

The Nyc professional eyebrow pencil is an amazing cheap alternative to the Anastasia brow pencil that also has a smooth end.
The lines this brow pencil makes are not harsh and easily blend into your eyebrows.
It's actually one of the best eyebrow pencils that are extremely affordable.
Plus, it has a super skinny tip, and you can always change the shade of the lines it creates by just changing the pressure similarly to Anastacia brow pencil. It's an absolute steal.
How To Recreate First James Charles Makeup Look

This James Charles Makeup Look might not work for a lot of girls because it's a little bit over the top (the James Charles way).
So if that's you, here's how to recreate a simpler James Charles-inspired look.
Use a brow pencil with a smoother/ brush to allow you to blend the color into your brow so that it's not so harsh.
Then, using your brow pencil measure out how long you want to draw your eyebrows like this: (photo of James Charles showing what to do).
Draw an outline of your eyebrows and fill it in. Don't worry if it smudges or you make a mistake.
Use a concealer that matches your skin tone and cover up your mistakes and apply the concealer on your eyelids to act as a base.
Once you're done with your eyebrows, it's time to recreate James Charles eye makeup look.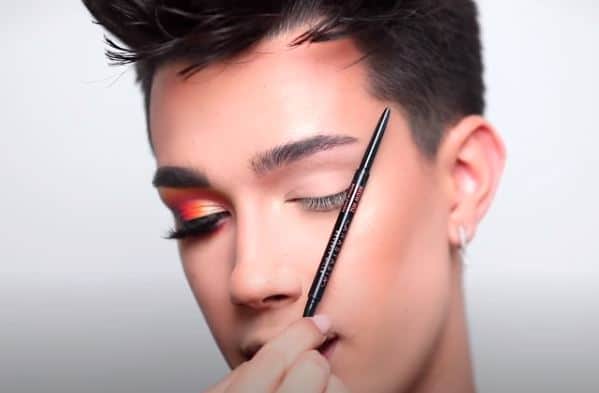 3 Ways to Recreate First James Charles Makeup Looks

Use One Color on your eyelids and do the wing liner and finish up with the lashes.

In James Charles makeup look, he uses four colors on his eyelids. Orange, purple, and red to create a sunset vibe.

So instead of using all four colors, you can choose one color and finish it off with a wing liner.

Depending on which color you love, a purple makeup look, a red makeup look, an orange makeup look, or a yellow makeup look will still make you look bomb on your date.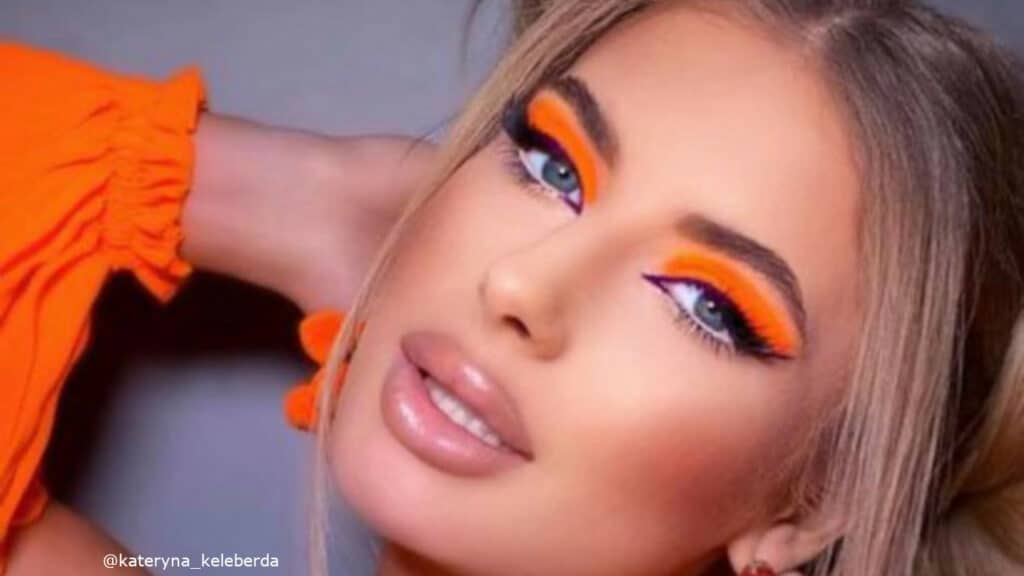 Finally, finish up the look with the lashes but the step is completely optional. If you have the lashes, great. If you don't have the lashes or don't want to wear lashes, you'll still look great!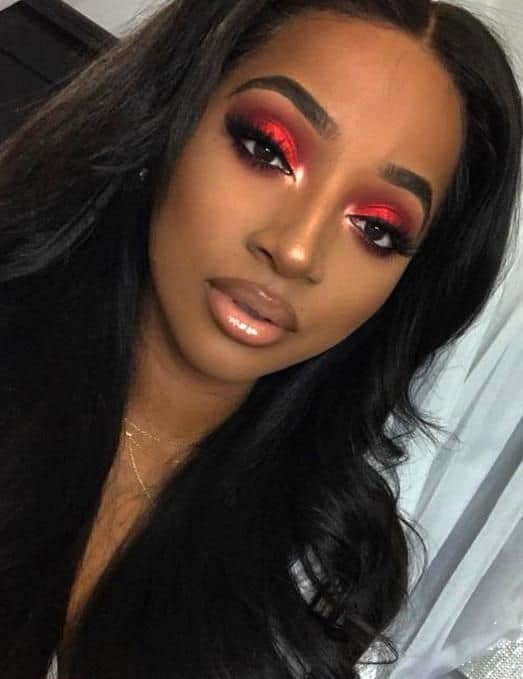 Choose two colors and finish it up with the wing liner

Remember, in James Charles looks, there are four colors.
If you feel that's too much but you still want the sunset vibes, you can always go for the two main colors that have the sunset vibes, orange, and red.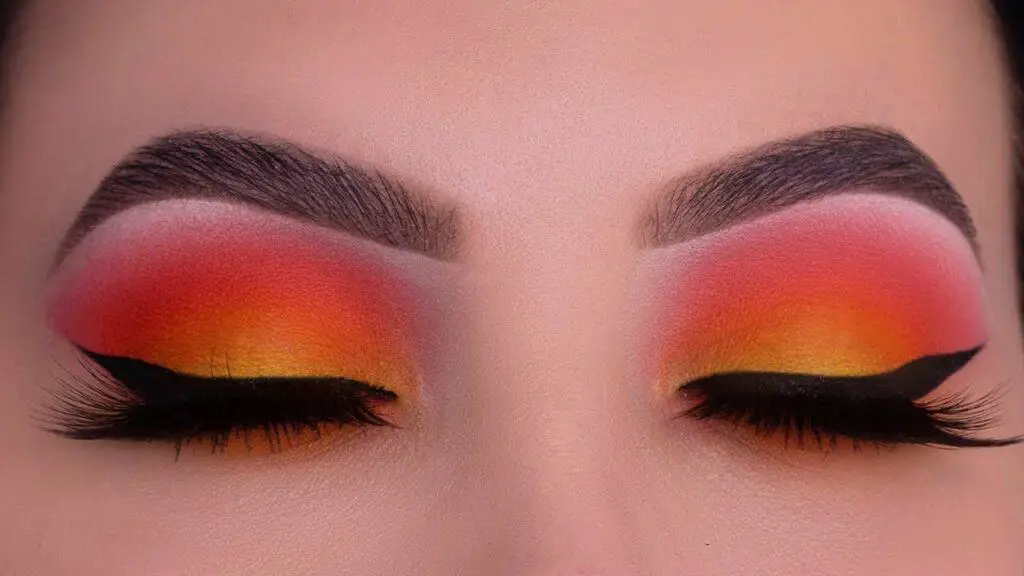 And instead of blending them as James Charles does, you can always pick the red and the orange in one stroke and apply it.
It will blend quite well, and you will skip all the steps he shows.

That's one technique that can be used if you're in a hurry and you want to blend two colors at once.

And because you've decided to go with the two colors, you can be a little dramatic and add the two colors under your lids using a small Morphe brush. If not, finish up the look with a wing liner and lashes.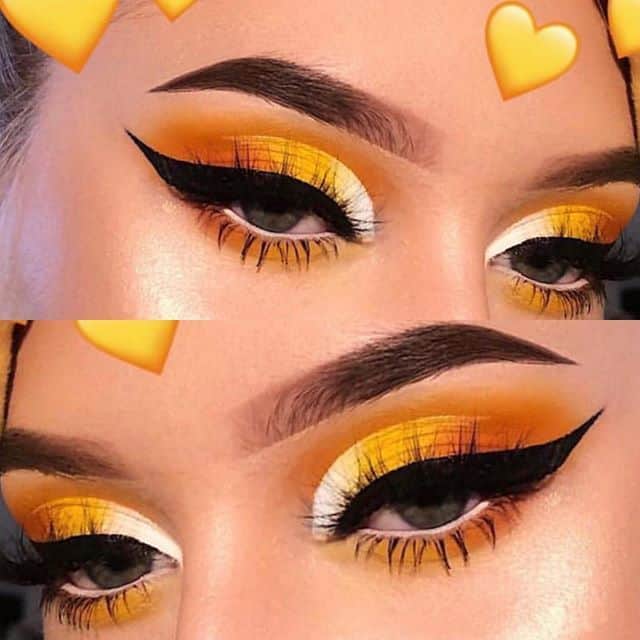 Avoid using the transition shade (yellow)

James Charles look includes a transition shade that is applied on the upper section of the eye. And because that makes the entire makeup look over the top, simply don't do it on the upper section of the eye.

Instead, don't use the transition color on the eyelid itself and use all the three colors as he shows.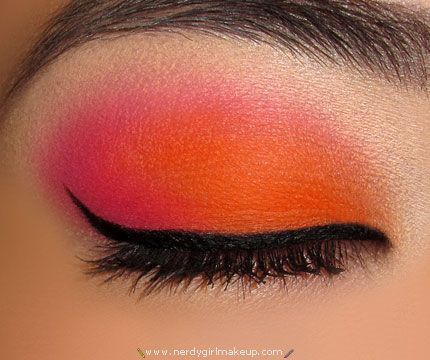 When you do this, the makeup look will be less dramatic.

James Charles Makeup Looks 2: Back to School Makeup Look/ Work Makeup Look

This is one of the simplest James Charles looks. It is one of those makeup looks that you can wear when going to work or going grocery shopping.

It doesn't involve a lot of steps and will end up being your everyday look especially if you're new to this makeup life.

James Charles makeup looks are over the top but with this one, he ensures that you have full coverage and you're ready to run your errands still looking beautiful.

The look entails a foundation, concealer, lashes, and eyebrows.

There's literally no eye makeup involved so it's safe for you to assume that it's one of those makeup looks that save you time especially if you're running late for work/ school.

And yes, if you don't have time, you can literally recreate this James Charles makeup look sitting in the car at your work parking lot (I've literally done this before) and it works.

If you're in a hurry, scroll down for your 5-minute walkthrough on:
What you can do to recreate this look
The products that James Charles uses
And the affordable alternatives that will give you the same coverage throughout the day

Products Used to Achieve Second James Charles Makeup Looks

Kiss beauty BB cream (blemish balm)

BB creams reduce your morning beauty routine by half because it tends to be a mixture of all your morning creams such as moisturizer, primer, sun protection, foundation, and skin treatment.

Maybelline Fit Me Stick Concealer

NYX HD finishing setting powder

Eye curler

L'Oréal Paris telescopic original mascara.

Revlon super lustrous gloss

Affordable Alternative Products to Use to Recreate Second James Charles Makeup Looks

Kiss Beauty BB Cream Alternative – Maybelline Dream BB Cream

This one was a hard one to find an alternative especially because of its properties. The best thing close to this Kiss Beauty BB cream is the Maybelline Dream BB cream. It also serves as a sunscreen so it can come in very handy this summer. It comes in 5 different shades so if you can't find your shade especially if you have lighter skin tones, you can always get it with Maybelline dream. To top it all off, it costs $8.99.

NYX HD Finishing Setting Powder Alternatives

The NYX line is a very great line that is extremely affordable. And for that reason, the only alternatives that will be here will be the different shades of the NYZ HD finishing powders for different skin tones.

Alternative 1: Aesthetica Banana Loose Setting Powder

Alternative 2: Black Radiance True Complexion

Alternative 3: Maybelline Fit Me Loose Setting Powder

Alternative 4: Dermablend Loose Setting Powder

L'oreal Mascara Alternative
In the case of L'oreal, again, I applaud James Charles for using a great mascara that is affordable.

Retailing at only $11, I don't think there is a better mascara that is this affordable and has this kind of quality.

But if the price range is still high for you, then the Covergirl Lash blust will totally work out for you. I love the blue casing though there are 4 other shades of cases. I also love the way the mascara rolls off smoothly on your eyelashes.
It's an amazing mascara and you should totally try it. It goes for $8 and will last a very, very long time.

Revlon Super Lustrous Lip Gloss Alternative

And finally, the Revlon super lustrous lip gloss literally has no alternative. It's super shiny, glides on your lips, gives your lips a nice shiny glossy feel, also hydrates your lip and is super affordable. It doesn't get better than this. If you're looking for a lip gloss that will literally transform your makeup.

How To Recreate Second James Charles Makeup Look

This back-to-school James Makeup look is straight forward and easy to achieve. All you have to do to achieve this simple makeup look is:
Apply Kiss beauty BB cream (blemish balm).
Then, apply concealer between the brows, under the eyes, top of the lip (philtrum) and chin then blend it out.
Apply NYX HD finishing setting powder on areas that will crease like under the eyes and center of your forehead.
Then the black opal bronzer on the cheek brow and sides of the chin.
Draw and fill your eyebrow with Davis no.18 /21 eye pencil.
Take an eye curler and curl up the lashes.
Apply L'Oréal Paris telescopic original mascara to your lashes for a fuller lash look.
Lastly on your lips use Revlon super lustrous the gloss and slay away during the day.

Pro Tip: And if you have extremely oily skin and you sweat a lot, a quick little hack to do when you start sweating is spray a dash of setting spray on your face and let it dry.
Don't wipe or pat dry. Let it dry. It will make your makeup look fresh again.

Other Ways to Recreate Second James Charles Makeup Look

Apply neutral colors on your eyelids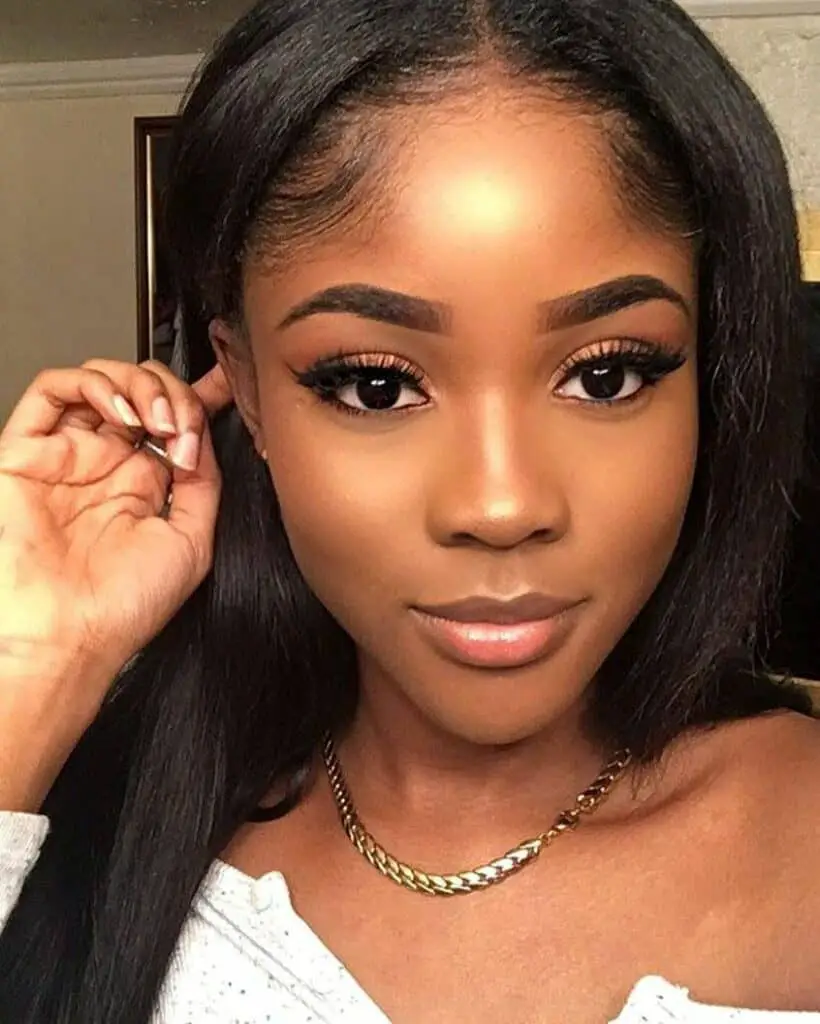 Whether you're going to school or work, applying neutrals on your eyelids always works.
Neutrals depends on your skin color so if your dark chocolate, a good brown/ earthy tone will work as a neutral for you.
Here are different pictures to give you inspiration.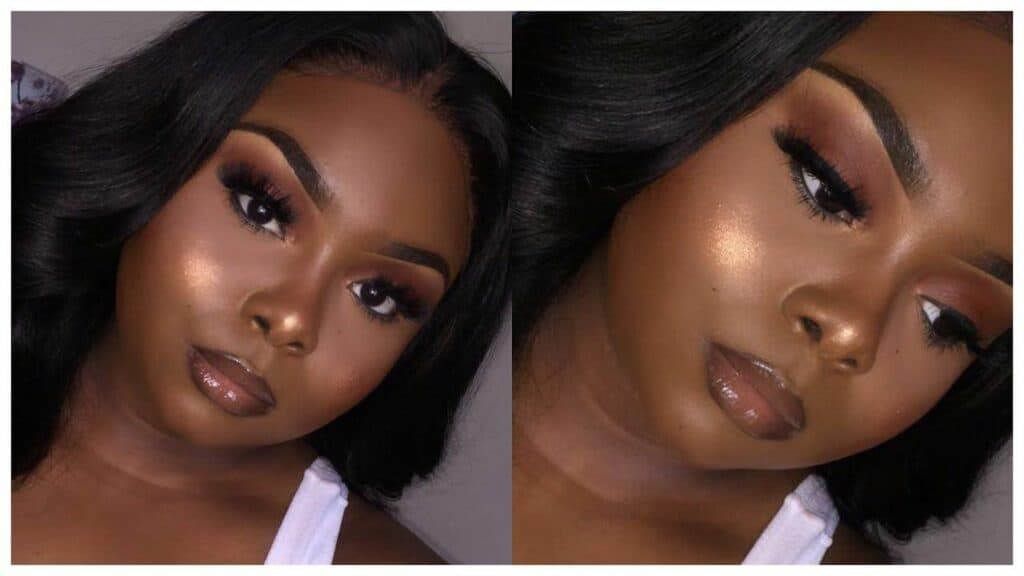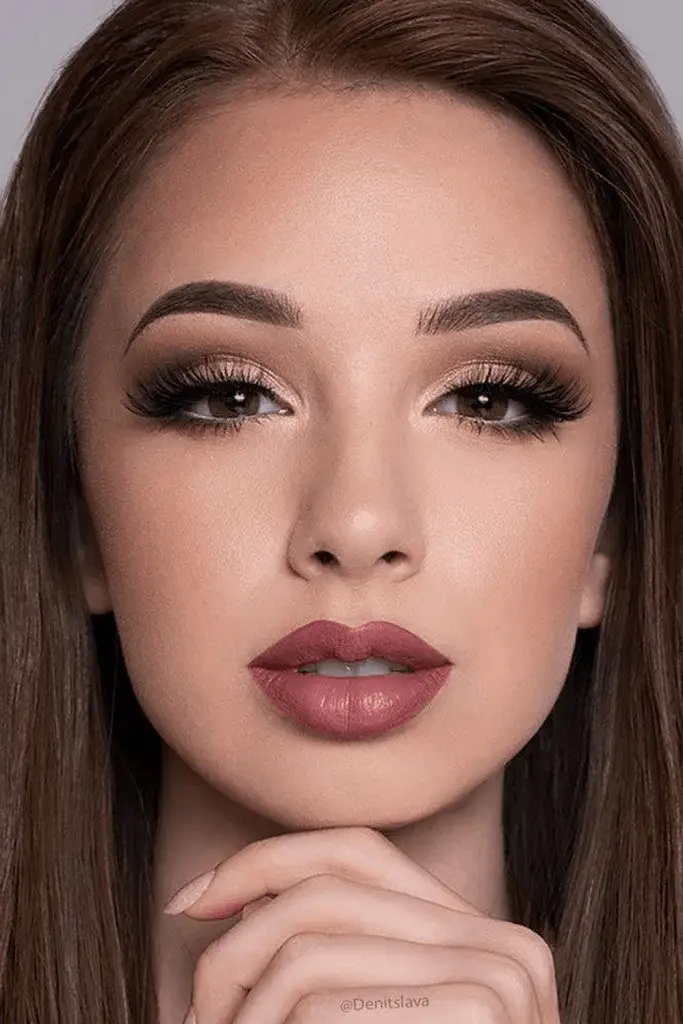 Apply a dark liquid lipstick

If you're going for a family dinner right after work or school or a special event, always have a dark red or red liquid lipstick.

It will always elevate this simple James Charles makeup look easily.

Furthermore, it makes you look like you were prepared for that event even if in reality you weren't.
And plans change so always be prepared with a liquid lipstick if you step out of the house with this simple look.

James Charles Makeup Look 3: Full Face Makeup Using One Palette

This is one of James Charles Makeup Looks that took the internet by storm. Nobody had ever tried doing a full makeup using one palette before him.
Plus, the beauty of it is that it was not only genius, but it would save a ton of beauty lovers a ton of money buying different products to incorporate in their makeup routines.

Just as the title suggests, it's basically one palette that does all the job so it's really super simple and super cheap.
Also, it's worth noting that you won't only use your palette. There are only 2 other products you'll use just to make sure you prime your face.

If you're more comfortable watching the 19-minute video than reading through, then here is James Charles makeup look.
If you would love to skim through what to do fast, skip the vid and let's get right into it.

Products Used to Achieve Third James Charles Makeup Looks
James Charles Morphe X Artistry Palette
Neutrogena Oil-Free Moisturizer
NYX HD photogenic concealer wand

Affordable Alternative Products to Use to Recreate Third James Charles Makeup Looks

When it comes to the alternative products to use to recreate this James Charles look, there are very few other palettes that can recreate this look for especially because of the browns and nudes it has coupled with rainbow colors.
That mix right there is quite hard to get in one palette.

With that being said, there is one palette that comes 2nd to this palette that you can try to pull off this look with. It's the colored raine.

Though it doesn't come close to the James Charles palette in terms of the browns because it only has 3 shades of brown, it has similar bright shades.
It's a wonderful palette to use as an alternative especially if you're a beginner or you want a cheaper alternative to the James Charles Morphe X palette.

How To Recreate Third James Charles Makeup Look

For The Face
Begin by washing and drying your face with a clean cloth towel.
Moisturizer your face.
Use a concealer that matches your undertone so it can cover the marks of the pimples or any other blemish on your face.
On your make up palette use a brown shade to contour the cheek bone and the chin.Using a dark brown shade, contour the nose.
Dip your brush on the metallic pink shade color and gently swatch on your cheeks to give it a red, peachy and lively look only if you have lighter skin tone.
If you have darker skin tone, swipe your brush on the light brown shade color and mix it with that vibrant look.
Dub your brush on the golden shimmer shade to highlight the browbone and the tip of the nose.
Use a dark brown color to fill in the brows and clean up the mistakes with your concealer.

For the James Charles eye shadow makeup look
Apply eye shadow base onto the eye lids using your concealer.
Dub the golden shade and pat all over the eye lids.
Pack dark purple onto the outer corner of the eye lid.
Use bright purple to diffuse the outer edge working towards the inner eye lid.
With a red shade, buff it out at the top of the bright purple and gently blend it out.
Dub some bright neon orange to the makeup brush and add on top of the red.
Dub a yellow color to buff out the orange edge.
With a different brush, dub on the blue color, sprit some water then pat and wiggle he shade on the outer are of the lid to the half of the eye lid.
Gently blend the blue and the purple color to create a smooth transition.

Dip your brush onto the bright blue/ teal shade on the inner half of your eyelids.
On The Lower Lash

On the lower lash, stroke some pink gently.
Blend the lower lash line with a bit of yellow to add dimension on the wing we created.
Add a bit of yellow to the inner corner of the eye lids to add more color.
Add some yellow shimmer on top of the yellow for a more defined look.

Finish off with lips gloss or lip balm to the lips to prevent them from chapping.
James Charles Looks Conclusion

Again, if you find these looks a bit much you can always tone it way down and only use one or two colors on your eyelids.

Pro tip: If you have a darker skin tone, always use a darker shade than James Charles recommends in his makeup looks.

I hope these James Charles makeup looks gave you inspiration to recreate your own makeup looks. Let me know in comments below which one was your favorite James Charles looks among the three!