Managing curly hair can be quite a challenge if you are on a tight budget. Moreover, if you are new to the curly hair care game, you'll find that experimenting with products can be very pricey.
But not to worry, we are here to help!
Today, we will be sharing a list of curly girl approved drugstore products that will keep your hair looking healthy and hydrated without creating a hole in your pocket.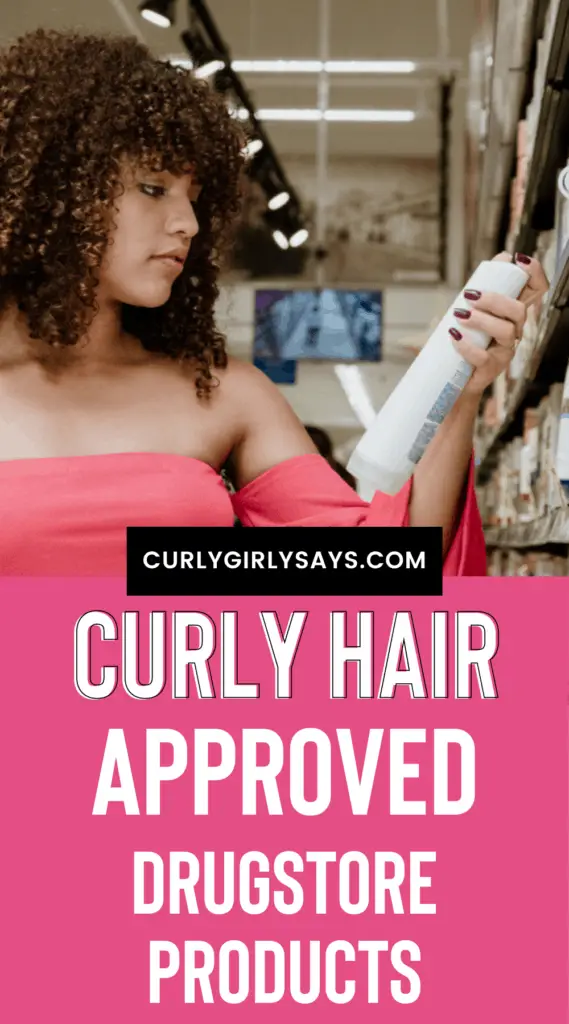 *This post may contain affiliate links. If you use these links to buy something we may earn a commission. I only recommmend products that I use, love, or thoroughly researched.
Curly Girl Approved Drugstore Products Complete Guide:
Curly Girl Method Approved Shampoo
The first thing you need in your curly hair care routine is a nice, hydrating shampoo. The thing about curly hair is that it tends to get extra dry. This is because the shape of curly hair prevents the natural oils from being distributed evenly on the scalp. This results in frizzy and fragile hair.
Therefore, it is crucial that you use a gentle and hydrating shampoo. Here are some of our top picks for curly girl shampoos that will give your hair the nourishment it needs.
This shampoo made it to the top of our list because it's sulfate-free, which means it's gentle and won't dry out your hair as other shampoos would. Moreover, it does not have any added fragrance, so you don't need to worry about unnecessary chemicals drying out or irritating the skin of your scalp.
This shampoo also contains Cocamidopropyl betaine and coco betaine that works great to cleanse the scalp without causing irritation. It is super easy on the pocket and comes in three quantities of 2, 8, and 32 ounces. A two-ounce quantity is ideal if you are only trying out the product to see how it works for you.
Leaves your hair with lots of moisture and ready for your favorite Jessicurl conditioner and styling products for amazing, bouncy, beautiful hair even on wash day.
Jessicurl products are always sulfate free, silicone free, gluten free, cruelty free, and vegan.
How to Use: Shake bottle and apply to saturated hair. Massage into scalp to create a light, creamy lather. Finger-comb through the length of hair and rinse well. For an even deeper clean with more lather, repeat the process. Then treat your hair to Jessicurl Aloeba Daily Conditioner for fine or wavy hair. For tighter curls or thicker locks, use Too Shea! Extra Moisturizing Conditioner. Your hair will thank you!
Safe for color-treated hair
You May Like: L'ANZA Hair Products: A Complete Review
Another great and affordable curly hair product is the Flora and Curl African Superfruit Shampoo. It combines all the benefits of wheat proteins, tangerine fruit oils, sweet almond oil, and argan oil, which keep the scalp feeling hydrated and healthy. The all-natural citrus scent is a pleasant bonus. Moreover, the shampoo does not contain sulfate, phthalates, or silicone, so it won't irritate the scalp.
Massage the shampoo gently over your scalp and hair to get rid of dirt and buildup. Then, rinse thoroughly to ensure there is no product residue. This all-natural product will help you restore your hair's natural health and rejuvenate the scalp so it feels fresh and revitalized.
Give your curls a clean start: This botanical shampoo for curls creates a deeply invigorating lather to gently clean your curls and rid it of impurities and build-up, while revitalising curls and restoring its shine and vitality.
Natural infusion: Coconut-derived cleansers, strengthening wheat proteins and scalp balancing Tangerine fruit oils all work to leave your scalp feeling fresh, clean, and fragrant!
Rejuvenate your scalp: This therapeutic, invigorating shampoo for curls is botanically infused with nourishing Sweet Almond Oil and Argan Oil with a blend of pure citrus fruit oils, rich in Vitamin C, to regulate the production of natural oil and restore the balance of the scalp. Its energetic citrus aroma is refreshing, which is exactly how your scalp will feel!
No harsh chemicals: Plant powered, synthetic fragrance free, Phthaltes free, sulfate and silicone free.
Great fragrance: The intense citrus aroma gives your curly hair a fresh and clean smell. No artificial fragrances, colours, silicones, sulfates, parabens, pthalates or mineral oil. Curly girl friendly.
A blend of phytic acid, corn, and Mandarin orange extract, this shampoo is ideal for removing hard water minerals like calcium and magnesium from your hair. The corn helps prevent hard water buildup, while the brand's exclusive orange extract cleanses the hair with gentle finesse.
The Kinky Curly Come Clean Clarifying Shampoo is also sulfate-free and gentle enough for everyday washes. This shampoo comes in only one quantity of 8 ounces. However, it is super economical, so you don't have to worry about wasting your money. Plus, it actually works!
This is our personal favorite because it is free of parabens, sulfates, dyes, silicone, and phthalates. The MopTop Detox shampoo works well to remove buildup accumulated from everyday styling products. It also cleanses the scalp and hair from sebum that often ends up clogging the pores.
With this product in your hair care regime, you will be able to detoxify, reset and restore your hair to its natural state so you can begin with a clean slate for your next styling session.
The MopTop Detox shampoo comes in two sizes of 2 and 8 ounces. You can start by using the smaller size as a trial and go on to buy the bigger size if you like the product.
REMOVES UNHEALTHY BUILD UP. The MopTop Detox Shampoo removes the chunky accumulation of product residue that is caused by minerals, silicone, wax, chlorine, and shea butter.
RESET & CLARIFY ANY HAIR TYPE. Whether you have thin, thick, straight, wavy, curly or coily hair, our Detox Shampoo will effectively remove impurities from the scalp and prime any hair type and texture for styling and/or color treatment.
EVEN OUR SHAMPOO IS DETOXED. We are proud to say this shampoo is free of harmful parabens, sulfates, insoluble silicones, phthalates and dyes. Instead, we use a coconut cleanser to naturally restore balance to your hair.
HOW TO USE THE DETOX SHAMPOO. This product is super concentrated to provide you with maximum value, so a little goes a long way! Massage into wet hair until you achieve a rich lather, then rinse completely. For best results, detoxify your hair every 4-6 weeks.
MOTHER KNOWS BEST. MopTop founder Kelly Foreman is always striving to create natural, healthy hair products that she's confident to provide her husband and daughters with, and as a result the rest of the world is able to enjoy a revitalized, balanced head of hair!
You May Also Like:
Curly Girl Approved Conditioners
No curly girl's hair care is ever complete without an effective conditioner. Conditioners are imperative for curly hair as they keep the hair smooth and lock in the moisture, preventing it from becoming too dry.
Moreover, detangling is an essential part of every curly girl's hair care routine, and conditioners help with that. Not to mention, they also keep the hair looking sleek and shiny.
Here are our favorite conditioners if you are looking for some affordable options for your curly hair.
The SheaMoisture Curl and Shine Conditioner, infused with Aloe Barbadensis Leaf Juice and Mangifera Indica (Mango) Seed Butter, works wonders in hydrating and detangling your hair. The formula is blended with Coconut & Neem Oils and Silk Protein, making it ideal for dry and lifeless hair.
The leaf juice seals in the moisture, the Mangifera seed butter stimulates growth and keeps the frizziness at bay, while the coconut and neem oils rejuvenate the hair's natural shine to add a refreshing scent to it. Moreover, the conditioner is free from silicone, sulfates, parabens, phthalates, mineral oil, or petrol.
We love this product because it gives you soft and silky results without the help of any harmful chemicals. Buy this conditioner now to transform your dry and frizzy hair into shiny and beautiful curls!
SheaMoisture's Coconut & Hibiscus Curl and Shine silicone free Conditioner is a lightweight hair care product that helps to restore and smooth dry hair cuticles without weighing your hair down
This moisturizing shine conditioner ensures you have no more knots, snarls or tangles – just soft, shining, easy to style hair wash after wash!
Moisturizing conditioner instantly softens and detangles dry, frizzy hair while infusing your curls and coils with intense moisture. Great for natural hair
This hair conditioner, blended with Fair Trade Shea Butter, helps to provide nourishing hydration for beautiful, healthy looking curls
All SheaMoisture hair products including this conditioner for curly hair are sustainably produced and cruelty-free
SheaMoisture hair products including this curly hair conditioner are formulated with no silicone, no sulfates, no parabens, no phthalates, no mineral oil or petrol
A true classic, the As I Am Hydration Elation Intensive Conditioner will do wonders for your hair and scalp health. Infused with herbal ingredients like coconut, sugar cane, green tea, apple, lemon, shea butter, and vitamin E extracts, this conditioner promotes growth from the follicular level and strengthens the weak areas.
We recommend incorporating this conditioner into your hair care routine if you want shiny, manageable, and healthy-looking curls for days. You can also bid farewell to your split ends as this conditioner will take care of those too.
The recommended usage for this conditioner is once every 2-3 weeks, but you can use it more often depending on your hair needs. The As I Am Hydration Elation Intensive Conditioner comes in a single size of 8 ounces and is very light on the pocket. It is also a vegan product and ships for free.
Ease of Combing Increased by 60%.
Detangling made easier by 75%.
Condition Your Curls & Waves with Moisturizing Emollients.
With Coconut, Sugar Cane, Green Tea, Apple, Lemon, Vegetable Glycerin, Shea Butter, & Vitamin E.
Vegan & Cruelty Free.
You May Like: What Curly Girl Products Are Approved?
Another great conditioner to look out for, the Desert Essence Fragrance-Free conditioner, enhances growth with the organic extracts and oils it contains. Infused with olive leaf and sea kelp, this conditioner will help you maintain your hair's shine and smoothness. This Desert Essence Fragrance-Free Conditioner does not have any added scent, and everything in this product is organic and natural. Moreover, it does not contain gluten or parabens, so there is no risk of irritation to the scalp.
Other ingredients like Sodium Lauryl/Laureth Sulfates, Phthalates, Artificial Fragrances or colors, silicones, EDTA, glycol, or petroleum-based substances are also omitted from the formula.
However, this conditioner does contain tea leaf extract and jojoba oil, which are infused with antioxidants and caffeine. These combine to stimulate hair growth from a follicular level, making them healthier and shiny.
You can use this conditioner every 2-3 weeks for an intensive and deep conditioning treatment or more often, depending on how dry your hair is.
Daily use, pure and gentle Fragrance Free Conditioner- perfect for those with scent sensitivities
Daily use, pure and gentle Fragrance Free Conditioner- perfect for those with scent sensitivities
Organic Green Tea rich in antioxidants helps restore natural shine and radiance
Leaves hair soft, shiny and manageable
Gluten Free, Vegan, Cruelty Free
Get the protection your hair deserves from split-end damage with GIOVANNI Smooth as Silk Deeper Moisture Conditioner. Another excellent product for curly-haired girls, the GIOVANNI Smooth as Silk Deeper Moisture conditioner, is perfect for coarse, frizzy, color-treated, chemically treated, dry, or damaged hair.
Its vegan and cruelty-free formula contains natural ingredients like vegetable proteins and organic botanical extracts like chamomile, lavender, and Ginkgo Biloba that, combined, will moisturize your hair from the root up.
The formula is free of Lauryl & Laureth Sulfate that can be harsh on the skin. You will feel the difference in the texture of your hair as it becomes soft, shiny, and frizz-free.
You May Also Like:
Curly Girl Approved Leave-in Conditioners
Sometimes, we curly-haired gals need the extra moisture to keep our hair looking fresh and soft. That is where leave-in conditioners join the party. They give your hair the extra layer of moisture and hydration it needs to stay frizz-free and manageable.
Here are our top picks for leave-in conditioners that you should give a go.
Infused with organic blueberry extract, aloe leaf juice, and chamomile extract, this leave-in conditioner is ideal for detangling, moisturizing, hydrating, and conditioning your curls. Moreover, this product also contains protein with hydrolyzed quinoa and silk amino acids that do wonders to the overall health of curly hair. The irresistible berry scent is a bonus, which makes using it even more worthwhile.
Apply the leave-in conditioner to let it adhere to the follicles and brush through to distribute the product evenly. Squish your hair gently during application to maximize absorption and nourishment.
Another affordable and effective product to look into is the Ecoslay Rice Pudding Leave-In Conditioner and Moisturizer. This conditioner is a unique formula consisting of rice water, chamomile flower extract, slippery elm extract, nettle leaf extract, melissa leaf extract, peppermint leaf extract, horsetail leaf extract, and yucca vera leaf extract.
These ingredients contain countless nutrients that your curly hair needs to look healthy and hydrated. The refreshing set of jasmine and vanilla oils is the cherry on top. Not to mention, the unique package in a pouch is enough to catch anyone by surprise in the shower. You can buy the rice pudding pouch alone or add it to a jar as an alternate storage container. However, the pouch itself works pretty well for storage purposes.
You can apply this leave-in conditioner to wet or dry hair to detangle and lock in the moisture simultaneously. It will have your curls looking hydrated and bouncy throughout the day.
This vanilla-scented leave-in conditioner is easy on the pocket and works great on curly, wavy, or dry hair. Packed with Aloe Barbadensis Leaf Juice, Argan Oil, and Shea-butter, this conditioner will leave your hair feeling fresh and soft. With this product in your hair care regimen, you can say goodbye to frizz and dryness. You will find your hair feeling more manageable and shinier after a few applications of this conditioner.
Not to mention, this two-in-one oil plus conditioner is non-GMO, gluten-free, nature-derived, sustainably sourced, and cruelty-free. You can buy a tube of this conditioner now for less than $10 on Amazon. Super affordable, right? We think so too!
Curly Girl Approved Styling Products
Enough talk about hair care, let's get to the fun part. There are numerous affordable curly hair products that help with styling curly hair without damaging it (you know we love 'em.)
These also help keep the hair in place so that style stays throughout the day without you needing constant touch-ups.
Infused with rich aloe, almond, macadamia, castor, and jojoba extracts, this gel is ideal if you think of styling your hair loosely. You can use it for a soft and relaxed look. It is perfect for wash-and-go routines on wet hair but can also be used on dry hair.
This Camille Rose Naturals Aloe Whipped Butter Gel can also be used as a leave-in conditioner if the hair needs moisture along with definition. Your hair will look gorgeous and effortless as it coils up into lovely, bouncy curls with a nice, natural definition.
Another favorite among curly gullies, this styling product comes in multiple quantities that you can choose from, depending on your needs. But the highlight of this marmalade is that it's made of such delicious ingredients, we're tempted to have it for breakfast!
Packed with flaxseed extract, agave nectar extract, pectin, aloe vera juice, marshmallow root extract, vitamin E, xanthan gum, and sweet orange essential oil, this marmalade couldn't be more nutritious for your hair. Flaxseeds are a great source of Vitamin E and rich fatty acids that nourish hair follicles, stimulating hair growth. Moreover, the anti-inflammatory properties of flaxseeds reduce inflammation associated with hair, dandruff, and other scalp conditions.
Agave nectar and pectin strengthen the hair cuticle and make the hair shinier. The aloe vera gel and marshmallow root extracts act as conditioning agents which keep the scalp hydrated and repair dead skin cells.
With this marmalade, not only will your hair be easy to style, but it will also feel healthy and hydrated. As a styling product, it will give your hair a powerful hold and create smooth, healthy-looking curls that are to die for.
Another tasty treat for your curls, this styling product is designed to replenish dry and damaged hair. Packed with exotic ingredients like organic black seed oil, avocado oil, Egyptian Abyssinian oil, Moroccan rose oil, and argan oil, this product will make your hair soft and give your curls a nice hold.
The white jasmine, magnolia flowers, sandalwood, and vanilla scents are bonuses that offer you the ultimate experience. We recommend indulging your curls in this tasty treat to get those luscious curls looking nice and healthy.
A multi-purpose luxurious leave-in cream that will lightly hold & soften your hair at the same time.
Gives you VOLUME & feels light weight.
2020 Best of the Best "Leaders in Curl" Naturally Curly Award Winner
Bounce Curl is pleased to announce we are proud members of the THINK DIRTY app, an app that allows users to learn about potential hazards of product ingredients, indicating those with known carcinogens (cancer causing agents), hormone disruptors & allergens. The app rates products on a scale of 1-10. A rating of 0-3 indicates a product is very green & clean and ALL Bounce Curl products earn a 0-2 rating!
Things to Keep in Mind
Now that the list of our favorite affordable curly girl products is out of the way, let's talk a little about the things you need to keep in mind when looking for the most suitable products for your hair.
It is already established that curly hair needs extra maintenance to look and feel healthy. However, the prospect of following a proper hair care routine can be overwhelming, but that is why we are here. You can use our list of products mentioned here as a starting point in your curly hair care journey.
Another good way to go about it is to look at the ingredients on the products before putting them in your hair. Try to go for products that have organic and natural ingredients. Avoid artificial fragrances as they can be irritating to the scalp. While it is understandable that hair care can be expensive and pricey, we do not recommend going for the cheapest products out there as they can contain harmful chemicals that may damage your hair and skin.
Generally speaking, choose your products carefully if you have any skin allergies or are aware of some ingredients that your skin does not react well to. Always go through the ingredient list to ensure it doesn't contain unnecessary chemicals or toxins. If your hair doesn't respond well to a specific ingredient, avoid it at all costs.
Another thing to remember is that leave-in conditioners and styling products often cause buildup in the hair. To make sure your curls remain healthy and lustrous, deep clean and condition at least twice a month or more if your hair requires it.
Conclusion
We hope you love our list of curly girl approved drugstore products. Choose your products wisely and stick with them for a while since changing products often confuses your hair.
Additionally, all the products mentioned in his article are top-notch and easy to use, and easy to buy. Lastly, all the products in this list are easy on the pocket and do wonders to overall hair health, ensuring those curls look nice and bouncy all day long.