It is not always easy to find quality products but LANZA Hair Products "does the hair good".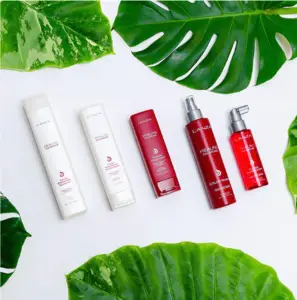 L'ANZA is a brand that I discovered when I was looking for the best products to straighten curly hair. Upon my discovery, I realized that this company is a haircare staple and has a product for every hair type. Lanza hair products will work on fine, coarse, curly, or straight hair!
Now it can be hard to be an educated consumer when you want to experiment with new products and brands, which is why I'm going into a full in-depth review on the L'anza collection.
*This post may contain affiliate links. If you use these links to buy something we may earn a commission. I only recommmend products that I use, love, or thoroughly researched.
Background About L'ANZA Hair Products
For more than three decades, L'anza has spearheaded several of the most innovative, sophisticated modern technology that the beauty industry has ever seen. Their product range incorporates the use of wildcrafted botanicals and potent actives to restore and safeguard your hair against damage.
Its mission is to provide healthy and balanced hair for women to create any style that they desire. The product line itself includes a wide range of items that can be used on any hair texture and type, making them a rather inclusive brand for both curly and non-curly haired women. They also offer a variety of salon services such as styling tips and tutorials through their online store.
The L'anza hair care line offers various types of products including shampoos, conditioners, detanglers, tonics, treatments, masks, oils, and serums. Some of these include:
Lanza Shampoo – This shampoo contains natural extracts derived from rice bran oil and chamomile flowers to cleanse while providing moisture and nourishment.
Lanza Conditioner – A thickening formula infused with antioxidant vitamin E to leave hair feeling softer and smoother after each application.
Lanza Serum – An intensive hydrating serum designed especially for dry or dull-looking hair. It restores hydration and reduces static electricity.
Lanza Hair Mask – A treatment mask formulated specifically for damaged strands, this conditioning cream leaves hair soft, smooth, and strong.
Why Consider L'ANZA Hair Products?
All of Lanza's products are said to be 100% natural with only plant-based active ingredients, which is great for those wanting to avoid chemically manufactured products.
Their formulations have the main benefits of restoring color to your hair while eradicating frizz. Each product is designed to give you UV protection, ensuring that your curls are kept safe from the harmful rays of the sun. This lets you maintain your hair's natural vibrancy and shine as well as ensure your hair's overall health.
What makes the L'anza hair products stand out? Well, besides everything mentioned above, here's what sets them apart from other similar brands:
They don't just target curly girls but anyone who wants to try out a quality set of products that will help improve the look and feel of their hair.
The company makes sure that every single item is vegan and free of animal testing.
The entire packaging is recyclable and biodegradable. There are no plastic bottles or containers that could possibly end up in landfills, thus harming our environment.
Which of L'ANZA hair products are bestsellers?
While all of L'ANZA's products have received quite rave reviews from most women, there is one product of theirs that has certainly taken the hair care industry by storm.
The L'ANZA Keratin Healing Oil has been seen as a revolutionary product due to its transformative properties which help your hair in ways you can't even fathom.
The product contains a concentrated mix of actives that improve hydration, elasticity, and shine to your strands. The manufacturing of this product was done to offer almost an all-in-one bottle for your hair needs – something that restores, heals, and seals your cuticles with the best herbal ingredients you can find.
Another product that is also a L'ANZA market favorite is the Healing ColorCare Trauma Treatment. While this is catered chiefly to women with colored hair, it is a great addition to your shelf if you've lost some of your hair's vibrancy and strength. With its blend of essential amino acids and ceramides, it's a must-try for color-treated hair.
L'ANZA Keratin Healing Oil Collection
This collection is perhaps the reason why L'ANZA is popular. The Keratin Healing Oil collection consists of a blend of keratin proteins and Phyto IV Complex (which seems complicated, but it really isn't). The Phyto IV Complex works to replenish your damaged and stressed hair with its natural proteins and nutrients, helping your strands to fully gain back their strength and shine.
The treatment is considered to be quite effective as many customers have reviewed it highly, noting how their hair has gained a glossier look and improved health in a short span of use.
The solution is also rather absorbent and works through your cuticles very quickly. It goes in and works from your cuticle to medulla and thoroughly mixes in with your strands. In addition, the oil offers triple UV and the highest thermal protection.
How to Use this Oil to Achieve the Best Results for Shiny and Smooth Hair:
There are a couple of ways you can incorporate this oil into your hair care routine. Here are some of my favorite ways:
Massage the product onto your scalp gently. Make sure you get through all of your hair roots and try to soothe your scalp especially if it's irritated or dry. You'll gradually feel the ingredients of Abyssinian flower oil, coffee seed oil, acai fruit oil, and a plethora of other herbs amalgamating into your hair follicles. Keep the product overnight and wash it out in the morning for optimal results.
Use the product through the mid-length of your hair and work towards the ends. Keep it overnight and wash out in the morning for really strong and moisturized hair.
Use before you blow-dry your hair. This will ensure that your hair has a sleeker finish and you will also be reducing the drying time.
Use the product before you enter a humid or hot atmosphere. The product will give you an intensive thermal treatment but also protect you from harsh and damaging climates. It also protects you from getting split ends and removes frizz.

L'ANZA Shampoo and Conditioner Collection
The L'ANZA Shampoo and Conditioner collection have a variety of products built for different hair needs. From their clarifying shampoo and conditioner set that gets rid of dull hair and product build-up to their Stimulating set that contains potent ingredients to restore health and stimulate new cells in your hair and scalp, L'ANZA really does have it all.
A favorite is the L'ANZA Healing Nourish Stimulating shampoo and conditioner set, simply because it works like magic!
Not only does the product add an immediate shine and gloss to your strands, but it also contains the Anagen 7 Complex, which enables the growth phase of your hair to be extended.
This ensures that your hair has a prolonged growth phase, which gets rid of your thinning hair and stimulates healthier and stronger hair strands to grow.
Which Shampoo Would Be Perfect for You?
The list of products in L'ANZA's collection is certainly diverse and works with different hair types and needs. If you have specific requirements for your shampoo or need a certain kind of TLC, read below to find out which Shampoo and Conditioning set would be perfect for you:
Thickening Shampoo and Conditioner – If you have particularly dull-looking hair with brittle strands, the thickening shampoo and conditioner set clarifies your strands of any excess oil that might be giving your hair the dull-looking appearance. It also provides volume and shine, delivering a full-looking mane through daily use.
Glossifying Shampoo and Conditioner – This set will fully cleanse your hair while also adding a layer of gloss to your strands. It's built to make your hair seem silkier and feel smoother, but most of the L'ANZA collection offers that benefit even if it's not outright mentioned.
Tamanu Cream and Kukui Nut Set – This set is manufactured for people with dry, coarse, and even damaged hair. The ingredients used are also beneficial if you have hair color and need recovery from the chemical damage. The products both smooth and hydrate your hair, restoring your hair's natural properties.
L'ANZA Healing Treatment Collection
The Lanza Healing collection itself has a range of products that offer different levels of help to recover your hair's natural state.
These contain very potent and lightweight ingredients that clean your hair without leaving any residue. Depending on the product that you try out, you will find that most of them offer restorative benefits to your hair, aiding you to get a rapid recovery from your extremely damaged hair.
The damage itself could be through overexposure to heat, moisture, or chemicals. If you've had a terrible color treatment, know that this collection can get you back to the way your hair was before.
The products also offer removal of frizz and I personally love them for the beautiful smell of different herbs. And yes, your hair too will smell like an absolute flower garden once you've applied these.
Also, if you're worried about the healing treatments of stripping your hair from its color, don't be. The products are designed to heal and not to remove anything that shouldn't be removed. Your hair will soak up the concoction no matter how dry, damaged or stubborn your strands are.
Which L'ANZA Collection will best suit your hair type?
L'ANZA has a variety of products in its collection that can be used synergistically or as standalone.
L'ANZA Healing Blonde: If you're naturally a blonde or have gone blonde through artificial and chemical means, this will help you regain your hair's natural moisture and strength, especially if you were exposed to chemical or sun damage.
L'ANZA Healing ColorCare: This has been made specifically for color-treated hair as it helps your hair retain its hair health while also creating a glossier and more vibrant color to your strands.
L'ANZA Healing Moisture: Formulated to improve softness, shine, and manageability, the Healing Moisture Collection revitalizes dry, dehydrated hair.
L'ANZA Healing Nourish: If you have thinning hair, you need to use this as it acts as a stimulant for hair growth. It also has properties that extend your hair growth phase, ensuring that you have a full mane in no time.
L'ANZA Healing Remedy: The Healing Remedy collection is built to purify your scalp and hair to treat dry, oily, or troubled scalps. It adds in more moisture through its hydrating and soothing properties, giving your scalp a good relaxing feeling.
L'ANZA Healing Smooth: Ideal for those with curls or those that experience frizziness, the Healing Smooth collection smooths hair while adding shine.
L'ANZA Healing Strength: Ideal for women with frail hair that is vulnerable to breakage, this Healing Strength collection will offer moisture back into your follicles. It also replenishes lost protein and reinforces your hair's natural strength.
L'ANZA Healing Style: Designed to sculpt, smooth, texturize and define styles and hair of all types, the Healing style collection offers you countless ways to style your hair into your favorite hairdos.
L'ANZA Healing Volume: For those with hair that is dull and frail, the Healing Volume collection is designed to swell up the diameter of each of your strands so that your overall hair seems thicker and more volumized.
L'ANZA Keratin Healing Oil: L'ANZA's most bountiful collection, Keratin Healing Oil products infuse hair with keratin and botanical extracts to improve shine and overall health.
Final Word on Lanza Hair Products
In all honesty, I wish I had discovered L'ANZA sooner. While some of the products are on the pricier side, it is still a must-buy for when your hair feels down and weak. The ingredients are very effective in improving your hair's health and appearance.
Regarding the drawbacks, you might be repelled by the gooey texture of some of the products. Since most of the products are produced with 100% natural ingredients, you do need to check if you're allergic to any of these ingredients as you might get a rash from using them.
So, for the final verdict, is this product 'curly girl' approved? It certainly is! It's the best thing you could buy for when you're struggling with brittle or thinning hair and haven't found a good solution yet.
I've also heard that it's a remedy for people suffering from psoriasis, so that's definitely a plus.
Why Choose L'ANZA Healing Haircare