I love all the things that come along with #raisingaqueen my daughter Zuri, including the arduous task of maintaining her hair. But it doesn't have to be a herculean task if you use the right natural hair products for kids. I have taken the liberty of reviewing some of the tested and trusted natural, curly, and afro hair products suitable for toddlers and kids generally in this article.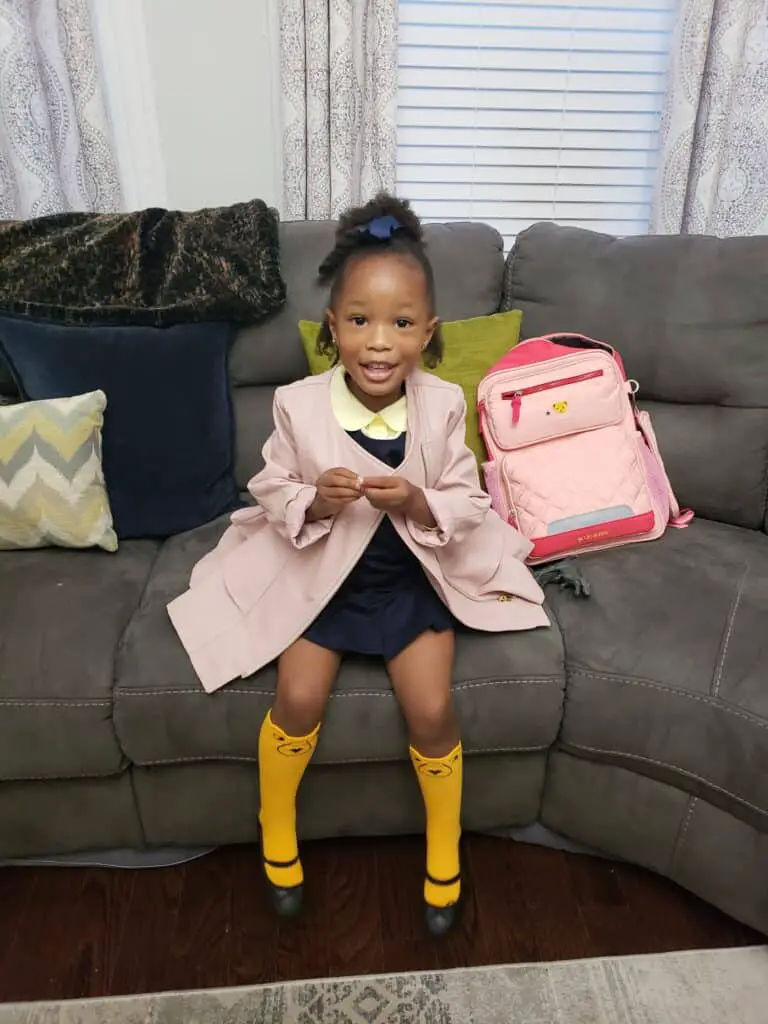 I will also talk about my rubber band technique which allows me to do Zuri's hair in 10 minutes or less depending on her ponytail count (scroll to the end to view video). My mornings are tight and as a counselor, I have to be at work by 7:30 am. I don't have a lot of time for another added "thing" to my morning routine, but my daughter's hair must be done before heading out.
It's one of my non-negotiables like making up my bed (I will not leave the house without my bed made), Thanks, mom. Zuri is currently in training; at two years old she makes up her bed as well lol.
So let's get into my favorite Natural Hair Products for kids!
*This post may contain affiliate links. If you use these links to buy something we may earn a commission. I only recommmend products that I use, love, or thoroughly researched.
Effective Shampoos & Conditioners for natural hair kids
Cantu Care For Kids Tear-Free Nourishing Shampoo (Check Price): Made from the finest honey, and a sleek combination of Shea butter and coconut oil, this natural hair shampoo is tear-free, preventing irritation to your kids' eyes during application.
Pros and Cons
It's best for kids with curly hairstyles because it maintains those curls
It cleanses kid's natural hair thoroughly leaving no oil behind
It has a strong smell and might not be good for kids with allergies.
Some kids can get dry scalp
Fairy Tales Curly-Q Daily Hydrating Shampoo For Kids (check price):  The use of rice water for hair growth has recently been discovered and more people are testifying to its effectiveness. This kids' shampoo is made from rice amino acid and quinoa.
Pros and Cons
Works well for detangling of kids natural hair
It is toxin-free and cleanses the hair totally
Can cause teariness for some kids
Due to its ability to hydrate the hair, it makes hair weighty
Fairy Tales Rosemary Repel Daily Kid Shampoo (check price): This shampoo mixed with jojoba and aloe treats and prevents lice from building castles in your kids' hair.
Pros and Cons
An effective cure for lice
Can be used by any kind of hair and kids hairstyles
If you are not a fan of oily hair, you might not like this shampoo for your kids.
Alcohol based and some can find the smell offensive.
Fresh Monster 2-in-1 Kids Shampoo & Conditioner (check price):
Pros and Cons
Has a sweet natural smell
Purely plant-based with no harsh chemicals
It is not foamy and doesn't help to detangle hair knots
SheaMoisture Mango & Carrot Kids' Extra-Nourishing Shampoo And Conditioner (check price):
Pros and Cons
Retains hair moisture and curls
Carrot oil in it helps to speed up hair growth and prevent hair breakage
It doesn't completely wash off leaving substances in the hair
May not work for all kinds of hair especially thin hair
Effective Detanglers for Natural hair kids
Cantu Care For Kids Conditioning Detangler (check price):
Pros and Cons
Adds moisture & manageability with the perfect blend of pure shea butter, coconut oil, and honey formulated without harsh ingredients
Nurture and nourish fragile coils, curls, and waves with Cantu's gentle care for textured hair
Shea butter can cause hair to feel heavy
SheaMoisture Kids Extra-Moisturizer Detangler (check price):
Pros and Cons
Deliver nourishing moisturization which makes hair smooth and easy to detangle
Stimulates hair scalp and rejuvenates dull, lifeless hair to promote natural healthy hair and growth
Excessive use can lead to sticky hair
Has a strong smell
Effective Styling Products for natural hair kids
Mielle Organics Styling Gel Honey & Ginger (check price): Enhanced curl definition & moisture retaining formula. Made with honey & ginger.
Pros and Cons
Pure. Simple. Natural
No parabens, no sulfates, no mineral oil, no synthetic colors, no DEA, and no animal testing
Made with certified organic ingredients
Doesn't have a strong hold (which I like for kids)
Smells like real ginger; could cause allergies if allergic
Cantu Shea Butter Strengthening Max Hold styling gel for natural kids
Pros and Cons
No alcohol, mineral oil, sulfates, parabens, silicones, phthalates, paraffin, or propylene Glycol
Made with 100% Shea Butter
Doesn't have strong hold although the titles suggest it does
You May Also Like:
My Final Thoughts on Natural Products for Kids
I have tried all of the above products on Zuri's hair and I like them all. However, my favorites are:
It is important to experiment with different products. As kids grow their hair texture changes and what may have worked before may no longer. All of the above products are a great starting point and I highly recommend them. I suggest clicking the links to learn more. You can also read other reviews to decide which one you want to test first!
Rubber band Technique
Click here to check out the rubber band cutter! It is a find that I truly treasure. It allows me to cut out the rubber bands without damaging Zuri's hair.
Side note: I thought I was filming the entire process but later realized some parts were cut out. Feel free to contact me if you have questions about the technique.