If you want to make a change, start with your hair!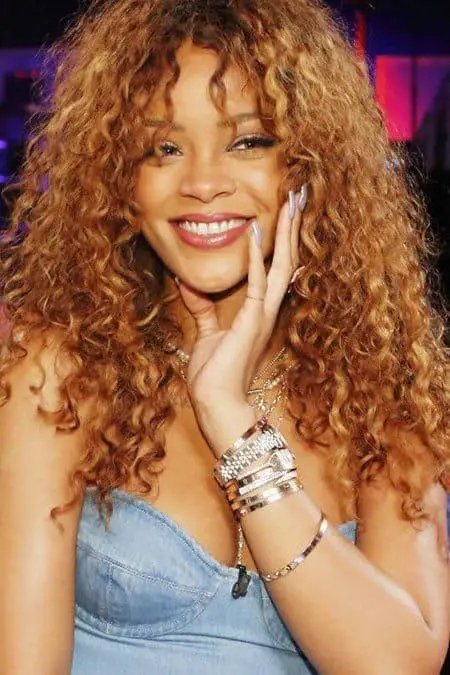 How about getting curtain bangs? They're popular at the moment because they're cute, versatile, and work with different types of hair, especially curly hair.
Curtain bangs were a thing back in the '70s. And they're making a comeback! However, if you're not certain if they're the right choice for you, then keep on reading.
Below, I will list 5 reasons why this is the best hairstyle and share 3 styling inspirations. Overall, it's a low-maintenance style that helps disguise blemishes.
That being said, let's learn more about curtain bangs.
*This post may contain affiliate links. If you use these links to buy something we may earn a commission. I only recommmend products that I use, love, or thoroughly researched.
What Are Curtain Bangs?
Curtain bangs aren't your regular straight-across bangs.
They're angled, so they're shorter in the middle and longer on the sides. They're also parted down the middle, providing a curtain-like effect that frames your eyes and face perfectly.
The reason why people like curtain bangs is that they look great on everyone. Further, they have a soft and feathery texture, so they're easy to style in different ways including beach waves, blowouts, lived-in styles, or curls – basically whatever your heart pleases.
If you already have your appointment booked, just remember to take reference shots with you, so your hairstylist knows what type of hairstyle you want exactly.
Are Curtain Bangs Good For Curly Hair?
Absolutely! Curtain bangs can look amazing on curly hair.
However, the key is to keep your curtain bangs long enough to provide some space for shrinkage and have them trimmed according to your hair length as well as face shape.
So, if you have curly hair and you're scared of getting curtain bangs, don't be. They're super versatile and suit almost every face shape and hair type. For instance, if you have a round face, you should avoid straight bangs because they boost width and opt for curtain bangs that will elongate your face instead.
Also, if you have short hair, don't fret! These bangs will still look good as long as they're trimmed closer to the brow, giving contrast to the cut. And to prevent a thick bowl-cut hairstyle, ask your hairdresser to keep them light and feathery.
5 Reasons Why This Is The Best Hairstyle
If you're still warming up to the idea of getting curtain bangs, then perhaps the following 5 reasons can encourage you to book an appointment today!
You May Also Like:
Curtain bangs suit any face shape
As I already established, curtain bangs can be made to suit almost every face shape. The best part? They also give your hairstyle more character because they're long, textured, and feathery.
I like curtain bangs that can instantly refresh your look without having to commit to a complete chop or adding layers. It's a non-committal and fun way to take your hairstyle to the next level.
In my opinion, they look best on longer hair. You can also make them look amazing on short hair as well. Just make sure they're cut in closer proximity to the brow, giving contrast to the cut.
They can enhance your best face features
If you have a round or broad face, having long and sweeping bangs such as curtain bangs can elongate your face and create a lovely diamond shape.
Short bangs, on the other hand, that end in the temples can contour and beautifully define cheekbones.
Therefore, curtain bangs can improve and enhance your facial features, especially if you have a rounder face and you want to achieve a more narrow look.
Curtain bangs don't take too long to style
If you're looking for a low-maintenance hairstyle, then curtain bangs make a perfect choice for you. They usually grow out easier than shorter bangs, so they will look even better with time.
And they take less time to style (I will share some style inspirations below, so make sure to stick until the end). You can also get away with leaving curtain bangs longer between trims due to their effortless look. However, to keep your curtain bangs in shape, I would still suggest a trim every 6 weeks.
Additionally, always revisit the stylist who trimmed your curtain bangs for the best results, because once your hairstylist achieves the right cut, other hairstylists can have a hard time imitating it.
They're approved by lazy people
Greasy curtain bangs take only 5 minutes to look amazing again! Simply dip them in the hand basin with your favorite shampoo and freshen them up.
You can also skip the conditioner if you're in a hurry and they will still look great! Then, dry your bangs with a brush and blow dryer for a bouncy look.
Why not?
Seriously, why not? They're low-maintenance, suitable for every hair type and face type, enhance facial features, and look amazing with little effort.
Also, everyone loves them at the moment. Even celebrities wear curtain bangs on the red carpets of Hollywood, which means they're trendy!
3 Styling Ideas For Curtain Bangs
The things you will need to style your curtain bangs include a good round brush, blow dryer, curling iron, flat iron, and texturizing sprays. Now, let's take a look at some easy styling ideas!
Flat iron styling ideas
First and foremost, always dry your hair with a good round brush and blow dryer. Then, utilize a flat iron to give your curtain bangs some extra length.
You will get texturized, lovely waves that will look amazing with almost any hairstyle including a messy bun, ponytail, etc. The following tutorial can help:
Blow dryer styling ideas
If you're after more bouncy, voluminous curtain bangs, then your round brush and blow dryer can help. Just blow your curtain bangs with a 1-inch round brush for that bouncy look and watch the next tutorial for instructions and more tips!
Curling iron styling ideas
Although you already have curly hair, you can use a curling iron to give your curtain bangs that blown-out look.
Just make sure you use a texturizing spray as well. It will help add some bounce and texture to your bands. Also, add some medium-hold hairspray to keep them in place.
The following tutorial can help you with some extra tips and ideas!
Closing Curtain
If you're still not certain if curtain bangs make a good choice for you, talk to your stylist. They would love to help you accomplish the perfect style for you.
In my opinion, you can never go wrong with curtain bangs despite your hair type, color, and length since they're super versatile, super customizable, and of course, super cute.
What's your opinion? Have you had curtain bangs before? If so, do you have any tips that you would like to share in the comments? Let's chat down below!
Hairtools for Curtain Bangs