The original craze for hair mousse began in the 1980s when people used to believe in the whole 'big hair' business. You know, the overly hair-sprayed, exaggeratingly voluminous hairstyle that rock stars such as Madonna and KISS were notorious for?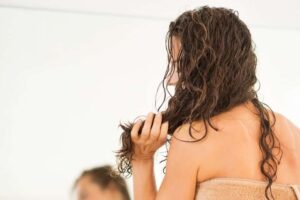 Whether you're aware of the 'mousse mania', one thing's for certain – this hairdo certainly catches your attention. It's the perfect way to bring life to your hair, especially if you're going through some rough patches with your hair (note the pun).
So, continue reading to get my list of top 10 hair mousses you should get for your wavy hair.
*This post may contain affiliate links. If you use these links to buy something we may earn a commission. I only recommmend products that I use, love, or thoroughly researched.
Best Mousse for Wavy Hair: What is the best mousse for wavy hair?
While there is no one specific mousse, below are some of my top picks!
#1: Shea Butter Wave Whip Curing Mousse – Best Mousse for Frizzy Hair
Cantu Shea Butter Curling Mousse was created for curly and wave-like hair kinds. It defines your hair's natural wave shape, moisturizes your hair strands, minimizes frizz, and increases volume.
The product itself doesn't have any mineral oil, sulfates, silicones, or parabens, making it relatively free of the most harmful chemicals for curly or wavy hair types.
If you're worried about getting crunchy hair, don't be. This product has been manufactured to be a curl enhancer and it doesn't create any sort of crunchy texture to your strands.
This brand is also a bit hard to get your hands on because so many people already love it. You get a curling whip that's moisturizing, frizz-free, and offers all the benefits of a mousse without crunching or flaking up your strands. What more could one ask for?
How to Use it: Apply the product to damp hair and scrunch up your curls to reach the top of your head, right over your scalp. Once you've done this, let your hair dry off naturally. It's discouraged to use a hairdryer at this point because you'll be more prone to heat damage. Wait a couple of minutes until your hair falls back in a beautiful wavy fashion without any sign of stickiness or crunchiness.
You May Like: Best Mousse For Curly Hair
#2: Beautiful Textures Curl Definer Mousse – Best Mousse for Colored Wavy Hair
This mousse is particularly effective at defining your curls if you have colored wavy hair. Since the product has been made as alcohol-free, you wouldn't have to worry about your color being stripped off.
It also has a very lightweight formula that doesn't dry out your hair, which is quite ideal if you have particularly dry and damaged strands from over-heating or coloring your hair. It's also great for coarse or long hair since it offers a firm hold and doesn't let your curls loose very easily (so no worrying about those pesky straight or bent strands).
What's great about this mousse is that it adds up as conditioner for your colored or damaged and rough hair. The ingredients themselves are chemical-free, i.e., it doesn't consist of any paraben, silicones, or sulfates. This makes the product naturally gentle on your hair. Plus, the smell is to die for.
How to Apply it: Apply the product evenly on your strands and scrunch up your hair. Alternatively, you can use a proper hairbrush to detangle your strands as you apply the product and wash it off with a conditioner for extra moisture.
#3: Shea Moisture Coconut and Hibiscus Frizz Free Curl Mousse – Best Mousse Thick Wavy Hair
This product has won multiple awards for how well-suited it is as both a mousse and curl enhancer. But the best part is that this product is perfect for all hair types and doesn't just cater to wavy or curly styles.
This mousse contains a number of herbal ingredients that work together to enhance, moisturize, and replenish your hair while also reducing frizz. The coconut oil concentration helps in hydrating and protecting your hair, which is very useful if you have dry and damaged locks that need some TLC.
Coconut oil is also a miracle worker in eliminating hair breakage. The mousse also contains silk protein which adequately smoothens your hair strands to offer that luxurious and healthy-looking soft, silky glow.
Lastly, neem oil is also a big contributor to how your hair immediately looks frizz-free and shiny once you dab the product to your hair. Adding to that, the smell of all of these herbal ingredients makes your hair smell like a garden.
How to apply it: The application process can be a little tricky as it's not something you can dab onto your hair right off the container. Instead, try layering the product with a gel and curl crème to allow the product to properly settle in your hair. This layering can make your hair feel and look shinier, softer, and silkier. Since the product itself is quite lightweight, your hair won't be weighed down through the layering process.
You May Also Like:
#4: John Frieda Frizz-ease Curl Reviving Mousse – Best Mousse for Damaged Wavy Hair
I think I can confidently say that this mousse is my favorite when it comes to reviving dull and limp hair to that voluminous quality. The product is marketed as Anti-frizz and it definitely eliminates frizz in a flurry once applied, but more importantly, it contains the benefits of a heat protectant as well as a hair styling mousse.
You can easily use this product to improve the bounciness of your hair or alternatively use heat stylers afterward to retain a more uniform look to your hair. The product itself contains a UV filter that will automatically prevent your hair from suffering heat damage, either directly or from your environment.
Color-treated wavy hair types will find this product a bonus to their routine as it contains properties that do not strip the color or chemical from your hair. It's also great if you want a beachier wave pattern instead of your typical defined curls.
How to apply it: Depending on whether you want a more defined or beachier wave pattern, scrunch up your hair once you've applied the product or comb through your strands for a looser texture. You can choose to either air dry your hair naturally or use a blow drier and/or diffuser for an improved effect of the mousse.
My recommendation would be to use the John Frieda bundle for the ultimate styling results. You can pair up the product with the Frizz Ease Dream Curls Shampoo and Conditioner, using the mousse beforehand to get that shinier and more moisturized look.
You May Like: Cerave vs Cetaphil: Which one is Better?
#5: Aloxxi Volumizing Whip – Best Mousse for Voluminous Wavy Hair
This light-weight conditioning mousse offers the perfect hold for curl types of 2A, 2B, and 2C. The product itself has a hydrating formula that's perfect for dry and damaged hair, and its use of panthenol as the key ingredient offers added moisture to smooth and style your hair.
The benefits of this product are curl definition, nourishment, and frizz elimination. It also creates smooth curly styles with body so you can expect your hair to look quite fluffy and bouncy once you've used this. Plus, you only need just one pump and it'll go a long way, no matter how thick or thin your mane is.
Furthermore, its ingredient list contains 10 antioxidants, ranging from grape seed, green tea leaf, to chamomile and licorice root to completely nourish your hair from root to ends.
If you need a mousse that doesn't feel too heavy or burdensome on your hair, doesn't crunch up your strands, and is relatively affordable with minimal product wastage, this mousse is the perfect choice for you.
How to Apply: Remember that a little goes a long way so you only need one pump of the product to dab through your strands before the product takes effect.
#6: Carol's Daughter Hair Milk Styling Foam – Best Mousse for Curl Definition
For those with stubborn, coarse, and overall rough curly hair types, this creamy mousse is going to be a life-saver for your styling needs. This product was made to cater to more thick-textured strands so don't use it if you need a more lightweight mousse for thinner strands.
The styling foam helps you tame down your curls and kinks to a more malleable form, helping you style and define your coils in a better way. Mixed with a range of herbal ingredients, you can use this product to offer moisture and nourishment to your damaged strands.
If you're worried about the cream being too greasy for your strands, don't. The foam quite nicely incorporates into your hair without leaving grease or stickiness. It also has a very mild smell to it so it's great if you're more sensitive towards fragrance.
How to apply it: You can really get the best effect if you apply the product to wet hair. This is hair that you've just washed and is dripping with moisture. Pump out the product and comb it out over your curls with your fingers. Make sure to distribute the foam evenly throughout your hair and scrunch up your curls immediately once you're done. Use a blow-dryer with a diffuser or simply let it air dry for the final effect.
#7: OGX Locking + Coconut Curls Decadent Creamy Mousse
This is suitable for hair types that are in between the range of wavy and curly textures. You can get it to work even on the toughest and most stubborn of coils, eliminating frizz in almost an instant. This product is really that magical!
Its blend of shea butter and coconut oil makes it both nourishing and moisturizing for your hair, but on top of that, you get beautifully fragrant locks of hair. It's not overpowering but has a light coconut smell that feels almost enchanting to wear.
The OGX mousse is also very affordable if you can't invest in a higher-priced mousse. Just because it's on the cheaper side doesn't mean this product sacrifices itself on quality because trust me, the foam works amazingly whenever you want to amp up your hairdo.
Its creamy texture also enables you to detangle your curls easily while the end result gives you a luster quality to your hair. You get some serious bouncy locks with this product.
How to apply it: Dab a few pumps of the product all over your hair and let it rest. Allowing your hair to air dry will enable better frizz elimination.
#8: Giovanni 2chic Ultra Volume Tangerine and Papaya Butter Foam Styling Mousse
Blended with papaya extracts and tangerine butter, this product adds fullness to your hair and creates body. It also contains a mix of other herbal ingredients such as thyme, aloe vera, and rosemary to smooth your hair and offer extra moisture to your strands. This also removes the chance of clumping or stickiness in the product's application.
The great part about this mousse is that it works well on any type of curl pattern, especially on more wavy hair types. It holds your curls tightly and offers great curl enhancement. The product's effect is also very long-lasting as you'll continue to have strong, more defined, fuller, and bouncier curls until you wash the product out with water.
Furthermore, the Giovanni mousse has been made specifically as chemical-free, so it's helpful if you're suffering from damaged hair. The only drawback to using it is that the product might get too drying on your hair with prolonged usage.
How to apply it: Apply just enough to your strands so that it doesn't completely dry out your strands once you've washed it out. Make sure not to apply too much.
#9: Herbal Essences Tousle Me Softly Tousling Hair Mousse – Best Lightweight Mousse for Wavy Hair
The Tousle Me Softly mousse is perfect for fine or thin hair that's wavier than it is curly. Make sure you do not use this if you have a thicker mane of more stubborn and rough strands as it isn't strong enough to offer long-lasting hold to denser curls.
However, it is lightweight enough for thinner strands that face a ton of flyaways. It can easily smooth down your hair so that you have a uniform and sleeker look.
The product is incorporated with hibiscus essence and contains absolutely 0 parabens, colorants, or silicones, which makes it quite effective for anyone avoiding chemical damage. You can use it if you have colored or dyed hair and do not want the chemicals to wear off.
Other than this, the mousse also offers protection from humidity so you won't be getting that sticky and unruly texture on your hair from a day out. Be mindful, however, that this mousse doesn't offer any heat protection so don't overexpose yourself to the sun.
How to apply it: If you're using the Tousle Me Softly mousse on wavy hair that's colored, it's best that you first mix the product with water in a mug before applying the mixture. Massage it all over your scalp to your roots before washing it off immediately.
#10: Garnier Fructis Style Curl Construct Mousse
This curl construct mousse is more on the affordable side so if you want to save your wallet from ruin, you can definitely get this one.
Garnier is notorious as a drug store label but that doesn't mean its shortcomings cannot be overcome. The mousse, in fact, is perhaps the best product Garnier has made in its line-up.
The product is innovative as it's made with fruit micro-waves, which isn't something you'd ordinarily see in other drug store brands. Apparently, the use of this ingredient helps increase the hold while also safeguarding your hair from damage (although some customers do find their curls getting a bit hard after use).
The Garnier Fructis mousse is well suited for wavy hair and its use of shea butter as one of its active ingredients will help you give that density you need to look absolutely glam.
The benefit of this product doesn't simply stop at its stronghold and density, but it also doesn't make your hair feel crunchy even though the product is cheaper than others. Garnier hasn't sacrificed their quality even if their price tag is very low.
How to apply it: Use this mousse-like you would use a normal shampoo. If you want to get rid of the hardness that some customers complain about, you can wash your hair and condition it before applying the product. The best results really come from having the mousse settling inside your strands overnight so you can clip up your hair to get amazing curls in the morning.
Alternatively, if you're in a quick rush, make sure you massage the product thoroughly over your strands for at least 10 minutes for styling it to how you like it.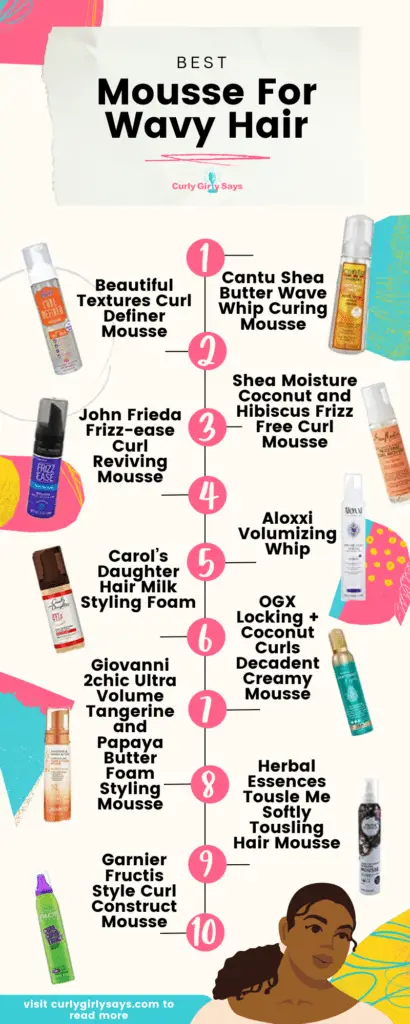 You May Also Like:
What to look for in a mousse for wavy hair?
When looking for a mousse for wavy hair, there are a few things to consider:
Hold: Look for a mousse that provides a flexible hold that will help define your waves without making them feel stiff or crunchy.
Moisture: Wavy hair tends to be more prone to frizz, so look for a mousse that contains moisturizing ingredients like oils or shea butter to help keep your hair hydrated and smooth.
Lightweight: A lightweight mousse will help to enhance your waves without weighing them down or making them feel greasy.
Texture: If you're looking to add texture to your waves, choose a mousse that contains salt or other texturizing ingredients to help give your hair that beachy, tousled look.
Heat Protection: If you plan on using heat tools to style your hair, look for a mousse that contains heat-protectant ingredients to help prevent damage from styling tools.
Is Mousse Best for Wavy Hair?
Mousse can be a great option for wavy hair, as it helps to define and enhance the natural texture of your waves while providing hold and volume. Mousse is lightweight and doesn't leave a heavy residue, which can be beneficial for wavy hair that tends to be more prone to frizz and weighed down by heavy products. However, the best product for wavy hair varies from person to person, and it's important to choose a product that suits your individual needs and hair type. Some people with wavy hair may prefer using a gel, cream, or oil-based product to enhance their waves, while others may find that mousse works best for them. Ultimately, it's a matter of personal preference and experimentation to find the best product for your wavy hair.
What Benefits to Expect from a Mousse (and why you should get one):
Mousse can offer you a variety of benefits to take your hair to that extra glam level.
So how do hair mousses help you out? Here are a few benefits you'll get:
Whether your hair is naturally wavy or curly, hair mousse can be really effective at giving your strands both hold and definition. It looks crisp and each strand can be more noticeable than it was before.
A good mousse can also protect your cuticles from having dirt, pollution and even UV rays penetrate through its cells. These ensure that your cuticles are safeguarded while your curls look absolutely stunning.
 Wavy hair types can particularly benefit from using mousses as sometimes your waves may look a bit awkwardly bent or straight, especially if you've combed through it. Mousse just lifts your strands up and makes all of your waves look prominent.
Some mousses are also manufactured with moisturizing agents that can help your strands regain its moisture level back. If you suffer from particularly dry, damaged and dull hair, these types of mousses can elevate your hair to a healthier looking mane.
Thin Wavy Hair: What you need to Know
Fine wavy hair can be beautiful but sometimes we can get confused with the treatment method. Honestly, fine hair looks so much like straight hair that we can't really be the ones to blame if we jumble up the routine we're supposed to follow.
Most of you can relate to this – you've been using treatments for straight hair and find that your hair looks and feels horrible. It doesn't dry well and overall, it feels damaged more than it looks healthy. You've exhausted your wallet on products but nothing works. I get you.
If you haven't ever experimented with the Curly Girl Method, I encourage you to try it out. You may have heard that this is something big curly girls use but that's just a misconception.
In reality, the Curly Girl Method works for anyone with curly and coily strands. It's also suitable even if you have a loose wavy texture.
You'll find that your hair feels stronger and healthier once you get around to using this method properly. Also, your bank account will be grateful because you don't have to spend ridiculous amounts on unnecessary and expensive products anymore.
Best routines for your type 2 wavy hair: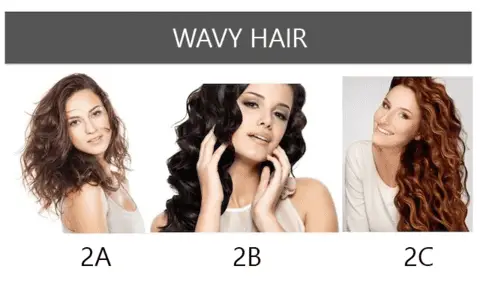 2a Wavy Hair Routine

Type 2A hair is relatively easier to work with but there are a few challenges you should be aware of. The hair type itself has the loosest curl shape with an S pattern that almost looks like an intermixing of curly and straight strands. You don't really have to spend a lot of time and effort looking after your type 2A hair, but if you do avoid taking care of it, it can look very limp and saggy. What you want are bouncy beachy waves.
How to Take Care of 2A Wavy Hair
As I just said, 2A hair type is very low maintenance so you don't have to work very hard in keeping your hair up to shape. Just following a healthy and effective routine will be enough.
The problem with 2A wavy hair is that it can easily look flat and lifeless if you don't use the proper styling tools. You may not want the tight curls that big curly-haired girls have but you don't want to go around looking like you've just woken up from sleep.
To make your waves more prominent and ensure that your hair looks fuller, use a shampoo and conditioner with frizz-free benefits. You could also use a defining gel alongside a hair mousse.
Other than that, you will need to constantly brush your hair with a round brush. This is because 2A wave patterns tend to face a 'matting' appearance that you certainly don't want.
If you want a day where your curls are more visible and don't seem straightened out, you can airdry your hair instead of brushing it out. Additionally, use a sea salt spray or a dry shampoo if you want your beachy pattern to stand out and take complete center stage.
What to Avoid with 2A Wavy Hair?
Apart from a matting texture and limp strands, 2A wavy hair can also be intimidated by overusing different products. One of the most terrible mistakes you can make is by weighing down your 2A hair type with hundreds of products that completely deflate your natural texture and body.
So, it's very important that you apply products that are fit for a loose wave pattern. Remember to also lookout for products that tame down frizz and are made to be more lightweight. There are a couple I've mentioned in the aforementioned list that I find are perfect for 2A wavy hair.
If you want to get a fuller body, you can choose to have your 2A hair type shortened up. A shorter hairstyle gives more natural volume to your hair and provides that well-defined texture. All in all, you'll look like you have really full and dense locks even if you're wearing one of the thinnest curl patterns out of all hair types.
2b wavy hair routine
The next hair type is the type 2B one. This has a relatively more medium wavy texture with more refined curls than the 2A ones. If you have this hair type, your strands will be a stronger S-shaped at the end but a more flattened and straight texture near to your crown.
This texture does produce that sleek beachy look which most attempts to get with a small curling iron. But, having 2B hair could be challenging as it's not the easiest to take care of.
While 2A hair is finer and limper than 2B hair, both of these types are prone to frizz and can even turn lifeless if not given the proper care. To add to that, using more products can yield worse results as your hair is more likely to be weighed down with excessive product use.
The difference between 2A and 2B hair types apart from the obvious structure of your curls is that 2A is easier to style while 2B can be slightly more stubborn due to thicker and denser strands at the ends.
This texture can be difficult to straighten or even style, but it all really depends on the routine and products you use for your 2B hair type.
How to Take Care of 2B Hair
2B hair type is annoyingly prone to changes in weather and particularly to an increase in humidity levels in the air. You may find that your curls get more matted and frizzier from sudden weather changes, and this can be a real task to tame down.
You will also face tons of tangling so better get your detangling brushes ready. This in turn causes more split ends, so you do need to regularly maintain your hair and ensure that everything looks neat.
To taper down the frizz, you could use Moroccan oil and a smoothing serum. For shampooing, it's recommended that you use a clarifying one that contains loads of vitamins. This will help remove any toxins that have attached themselves to your knotted curls.
If your hair feels coarse and damaged, it's best to remedy this with a moisturizing conditioner. You could easily use one made for 2C hair as well as the standard conditioners for 2B hair types. It's best if you have a leave-in option so that you can remove any clumping and maintain a smooth and sleek look.
How to Style 2B Hair Type
Once you're done with the haircare part, you can choose different options to get a really glammed-up look. However, the best outfit for your hair is the natural one.
You can get your natural locks more prominent with a mousse that you apply before using a shampoo and conditioner, namely ones that are frizz-free.
Another tip is to have your hair at a medium length so that you're not going around with long clumped-up hair. This also avoids the chances of products weighing down your strands.
Alternatively, you can cut your hair up in layers for a really vibrant look as your curls pop out and intertwine with each other at each layer.
2c wavy hair routine
The last hair type in the Type 2 classifications is the 2C one, and you might already know what this type looks like.
This is the wavy texture that's the curliest among the other type 2s, but it's not curly enough to belong in the Type 3 classification. This means your hair follicles are extremely wavy but they do not coil up.
Unlike the type 2B hair, 2C starts with S-shaped strands from the very roots. If you have this hair type, your waves will be even more defined, prominent, and really thick.
However, the reason why we don't consider this as a Type 3 is that your curls will still be moderately looser and wider instead of tight coily texture of Type 3 classes.
But just because we don't consider type 2C in the Type 3 classifications doesn't mean that they're not totally the same. Girls with 2C hair type typically face the exact same issues as one would with Type 3 hair, that is, you would have problems with frizz, static, tangles and even lose definition to the point that your curls look matted and unruly.
How to Take Care of Type 2C Hair
A very common issue with Type 2C hair is the likelihood of frizz. If you have Type 2C, you probably know this already – it can be a nightmare to prevent your hair from getting frizzed up.
Most of the products that you need to be using will have frizz elimination properties, and that's how you should filter out your shopping cart. In addition, you need to use moisturizing products because your curls can get dried up easily due to poor moisture retention.
A few products that you should always have in your cart include volumizers, curl enhancers, oils, and hair masks. These are essential in taking care of your waves.
A routine you should stringently follow is oiling your hair at least once or twice a week. This prevents dehydration and damage to your locks. The recommended oils to use for type 2C are coconut oil, jojoba oil, and Argan oil (these are also great for the other type 2s).
But wavy hair is still a bit weaker than type 3s so you can always expect your hair to feel weighed down if you use too many products. It's good practice to oil your hair before you shampoo and wash it away. This prevents any sort of greasiness or even dryness from your shampoo stripping away the nutrients in your hair.
Of course, to give your hair a boost, you do need to incorporate a mousse or curl enhancing foam into your routine. These are quite good if you don't want to feel weighed down from excessive oil or cream-based products.
A tip to remember – whenever you're using a conditioner, make sure you're cleaning out your hair with warm water before. This allows your hair follicles to expand and allow more of the conditioner to penetrate through. Once you're done, you can rinse off your locks with cold water to close up your follicles and allow moisture to be retained inside of your cuticles.
How to Style Type 2C Hair
Because of its inherent knotty texture, you will need to invest in a detangling comb and serum when styling your 2C type hair.
Another thing to note is that your hair follicles are very vulnerable to heat damage so if you are using heat styling equipment, make sure to use a heat protectant or have a diffuser whenever you're blow-drying your hair.
While I always recommend natural hair products so that you're properly following the Curly Girl Method, I have to insist that you buy natural products to use on your hair. This comes back to the point of 2C types being very vulnerable and prone to damage. Only with natural products that lack concentrated chemicals can you manage a luxurious and healthy mane.
A final tip to styling your hair: make sure you're patting your hair dry or scrunching it up with a soft, preferably microfiber, towel. If you're someone who always rubs your hair dry, stop immediately. There is no easier way to get your hair filled up with split ends, tangles, and frizz than causing unnecessary friction between a towel and your hair follicles.

Straight Hair vs. Wavy Hair
The 2A, 2B, and 2C hair types are understandably very confusing. If you have type 2A hair, you wake up some days with completely straight hair and other days with little hints of curls around your ends. For type 2C hair, you're confused whether you've even passed the line to the curly, knotty, and dense Type 3s.
But the main differences between Type 1s and Type 2s are with the hair texture, structure, and even porosity.
The easiest way you can figure out the classification of your hair type is by getting your strands wet and seeing how they turn out. If your hair forms a slight S shape when wet, you know you're in the Type 2 category. Likewise, straight hair will remain straight without any form of bending or curling.
Other than this, type 1s and 2s can merge in their hair structure. While type 1s generally have a fine hair structure, type 2s are a mix of fine to medium. You can check what your hair structure is by taking a single strand from your hairbrush and placing a piece of sewing thread (similar to your hair color) beside your strand. If your hair is thinner than the thread, you have fine hair structure. If it's in between coarse and thin, you have relatively medium hair structure. This determines what kind of product will best suit your hair condition.
Final Word
Lastly, hair porosity can also differentiate a Type 1 from a Type 2. If your hair floats inside a cup of water or stays in the middle, you have medium-level porosity, indicating that it's a bit hard to retain moisture in your hair. In contrast, straight hair typically falls to the bottom of the cup as it can retain a lot of water easily.