Finding the best flat iron for black hair or the best flat iron for African American hair can be a challenge because there is no shortage of brands out there in the market. You might find one brand marketing their non-damaging features while others pride themselves on their plate materials.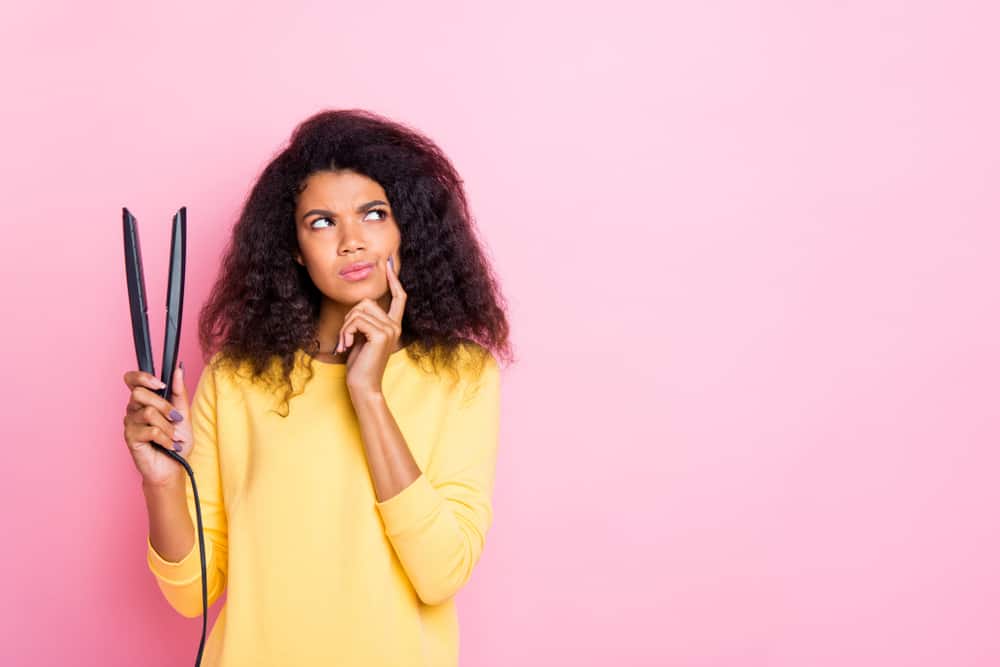 How do you even begin looking for the right straightener for yourself?
Not all flat irons are made equal, or rather not all flat irons are made equally for you. There are so many irons available in the market because every one of them caters to a different need or hair type. Some irons may struggle and fail in getting your thick hair down to straight cascading tresses, while others will succeed instantly.
When buying a flat iron for natural hair, you need to figure out what exactly you want and need. This means understanding your hair, what types of irons are suitable for your hair type, how to deal with common straightening issues, and more.
Now let's get on to the best flat irons for black hair. This is a comprehensive list of irons that work exceptionally well for natural African-American hair:
*This post may contain affiliate links. If you use these links to buy something we may earn a commission. I only recommmend products that I use, love, or thoroughly researched.
What type of Flat Irons are good for black hair?
Our Top Picks:
 #1: Best Overall – BaBylissPRO Nano Titanium-Plated Ionic Straightening Iron
The BaBylissPRO is my top choice because it's an affordable premium flat iron that you can depend on because it just gets the job done, every single time. With its titanium-plated ionic plates that are also infused with ceramic, the technology is a breakthrough design that offers full coverage in ironing your hair down.
Moreover, this flat iron maintains a Ryton housing that controls ultra-high heat temperatures, making it more durable even under high pressure. So you can expect salon-styled hairdos with just one glide of this ironing machine.
If you're constricted on time, you should definitely get this because not only does the iron heat up in milliseconds but it also has a quick heat recovery system. With its lightweight body, you can easily pack up your things right after you're done with your hairstyling session.
The problem you'll face with this tech, however, is that it can get too hot sometimes so you should use gloves while handling it. It can also be too harsh on damaged hair so you should use it with caution if your hair is particularly damage-prone.
The BaBylissPRO Nano Titanium-Plated Ionic Straightener features a streamlined profile with a built-in ion generator & extra-long plates to help straighten hair faster while delivering exceptional shine.
High heat levels provide excellent straightening results while Nano Titanium technology protects hair from damage.
Use this Nano Titanium flat iron to smooth & straighten hair. Can also be used to create loose, beachy waves.
Up to 450F to straighten hair 40% faster
Ultra-smooth titanium plates
LED temperature settings
Ryton housing resists high heat
#2: Best On A Budget – HSI Professional Glider Ceramic Tourmaline Ionic Flat Iron
This flat iron is great if you are on a budget! It comes with a ceramic plate made with micro-sensors that distribute heat evenly through your hair within its 1-inch plate width. The benefit of this iron is that it comes with adjustable temperature settings which can reach a maximum of 450 Fahrenheit.
However, the best part is that this iron takes very little time to heat up, which is great if you're straightening your hair daily and don't have a lot of time to spend on styling.
Plus, the ceramic tourmaline plates greatly reduce frizz and static, leaving you with sleek and smooth hair. The HSI flat iron comes with a box that includes protective gloves, a nice travel pouch, and even a sample of argan oil.
The only disadvantage to this straightener is that it doesn't come with an automatic shut-off feature and is pretty bulky to carry everywhere.
One Tool Does It All: Stop using multiple hair tools when you can accomplish many looks with just one. Creating dramatic results on even the frizziest, coarsest hair, the HSI Professional Glider quickly straightens, flips and curls with minimal effort.
8 HeatBalance Micro-Sensors: You don't need to worry about burning your precious locks. Boasting high-quality ceramic plates that use 8 HeatBalance micro-sensors to regulate the temperature and evenly distribute heat, fewer passes are needed on your hair.
Tourmaline Ceramic Plates: Enjoy shinier, silkier results in no time flat. The Glider's plates are designed with ceramic and tourmaline crystal ion plates, producing a high volume of negative ions which allows smaller water molecules to penetrate hair.
Total Control: Achieve a sleek, smooth look by eliminating frizz with adjustable high heat. Giving you total control in matching the heat to your hair type, you can easily adjust the Flat Iron's temperature settings from 140°F -450°F.
Complete Package: The Flat Iron includes an HSI style guide, 1-year warranty, glove and silk case for easy storage and on-the-go styling. And with worldwide dual-voltage, you can enjoy the perfect look everywhere you go.
#3: Best Premimum Straightener – ghd Platinum + Professional Performance Styler 
This flat iron is a beast. The model has an intelligent feature that can predict your hair needs and has a sensor that monitors the heat settings at a speed of 250x a second.
The built-in sensors can immediately identify your hair type and choose the perfect heat setting for optimal results. Its ceramic 1-inch plate type is also adaptable to your preferred styling temperature. It is said to reduce hair breakage by approximately 70%.
Another incredible feature of this hair straightener is that it comes with tech that ensures you have no cold spots as you iron your hair. You don't have to press on your hair multiple times to get the perfect finish because the straightener just does everything for you in one run. The iron immediately tames down your coils, straightens them down, and adds shine to your hair in just one go.
But all of these premium features do come with a hefty price tag so it's not an option if you're tight on budget. It also has non-adjustable heat settings but with its intuitive technology predicting everything for you, that isn't really a dealbreaker.
GHD'S 1st SMART PROFESSIONAL HAIR STRAIGHTENER ― The Platinum+ hot tool flat iron predicts your hair's needs for ultimate results and stronger, visibly healthier hair in one stroke.
PERSONALIZED HAIR STYLER RESULTS ― Unique ultra-zone predictive technology recognizes hair thickness & speed of styling and monitors heat over 250x per second to adjust accordingly, always ensuring the perfect temperature for results personalized to you.
HEALTHIER CERAMIC FLAT IRON STYLING ― 365ºF optimal styling temperature minimizes hair damage for 70% stronger hair and 2x more color protection compared to a styler working at 450ºF.
FLAT IRON WAVES ― Advanced floating plates with an ultra-gloss coating for effortless styling and 75% more shine vs. naturally dried hair. The unique wishbone hinge and round barrel enables versatile, snag-free styling to create sleek styles, curls, or waves.
UNIVERSAL VOLTAGE WITH SLEEP MODE ― You can be as fierce as you want with the same outstanding performance anywhere in the world and with the automatic sleep mode after 30 minutes of non-use, worrying about if your ceramic hair straightener is switched off is a thing of the past.
You May Like:
#4: Conair Tourmaline Infiniti Pro Ceramic Flat Iron
If you're looking for a budget-friendly hair straightener that is both effective and durable, this is the one you need to get. The Conair Infiniti Pro flat iron features tourmaline ceramic plates which provide instant hair straightening with anti-frizz results. It's also very gentle and can be used on dry and thin hair without the chances of damage or burns (you should still use a heat protectant, though).
This budget hair straightener is great for African-American natural hair since it can tame down even the curliest of strands. You can use this daily without the fear of overheating both the device and your hair.
Additionally, the 1-inch tourmaline-made floating plates allow even distribution of heat and also add a nice shine to your hair. It ensures zero cold spots, delivering equal heat to your tresses.
The product also maintains a 15-second heat-up so you can quickly have your hairdo done before heading out to work. You can also amp it up to the highest temperature setting at 450-degree Fahrenheit.
The negative side to this straightener is that it comes with no LCD temperature display. This can be an issue if you want to continuously adjust your heat settings but it's not a big problem if you maintain uniform heat levels for all of your straightening sessions.
#5: Croc Classic Nano-Titanium Flat Iron
If your hands ache when holding the straight and sturdy body of hair straighteners, you can purchase the Croc Classic flat iron due to its specially designed curvy body. This ergonomic design helps you grip the straightener without causing pain in your fingers and wrist. It also avoids the straightener from slipping out of your hands – which is definitely helpful if you have children or animals near you.
The product also has an instant heating feature along with an automatic shut-off option. It only takes about 30 seconds for it to heat up, even if you crank the temperature setting to the highest level of 450-degree Fahrenheit. If you leave the product unused for more than 20 minutes, the device will automatically shut off which can help you out if you're forgetful or very busy.
The problem you might face with this flat iron is that it heats up quite quickly and you may burn yourself if you're not attentive enough. However, this can be easily remedied by working with a pair of gloves.
PROFESSIONAL FLAT IRON – CROC's Nano classic flat iron combines professionalism and luxury. This iron provides the ultimate styling experience for true professionals. It's ergonomically designed, technologically complete, and ready for everyday use.
LIGHTWEIGHT DESIGN – Further customize your hair with this lightweight, powerful hair straightener. Floating plates move with the hair, creating a smooth glide, and the deluxe thumb grip makes styling more comfortable.
FEATURES – CROC's Nano classic flat iron boasts titanium plates which lock in moisture and reduce static, negative ions which reduce and close cuticles to increase shine, fully digital temperature settings and dual voltage capability.
ERGONOMIC FEEL – The Nano classic flat iron is a part of our luxury collection, with extra features, professional components and luxury styling. Designed with our Slipless Comfort Grip, the handle on the flat iron offers a tight press with less grip strain and stays cool even after repeated use.
Fully digital temperature options ranging from 280F° – 450F°
Produces negative ions, sealing cuticles, increasing shine.
Automatically decreases temperature to 370°F (180°C) when unattended between use.
Built-in ceramic heaters enable instant heat recovery, providing consistent heat during use.
Built-in, automatic shut-off, safety feature after 30 minutes of non-use
60% faster and more effective straightening utilizing the most advanced ceramic technology
#6: Paul Mitchell Pro Tools Express Ion Smooth + Flat Iron
Now let's come to the flat iron that you must have if your hair is thin, damage-prone, or already damaged. The Paul Mitchell Pro Tools Express is a very gentle hair straightener due to its ceramic plates and a controllable heat temperature setting that you can adjust with the LCD monitor.
The wide plate types will let you smooth down your tangles with ease if you have really long and thick hair. You don't have to worry about taking hours to straighten your tresses as it can handle larger sections of hair with no problem.
Furthermore, the plates are designed with a unique silicone that prevents snagging and tangling while you're straightening your hair. Its infrared and ionic technology also ensures a glossy and bouncy finish to your hairdo.
Sadly, the device has no auto shut-off technology, so you must remember to shut it off once you're done with your styling. You should be cautious with the temperatures you choose, as the device is prone to overheating. This isn't something you should be using around children or animals as it lacks those safety options.
1.25" plate size is ideal for giving all hair types a completely straight, smooth look
Fast: This ion flat iron heats up to 410°F in 60 seconds and cools quickly with a 5-second recovery time
Adjustable: The large digital display offers easy temperature control
Safe: Ceramic plates heat evenly along the entire surface to minimize damage
Versatile: The rounded edges make this a hair straightener that also curls, making it easy to add waves, coils, or bends
Stress-free: This ion straightener automatically shuts off after one hour for your peace of mind
Travel-friendly: The automatic dual voltage (110-240V) power is appropriate for worldwide use, plug adapter needed
The Complete Guide to Buying Flat Irons for Natural and Black Hair
The Two Types of Flat Irons to Straighten Black Hair
Which One Should You Use?
To straighten your natural hair, you'll have to narrow your choice down to two types of flat irons. These are the only ones available in the market to help get your curls down: steam and no-steam flat irons.
Steam Flat Irons
These flat irons are made to restore moisture to your cuticles when straightening, ensuring that your strands do not over-dry and crumble from excessive heat.
Your steam flat iron will include technology that releases ample steam through a vent inside the iron. This will infuse your hair with vapor and provide both moisture and nourishment to your strands.
This is an excellent choice if your hair is very frizzy and dries rapidly.
However, if you suffer from hygral fatigue (over moisturized hair) or your hair is prone to moisture retention, you should consider the alternative no-steam flat irons.
Non-steam Flat Irons
This type of flat iron uses ionic technology and infrared emission to completely straighten out your natural hair without causing water damage. While it won't do a great job at preventing heat damage as a steam flat iron, no-steam flat irons can still produce extraordinary results with your hair.
You will notice your hair becoming instantly silky and glossy. You can also easily tame down your frizz and show off smooth and relaxed hair.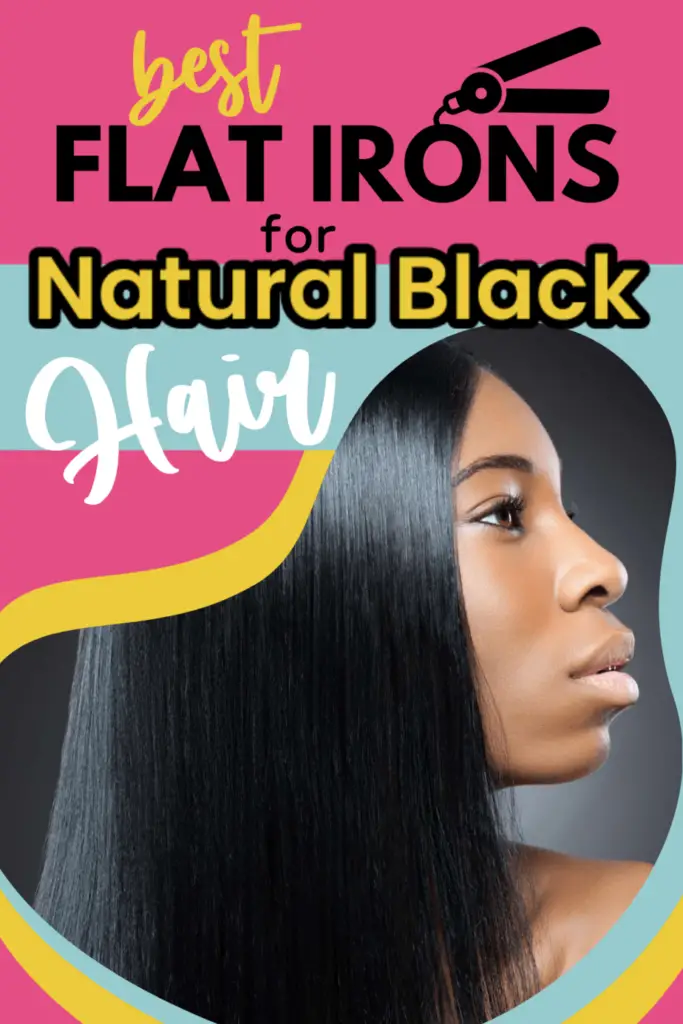 What Temperature Setting Should You Set Your Flat Iron To?
You must be considerate of the temperature setting you choose to straighten your hair. Typically, a low-temperature setting will not be as effective as a high setting. Still, the higher you set the temperature to, the more you expose your hair to severe heat damage.
Since you want to avoid frying off your strands, experts believe that a temperature between 390-degree to 450-degree Fahrenheit is optimal to uncoil your natural tresses with absolutely zero burns or damage.
So, if you're in the market for a flat iron, you need to look for something that has multiple temperature settings and potentially comes with an LCD screen display for you to adjust your preferred heat level.
You May Also Like: Best Products to Straighten Curly Hair
What Size and Type of Plate Should You Get for Your Natural Hair?
Typically, your natural hair requires a plate size of approximately 1 inch to 1 ¼ inch for optimal straightening. If you have longer-length hair you can go with larger plates, and short to medium-length hair should avoid purchasing a flat iron above 1 ¼ inch.
Aside from plate size, you will also find a variety of plate materials ranging from titanium, nano titanium to ceramic. Choosing a material type depends on the typical hair problems you encounter when straightening or styling your natural locks.
Ceramic flat irons are coated with a non-metallic substance that disperses heat evenly through the hair. This enables heat to flow through all of your strands, and you're not left with wavy sides. Ceramic also reduces the chances of overheating through more temperature control, making your hair less liable to heat damage.
On the other hand, titanium-coated flat irons are better at heating up faster and offer greater heating capacity than ceramic irons. Like ceramic, titanium distributes heat evenly throughout the hair's surface but takes less time in straightening up your heavy curls than the ceramic ones.
Additionally, titanium flat irons typically come with ionic technology that reduces your frizz to give a sleeker look to your hair.
Is Ceramic or Titanium Better for Black Hair?
Ceramic flat irons are better for delicate and natural hair, whereas titanium-coated flat irons are more suitable for thick and coarse hair types that need greater heat levels for full penetration.
Read on to find out which flat iron material best suits your hair based on your hair issues, vulnerability to damage, needs, and more.
Here is a shortlist of all the features of ceramic and titanium flat irons:
Ceramic Flat Iron
It distributes heat evenly and does not create uneven cold spots, so you can use low temperatures to achieve straighter hair. This will reduce the chances of heat damage or burn, which is especially important if your hair texture is dry.
Ceramic is better for those African-American hair types that are thin and damaged.
If your hair is prone to daily frizz, you can use ceramic flat irons on a daily basis to reduce the static.
Ceramic flat irons are also best at reducing tangles while straightening your coils.
Titanium Flat Irons
Titanium plates are more powerful than other plate materials due to their higher heating capacity. It can efficiently work with stubborn hair.
Despite its heating capacity, titanium applies sufficient heat so as to not risk hair damage through burns.
It is also great in helping hair that has been damaged to a severe degree. With ionic technology, there is a less likely chance of the iron scarring your cuticles.
Coarse, curly hair can take a lot of time to properly straightened but titanium irons can heat up faster than the average flat iron, making the straightening process quicker and easier.
If you want to straighten your hair for special occasions only, you should opt for titanium flat irons to attain a luxurious, sleek look. Otherwise, it is too powerful for daily use.
Due to its higher heating, people with dense or coarse hair can achieve better results from a titanium-plated flat iron.
Pro Tip: When you initially straighten your hair, use a Titanium flat iron for minimum heat damage due to the plates being more powerful. This allows you to only have to use the flat iron once on each section to get hair straight. Use a ceramic flat iron for daily use and/or touch-ups as ceramic is more gentle.

Tweet
 Is Ceramic or Titanium Better for a Silk Press?
Because silk presses need a powerful heat setting, you can't go with just any flat iron to manage your kinks.
Natural hair is very resistant to heat and can be incredibly stubborn towards a silk press. If your flat iron does not have the appropriate temperature to tame down your mane, you will not achieve your desired look.
So, your best option is to go with a titanium-plated flat iron. Since titanium-coated irons are significantly more powerful and have greater heat settings than ceramic, it is the best flat iron type to get.
You may also need a high-quality heat protectant. Yet, if you're only doing a silk press for special occasions, you can get away without using a heat-protectant. However, you must make sure that your flat iron has ionic technology to protect your hair from heat damage.
Buying Guide: The Best Flat Iron for Black Hair
Now that we've covered all things related to flat ironing, let's get down to business: which flat iron do you actually put your money in?
Natural hair might be stubborn but it is also very delicate and fragile. This means you can't just buy any off-brand flat iron for your straightening needs. You need to invest in an iron that is gentle, doesn't cause unnecessary heat damage, and can handle our delicate yet beautiful texture.
By reading the guide above, you might have already figured out the features you need in a flat iron but to recap, here are the things you should consider while picking out a flat iron for your black hair:
If you have dry and damaged hair, you should choose a steam iron. If you have excess moisture and Hygral fatigue, you should select a non-steam iron.
For curly hair that's short to medium-sized, you need to pick an iron plate between 1 to 1 ¼ inch.
You need to get an iron with an LCD screen display and adjustable temperature settings.
Irons with ionic technology are optimal for straightening without causing heat damage.
If you want to iron your hair frequently, you should opt for a ceramic-plated iron.
If you want occasional salon-like silk presses, you should buy a titanium-plated iron.
Frequently Asked Quetions:
What is the best steam flat iron for African American Hair?
In addition to the above suggestions, I recommend Paryoe Steam Flat Iron Hair Straightener, Cortex USA INC. Cherry Professional, MKBOO Hair Straightener with Steam, and L'Oreal Professionnel Steampod Steam Powered Flat Iron as my top picks for best steam flat irons for African American Hair. There is a flat iron for every budget!
Price
$37.99 ($37.99 / Count)
$59.99 ($59.99 / Count)
$250.00
How to Successfully Flat Iron Black Hair?
Flat ironing can be tough to manage on your natural hair and even with the best flat iron there is, you won't always see the perfect silky straight strands that you want. Despite putting hours of work into flat ironing your hair, you may still see your hair slowly curling up. On rare occasions, you might achieve absolutely bone straight hair but considering the money and effort you're putting in, you should be getting such results whenever you style your hair.
Well, here are some words of reassurance – it's not you, it's your process. Frankly, no one can get long-lasting silky textures on their naturally curly hair unless they know the proper method of straightening.
You need to know the nitty-gritty details to get what you're looking for. Unfortunately, just buying a flat iron and forcibly pressing it on your hair will only cause more damage than good.
Read on to learn the process and products you need to use to get the perfect silk press on your hair every time.
What Do You Put on Black Hair Before Flat Ironing?
Because natural hair is inherently stubborn or shall I use the word I label my daughter – strong-willed, you need to invest in a few prepping products to ensure that your silk press lasts for as long as desired.
Before you begin flat ironing your hair, you'll need to remove any residue on your cuticles. Starting with a clean base is always optimal in creating that ultimate sleek finish.
Stylists recommend using the Neutrogena Anti-Residue Shampoo or the Gliss Ultra Moisture shampoo for the initial step. You should add to this process with an extra-moisturizing shampoo and conditioner, especially if you have dry and damaged hair.
A great moisture-boosting shampoo and conditioner for black hair is the Pantene Gold Series, which is also really affordable.
Follow up on your shampoo and conditioning process with hair serum and a heat protectant. This will hydrate your strands and make your hair more manageable and susceptible to straightening.
Use either the Milbon Humidity Blocker Oil or Smooth N' Shine Straightening Polisher to protect your hair from humidity and breakage. The Milbon Humidity blocker also contains SPF which will protect your hair from frying under the sun – useful for when you're spending long hours outdoors.
Once you've added these products to your hair, comb them down to ensure the products penetrate through each of your strands equally. Use butterfly clips to separate your hair into sections and spray the Milbon Weightless Replenishing Spray over each section before adding heat. This will make sure your hair retains enough moisture so that it doesn't dry out from excessive heat. It also gives you smoother and silkier results with your straightening hairdo.
Alternatively, you can use the Smooth N' Shine Conditioning Polisher to achieve the same soft look on your hair but with natural oils such as black seed and coconut. This helps replenish moisture while also preventing split ends from forming in your strands.
The Step-by-Step Process to Flat Ironing Black Hair
Now that you've read all about the products to use before flat ironing your hair, you need to know the exact method to follow to get bone straight hair every time.
Some black hair stylists follow their own techniques to achieve a sleek finish on natural hair, but they all agree on specific steps they deem essential. Use the following guide to learn exactly how to flat iron your natural coils for a long-lasting sheen without damaging your cuticles.
Start with a clean canvas by shampooing and conditioning your hair thoroughly
Before you even put your hands on your flat iron, think about the last time you had conditioned your hair. If your hair feels brittle and rough, it's because you don't have enough moisture in your hair. Adding direct heat to such a state would only cause your cuticles to fry off and you'll be hanging around the day with burnt straight hair (ouch).
Start your flat ironing process by entering the shower and thoroughly covering your hair with a good moisturizing shampoo and conditioner. If you suffer from dry hair, make sure to have a weekly deep conditioning routine for better hair health.
After your shampoo and conditioning session, properly clean your hair to remove residue. As mentioned before, a residue-removing shampoo such as the Neutrogena Anti-Residue Shampoo will help take care of any dirt or product that's locked into your strands.
If you work at your hair while it contains dirt and product residue, you'll be pushing the grime to enter more deeply into your cuticles. This is a huge red alert for your hair because not only will you be damaging your hair with heat but also clogging the cuticles with filth, making them more susceptible to damage.
Apply a smoothing balm or serum to prevent heat damage
Humidity-blocking serums or smoothing balms are particularly effective in maintaining your hair health even as you go about heating your hair strands. If you live in a very damp environment, you can avoid getting your hair all frizzy and coiled up again by using a serum before flat ironing.
Serums also add an extra glossy look to your hair, so if you want to flaunt that enviable silky glean from straight hair, use a hair styling serum or smoothing balm.
Use heat protectant
Leave your hair to rest with all of the products you've added and once dry, add a heat protectant to safeguard your hair from direct heat. If you're not aware of what heat protectants do – it adds a protective film over your hair strands to prevent heat from directly affecting your cuticles and risk damaging them.
However, most heat protectants won't be able to save your hair if you put too much heat on your strands. It's important that you maintain a medium to low-temperature setting to avoid damaging your hair. In order to get the best results, keep your flat iron between 390-to-450-degree Fahrenheit for best results.
Section your hair and blow dry for a silk press (optional)
This can only be done for special occasions because blow-drying hair before flat ironing is a lot of heat being applied to your hair consecutively. So, I repeat, don't do this daily.
But if you're looking for the ultimate silk press that would last for a long time with your strands coiling up, give yourself a blow-drying session before ironing your locks.
The first step is to comb through your hair and separate it into eight sections. As mentioned before, you can use butterfly clips for better management. You can also add in a moisturizing spray to ensure that the blow-drying process doesn't eliminate moisture from your locks.
After sectioning off your hair, begin with the blow-drying process. You can use a Denman brush if you want your hair to look longer. This brush will help elongate your hair cuticle from your root to the ends, giving you very long and straight hair.
Start flat ironing your hair by sections
If you want to avoid the half-straight, half-curly look, make sure you have your hair locked into separate sections with a clip before going in with a flat iron. Address each section by first combing your hair down and then moving with a flat iron to press your hair down into long, sleek strands.
For long-lasting results, flat iron your hair only when it's totally dry from all of the products you've used. If you've used a polisher after your blowout session, you'll need to wait until your hair has completely savored in the product before using a flat iron.
To help with the drying process, you can wet wrap your hair under a hood or bonnet dryer until your hair's sucked in all the moisture. This is especially helpful if you want to avoid blow-drying your hair. Alternatively, you can air-dry your hair until it's mostly dry before gently blow-drying to get the excess moisture out.
If you don't dry out your hair before flat ironing, it will lead to more frizzy and crooked straightening than the sleek look you were hoping for.
Add a polisher, serum or natural oil for aftercare
It's best that you don't put any excess oil before straightening your hair as that can lead to your hair being deep-fried by the heat. On the other, adding oils and serums after finishing your straightening routine can be a great option for aftercare.
You can add a little weight to your hair or if you prefer a glossier look, add a polisher or serum. This can also give back some nutrients to your cuticles and prevent the possibility of tangling or hair troubles. All in all, you'll end up with healthy, glossy, and bouncy strands.
Sleep with a headwrap
All that hard work shouldn't go down the drain. It's crucial to retain your silky straight tresses even after you've had a good night's sleep. Therefore, make sure to have a night-time routine as aftercare for your flat ironed hair.
Do this with a silk or satin scarf or bonnet and wrap your hair in it before going to sleep.  This will help retain all that moisture in your hair and you can wake up with the same hairdo as the night before. However, if you don't follow this step, you won't simply risk ruining your straight style but also make your strands more brittle and fragile due to friction.
Final Words on Best Flat Iron for Black Hair
Natural black hair is very unique and versatile due to its numerous styling options. But you shouldn't forget how to take care of your hair as you experiment with different styles.
For optimal results with any hairdo that you have on your African-American hair, remember to follow through with the proper methods and choose only the device that caters to your specific needs. Not all flat irons will help you out with the pin-up hairdo that you want, so it's essential you're well-informed about the various options and technologies out there.