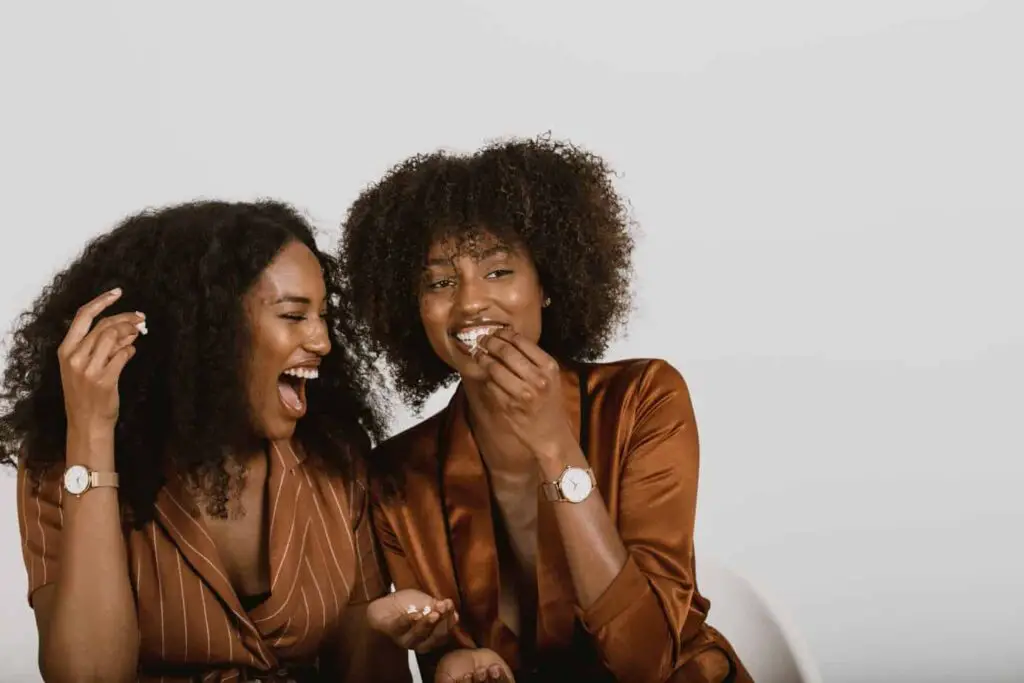 Recently I tried a few of LuxMane ayurvedic hair products and was really happy with my results. If you are looking for ideas for natural hair gifts, the below LuxMane products fit the bill!
This would be the perfect natural hair gift for Christmas, Kwanzaa, birthdays, or any other special occasion. You get the point; your curl girlfriend would love it!
Keep reading until the end to see all Natural Hair Gifts ideas.
But before I get into my LuxMane review and gift recommendations; here are the benefits of using ayurvedic hair products.
*This post may contain affiliate links. If you use these links to buy something we may earn a commission. I only recommmend products that I use, love, or thoroughly researched.
Does Ayurvedic Hair Care Work?
Absolutely! My COLORED hair is flourishing!!
The magic behind Ayurveda is that it depends wholly on natural ingredients to return the healthy shine and texture back to your hair. Most hair care products on the market are typically formulated with harmful chemicals, and this can result in dry and tangled hair.
On the other hand, Ayurveda believes that nature itself has provided enough resources to cure many of our problems. Using natural products ensures that you're not damaging your roots or hair cuticles by adding substances you're not familiar with.
A great deal of scientific research has been done on Ayurvedic hair products and the results are beyond impressive.
Every Ayurveda-recommended product has its own set of benefits for both your hair and body. To top that off, Ayurvedic hair care products are personalized according to your dosha. This means that the product you choose has been made especially for your dosha requirements – making it both unique and effective!
You May Also Like:
How to Use Ayurvedic Hair Care Products?
Unlike the chemical conditioners and shampoos typically sold in the hair care market, Ayurveda doesn't strip or damage your hair and scalp. You may not notice it now but the products that you currently have on your shelf are already hurting your hair. This is because most chemically manufactured products work with a stripping mechanism. Ayurveda, on the other hand, only applies curative techniques to restore your hair's natural properties and regain its growth and vitality. 
Furthermore, most companies advertise that their products need chemical preservatives for longer shelf lives but Ayurveda has proven this otherwise. You can find natural preservatives that are healthy and lets you use the product for long periods.
Yet, you can't apply just any Ayurvedic hair care product. Despite what it says on the label, most herbal hair care products may contain some form of chemical ingredient. You need to enter a serious process of researching and vetting the formula you apply to your precious locks … and I have done precisely that for you.
Your curly hair deserves only the best out there, and so I truly recommend using the following products to make sure your locks get what they need and more:
Natural Hair Gifts: The Perfect gift for the Curly Hair Girl
Ayurvedic Hair Product Gift Set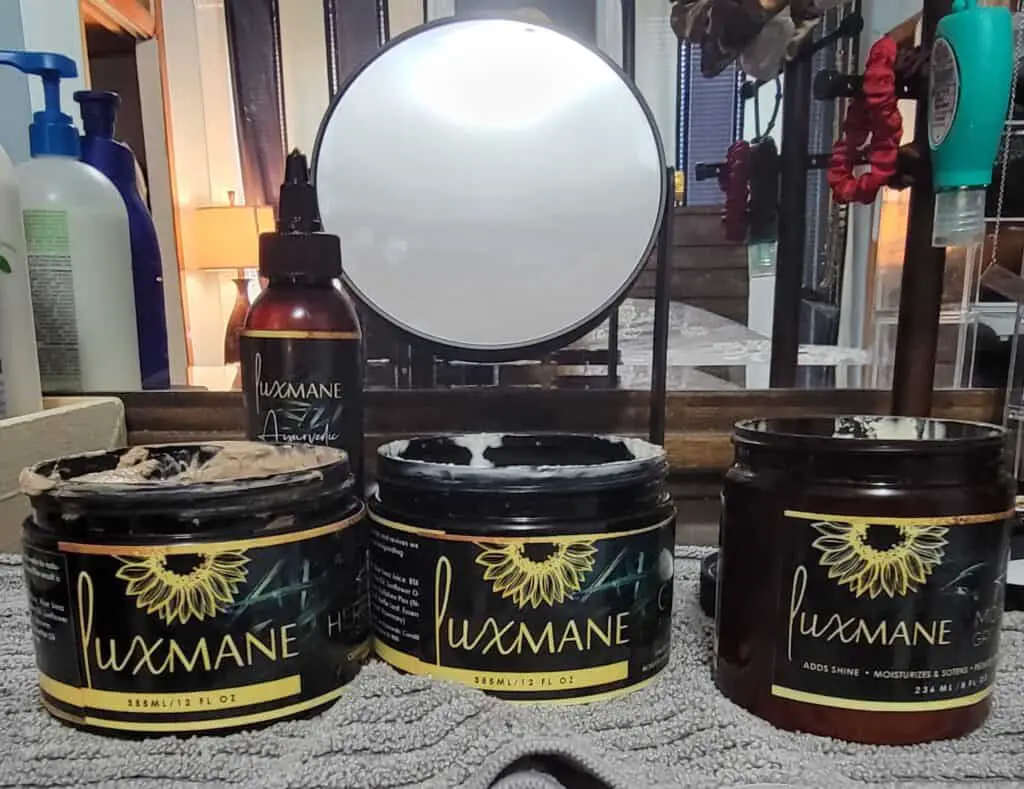 Heads up: If you decide to try any of these products, use code curlygirlysays15 to get 15% off!
This herbal cleanser can work miracles on your kinky hair with its all-in-one treatment formula. It works by cleansing your scalp and hair of dirt, grime, and dead cells while simultaneously detoxifying.
When using this cleanser, make sure to dampen your hair well and then add a good amount of the product to your curls. Slowly massage your way upwards and apply it thoroughly over your scalp while detangling. After washing it out, you will be left with cleaner, softer and healthier curls.
The specialty of this product is that they use Rhassoul Clay as the main ingredient due to its cleansing and exfoliating properties. This brown clay can only be extracted from a valley in Morocco, making it an extremely unique element to be used in commercial hair products.  The clay primarily relieves the scalp from excess oil and other impurities while also conditioning the hair to give it a beautiful gloss.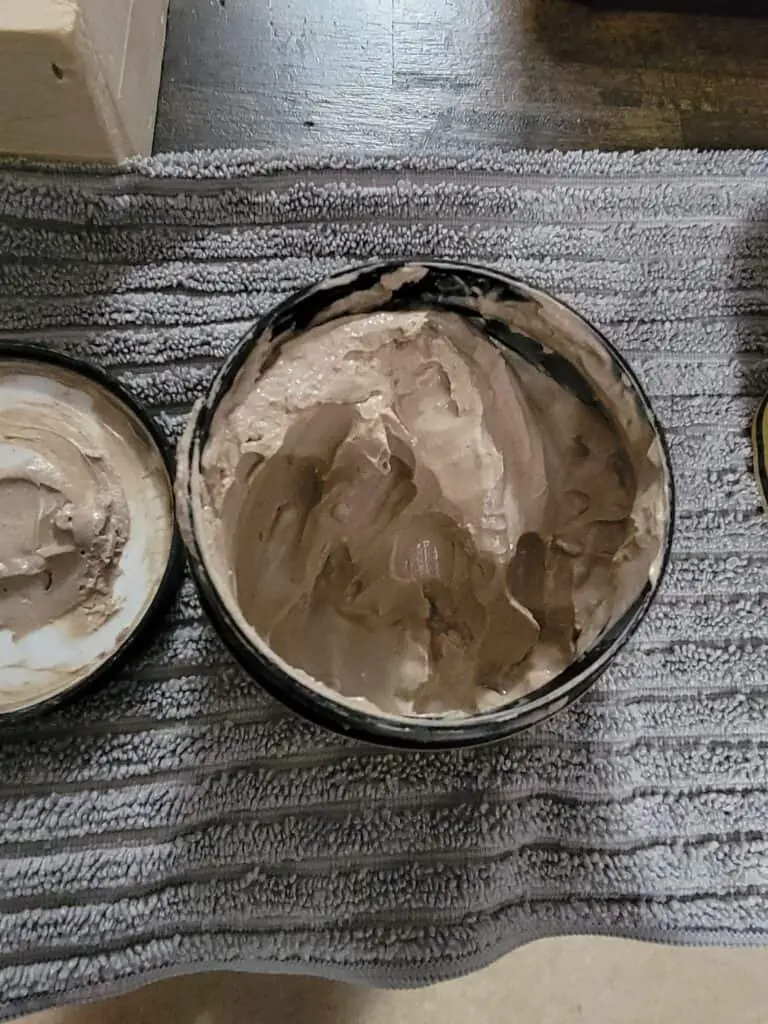 If you suffer from damaged and brittle hair, this conditioning treatment can be particularly effective in alleviating your hair problem. It has a profoundly penetrative formula that restores health and increases elasticity in your tresses. Infused with lavender and peppermint essential oil, the product will not just make your curls will feel soft and bouncy, but also smell heavenly!
If you want to achieve the best results from this product, you can use the aforementioned Ayurvedic Herbal Detox Clay Cleanser before applying the Growth and Strengthening Treatment.
Make sure you spread the conditioner evenly across your strands, especially around the ends. Once you're done with the application, wear a plastic cap and wait underneath the dryer for at least 15 minutes before rinsing it out thoroughly. Alternatively, you can have the product in your hair for 1 hour without applying heat.
The benefit of this product is that it uses nettle leaf for treatment. This is one of the oldest ingredients in Ayurveda and helps enormously in eliminating hair loss and dandruff while also revitalizing your hair.
 The leaves are rich in natural silica and sulfur, which expediates your hair growth process and ensures shinier and healthier hair.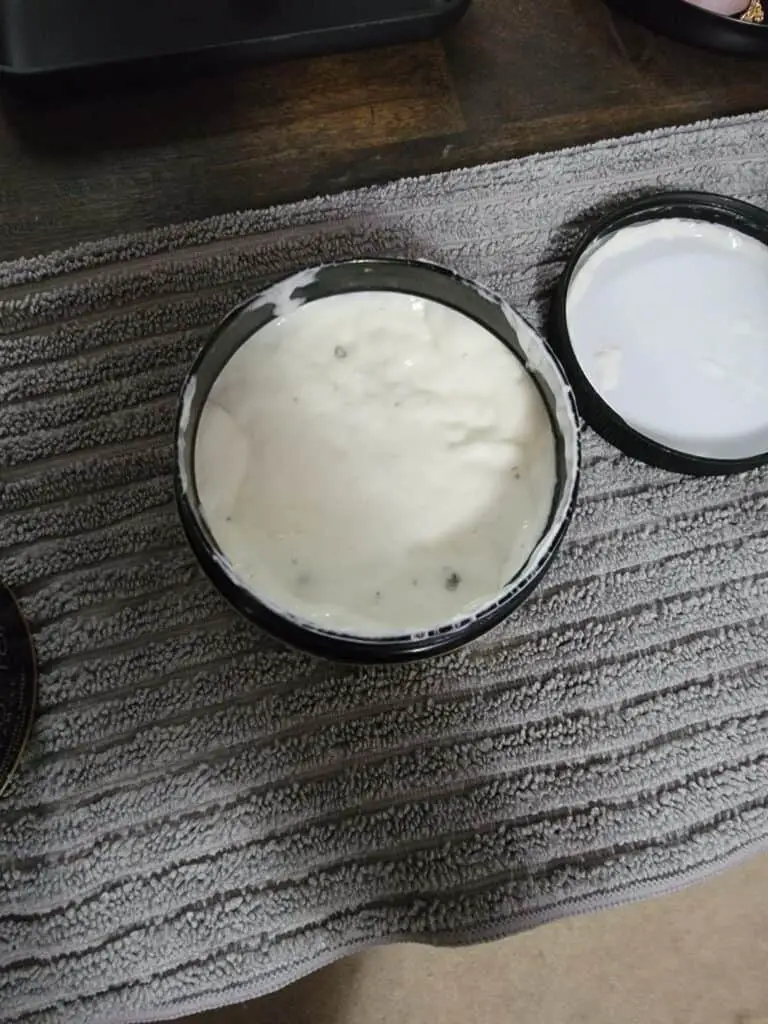 We all love that beautiful gloss when we're braiding or twisting our hair out. However, our beautiful curls and coils are very prone to losing moisture unless rigorously cared for. This makes it harder to retain that enviable shine. But the Luxmane Moisturizing Growth Butter is your solution in a bottle. This product both moisturizes and nourishes your hair to eliminate any form of breakage and add that glossy look to your strands.
To use it properly, take a small amount from the jar and rub the cream on both of your palms. Afterward, distribute it thoroughly over your scalp and strands before styling your tresses.
The product blends in different oils such as olive oil, sesame oil, sunflower oil, castor oil and infuses them with a mix of Ayurvedic herbs. While the oil adds shine to your hair, amalgamating them with the herbs produces an effective hair strengthening concoction. If you have dry and damaged hair or suffer from hair loss, this product can be great in both revitalizing and moisturizing your strands.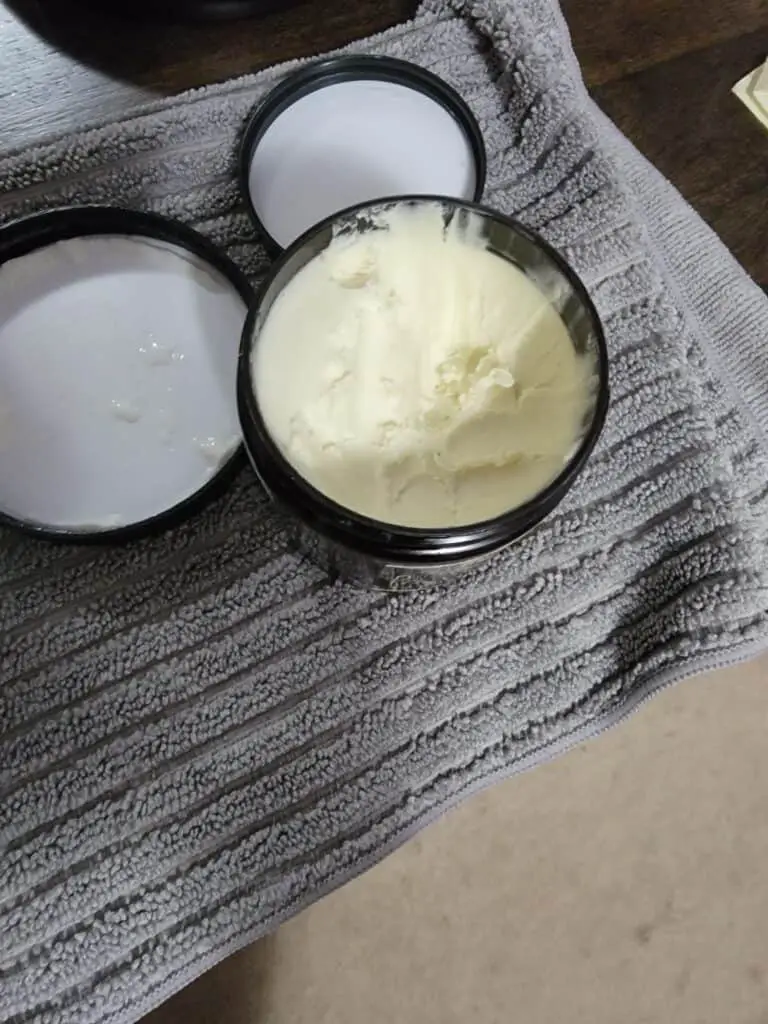 This hair growth oil is an excellent product to include in your natural hair gifts as it is the most universal product. This hair growth oil promotes hair growth and eliminates shedding. This product contains all the Ayurvedic oils and herbs that you may need for healthier and faster hair regeneration.
Make sure that you shake the bottle well before applying the oil to your scalp. This ensures that the pieces of herbs settled at the bottom are mixed in with the oil you pump out. The way to get the best results out of this formula is by massaging it on your scalp at least 2-3 times every week.
 If you have really severely damaged and dry hair, you can go a bit extreme and use it daily for faster results.
Luxmane's oil and herb blend is very effective for all-around hair treatment. Not only does it promote hair growth and eliminate impurities and other hair conditions in your tresses, but it also conditions your hair to look glossy and luxurious almost instantly after use.
Don't forget: If you decide to try any of these products, use code curlygirlsays15 to get 15% off!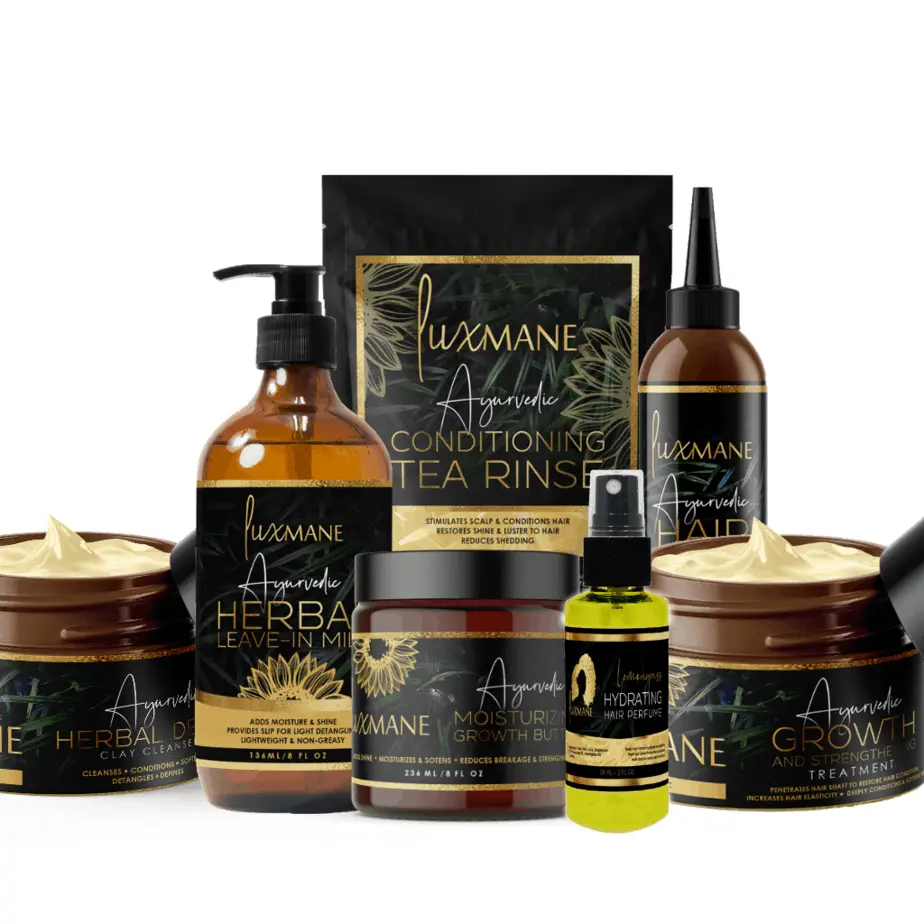 You can also check out LuxMane on Etsy!
Here is a guide for the ingredients used in LuxMane's Ayurvedic herb blend and how your curls benefit from them:
Guide into Ayurvedic Hair Ingredients:
Amla – Amla stimulates hair growth, revitalizes your strands and prevents dandruff or dryness. It also prevents your hair from premature greying, which is a bonus if you want your hair to retain its pigment in the long term.
Fenugreek Seeds – This contains antioxidant and anti-inflammatory properties which eliminate dandruff and regain hair growth. This is especially useful if you want to prevent hair thinning.
Bhringraj – This ancient Ayurvedic ingredient aids in blood circulation in your scalp which stimulates damaged hair follicles to treat themselves. This helps in both hair growth and strengthening your strands.
Brahmi – If your strands are dehydrated and flaky, Brahmi is very useful in that it creates a protective layer over your cuticles and reduces the flaky texture. It also prevents any split ends and ensures your strands remain silky and lustrous.
Neem – Neem is an excellent natural conditioner. It works by sealing your hair follicles and with its antibacterial, antifungal and anti-inflammatory properties, it nourishes your hair in ways you can't even comprehend. Neem is especially helpful if you have frizzy hair or suffer from head lice.
What to Look for When Buying Ayurvedic Hair Care Products
Most brands love to mix in chemical additives to their products, even if it poses the threat of damaging your coils. You can't really get away from these because the hair care market is flooded with chemically manufactured products.
But we all know natural hair care is what's perfect for our tresses. Apart from being entirely safe for use, Ayurvedic hair regimens hone in all the natural properties that genuinely help our hair regain its health.
Yet, it's hard to find completely natural Ayurvedic hair care products. Most come with only a 99% concentration of Ayurvedic ingredients. Furthermore, you know that most hair products don't suit our curly hair. When finding an Ayurvedic hair care product that's best for our coils, the process can turn tedious quite quickly.
This is why tumbling on LuxMane's products was an absolute blessing and is the perfect brand to use for natural hair gifts. Their range of Ayurvedic treatments caters to the typical problems we face as curly hair owners. Additionally, you get a shimmering gloss over all of your strands with each product that you apply. That itself is a reason to get them!
Don't forget: If you decide to try any of these products, use code curlygirlsays15 to get 15% off!
A Clip of My Hair After using the above LuxMane Products
Other Natural Hair Gifts Ideas:
Each coaster measures 4 x 4 x 0.19 inches.Pack of 6 - 4 inch diameter coasters with rounded edges.The coaster is not intended for the microwave or dishwasher.
HIGHLY MOISTURE ABSORBING - Absorptive Material help the coasters protects your furnitures from Excess Condensation or Liquids from Whiskey, Cocktail, beer, Irish coffee or other alcohol. The coasters will never leave any mark on your wooden end table or bedstand, nor stick to your cup because the cork pad on the back side provide just enough traction for them to stay put on the tabletop.
This coasters can be used as home & office decor, barware set, bar service mat, bartender supplies or Table pad. Stay put and Look Nice.
Perfect GIFT - This set of coasters makes a cool Housewarming, Birthday, New Year Gift for Mother, Father, him, her, man, woman. Conversation starter for beach house party, entertaining or wedding registry
Pack of 6 pcs
❤1.WENYU Afro Puff Human Hair Drawstring Ponytail Extension With One Elastic Drawstring And Four Clips. Natural Color, 6inch-8inch Available. 8A , Super Soft , Shiny, Bouncy, Clean And Healthy. No Shedding, No Tangling , No Lice .
2.Hair Quality: Afro Puff Drawstring Ponytail Extension ,Made By 8 A Brazilian Virgin Human Hair, Cut From Healthy Young Donors , So It Can Be Dyed( Into Dark Color Like #30, #99j) Can Be Treated, Styled, Washed, Straightened, Curled As Your Own Hair;Strong Double Machine Weft, Neat And Tight, No Split Ends, Feeling Very Soft And Comfortable
3.Hair Feature: With One Elastic Drawstring And Four Clips Guaranteeing, It Has No Damage To Your Hair And Easy To Wear And Remove. Ponytail Extension Will Stay In Place For All Day And Need No Adjustment. Happy Your Every Day! ❤Just Few Seconds ,You Will Get a Thick and Full Ponytail Like Magic.No Shedding,No Tangle.It Can Be Worn Into Low Or High Ponytail As u Like.It Allows You To Try a Different Hairstyle And Make You Look Gorgeous And More Energetic!
4.Recommend Deep Conditioning Once a Week Since There Is No Natural Nutrition To The Extensions Like Our Own Hair. And Please Apply Some Essence Oil To The End Of The Extensions, Which Will Avoid The Frizz. KIND NOTE: IT WILL BECOME SMALL AND A LITTLE LIKE KINKY CURLY TEXTURE WHEN IT MEETS WATER, BUT AFTER U WASH IT AND WHEN IT IS DURING HALF WET AND HALF DRY, U CAN COME IT GENTLY, THEN IT WILL BECOME INTO THE ORIFINAL SHAPE LOL, THANK U ❤
Be proud of your afro natural hair and legalize being black by this cool saying design outfit! This is the perfect gift for your family and friends who are melanated and educated, unapologetically black because black lives matter!
Commemorates black history month because black lives matter by this awesome outfit wether you are afrocentric, melanin poppin black woman, king, queen, or african american. Great present to celebrate juneteenth, christmas, or birthday
16" x 16" bag with two 14" long and 1" wide black cotton webbing strap handles.
Made of a lightweight, spun polyester canvas-like fabric.
All seams and stress points are double-stitched for durability, and the reinforced bottom flattens to fit more items and hold larger objects.
Spot clean/dry clean only.
African style earrings set: come with BLACK letter shape, QUEEN letter shape, beautiful African women patterns, some inspirational words and so on, various styles and patterns are featured with bright colors and full of local characteristics, easily match with different outfits, look very charming and elegant, will add a different touch to you
Lightweight and long-lasting: these round women dangle earrings are made of quality wood, safe and comfortable to use, no worry about hurting your ears, durable and sturdy, not easy to fade or break, light in weight and won't add much burden to your ears, will serve you for a long time; Note: please keep away from water to prolong the service life of these earrings
Widely applicable: these round wood painted drop earrings are suitable to be worn for a variety of occasions, like various parties, shopping, wedding, dating, meeting, working or daily wearing, go well with different styles of clothes according to your mood, bright and eye-catching
Beautiful gift: these women round dangle earrings are nice and delicate gifts to send your mother, wife, sisters, girlfriend or other female friends, suitable for birthday, anniversary, wedding, dating or other meaningful festivals or important days, fully show your care and love to them
Sufficient quantity: there are a total of 12 pairs of African painted women earrings with different styles, enough quantity can meet and satisfy your daily wearing needs or share with your loved ones, will shine your beauty throughout the year in many occasions
Great ethnic for black women or African American women who embrace their kinks and curls.
African American woman with natural hair Natural Hair Afro
Lightweight, Classic fit, Double-needle sleeve and bottom hem