Dyeing your hair can be nerve-racking, especially if you've got naturally curly hair and you've never done it before.
Those who are new to the hair dyeing world might be wondering: what color looks best on curly hair?
In this article, I cover all things curly hair, from whether you should get highlights to whether hair dye will ruin natural curls.
So, let's get started.
*This post may contain affiliate links. If you use these links to buy something we may earn a commission. I only recommmend products that I use, love, or thoroughly researched.
Does curly hair look better with highlights?
If you're wanting a dramatic change, switching up your hair color with highlights might feel like the perfect opportunity to freshen up your look.
Highlights are a great way of adding more dimension to your hair and are a great introduction to hair dye if you've never done it as it allows you to have a taste, without committing to dyeing your whole head of hair.
However, when you have curly hair there are certain things to take into consideration before you commit to getting your hair highlighted.
Namely, curly hair is fragile and susceptible to dryness and damage. This is important to bear in mind when it comes to experimenting with color because, like most chemical treatments, permanently dyeing natural hair can result in damage if not done correctly.
Generally speaking, because of its natural bounce and fragility, stylists need to be much more careful when it comes to highlighting curly hair.
Balayage is a common technique used by stylists when it comes to dyeing naturally curly hair as you can customize where the color will fall.
Balayage is almost like freehand painting, allowing the stylist to give your hair a natural, sun-kissed look that works perfectly with your type of curly hair.
You May Also Like: How Long to Leave Bleach in Hair
Does hair dye ruin natural curls?
With any permanent, semi-permanent, or straightening treatment, you risk damaging and loosening up your natural curl pattern. If not done correctly, then hair dye can ruin any hair, curly or otherwise.
It is important to remember that anytime you use bleach on your hair, you are stripping the hair of its natural color and are weakening it.
As a result, hair can become dry and prone to breakages more frequently once it has been dyed, and the overall quality can worsen if you don't dedicate enough time to properly caring and maintaining your hair.
The answer to this question will also be affected by how light you want to lift your hair. For instance, if you want a buttery brown or alternatively a copper, the dye is less likely to affect your curl pattern.
However, if you are dying your hair from black to ash blonde, then it is much more likely to have a more significant effect on your curl pattern for the first few washes.
Before committing to getting your hair dyed, ensure that you book a consultation with your hair stylist to talk through the process and what you want to try to achieve. They can offer their expertise and you can come to a decision that will work best for you and your hair.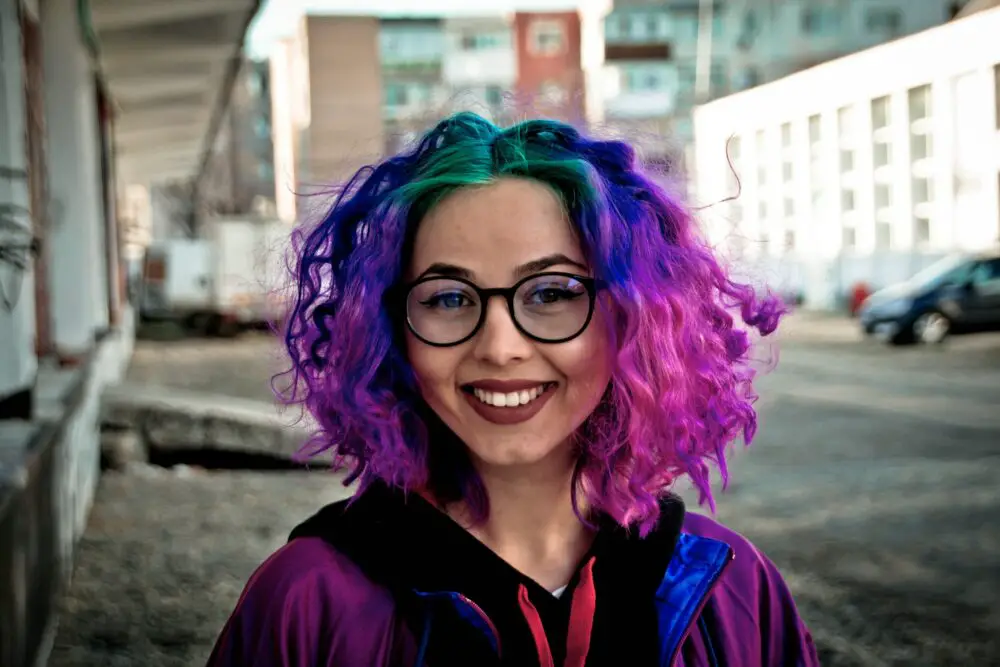 Do highlights mess up curly hair?
When altering the color of your hair, yes, there is always a degree of risk that you can damage your hair.
The most important thing to take into consideration when highlighting your curly hair is to find a fantastic colorist.
Booking a consultation and bringing in reference photos to discuss the options with your stylist is important, as the colorist will be able to tell if it's possible and realistic for you to try to replicate the look that you're going for on your hair type.
In some instances, for example, if you have virgin hair, you might be able to achieve the look without resorting to bleach. However, this will depend on the type of look that you're going for.
In any case, you should always ask your colorist to conduct the strand test, which shows how your hair will react to the color and you can make a decision accordingly.
You can use bleach on curly hair and retain your texture when it's applied carefully and properly. However, that being said, It's important for your stylist to carefully check how your hair is responding to the bleach to avoid over-processing and ruining your curl pattern.
Another thing to bear in mind is that you should invest in Olaplex repairing treatment and conditioner, as it is formulated to protect your hair from chemical damage and helps to prevent further damage, also.
This is essential for curly hair, as this helps you to maintain your bleached hair and prevents your hair texture from changing so much.
Will bleaching curly hair make it straight?
It is important to research and know the risks before you commit to bleaching your hair. This is why it is so important to see a professional and have a consultation – you should never attempt to bleach your hair yourself.
There's no way to sugar coat it, bleaching any type of hair will damage it in some way. Bleach is a chemical that dissolves the natural color pigmentation in your hair, and the rapid chemicals break down and can significantly damage the hair.
Bleach can affect your curls significantly if you aren't patient. That being said, you should see the process as a gradual one. This could mean multiple trips to the salon to achieve the look you want in the healthiest way possible, but this will ensure your hair's health.
If you don't take the proper precautions, then your curls can lose elasticity and strength, and can even drop if you're not careful. As a result, then, bleaching can make your hair straighter than usual if you damage your curl pattern.
Although you can restore hair health over time, it is a much easier process to not go too far in the first place. That being said, always make sure that you are caring for your hair regularly with deep conditioning masks and treatments to ensure that it is as moisturized as possible after you bleach it.
How to Pick the Perfect Hair Color