Products for natural hair growth can be a daunting task to find. I have used and/or currently use the products below to help grow and strengthen my hair. You can rest assure that you will find several hair products for natural hair growth that you can use.
On average, our hair grows half an inch a month or 6 inches in a year. This growth rate can seem tediously slow when we're waiting for our hair to grow out.
More horrifying is that the speed our hair grows is largely dependent on genetics. So, if you've noticed that your hair grows slower or faster than everyone else's – you're probably right!
BUT, before we lose all hope, you should know that you have some control over how fast your hair grows. Our habits and health play a role in promoting or limiting hair growth.
Moreover, protective styling, scalp massages, and certain natural oils can all help. In fact, many hair products for natural hair to grow contain a range of stimulating extracts that reach deep into your follicles and kick your roots into overdrive.
In the meantime, they gently caress your hair with moisture while gently pulling away oils to prevent breakages right from the start!
Keep reading for all the intricate details. However, If you want to quickly get into my list of
natural products that grow hair fast
…here you go!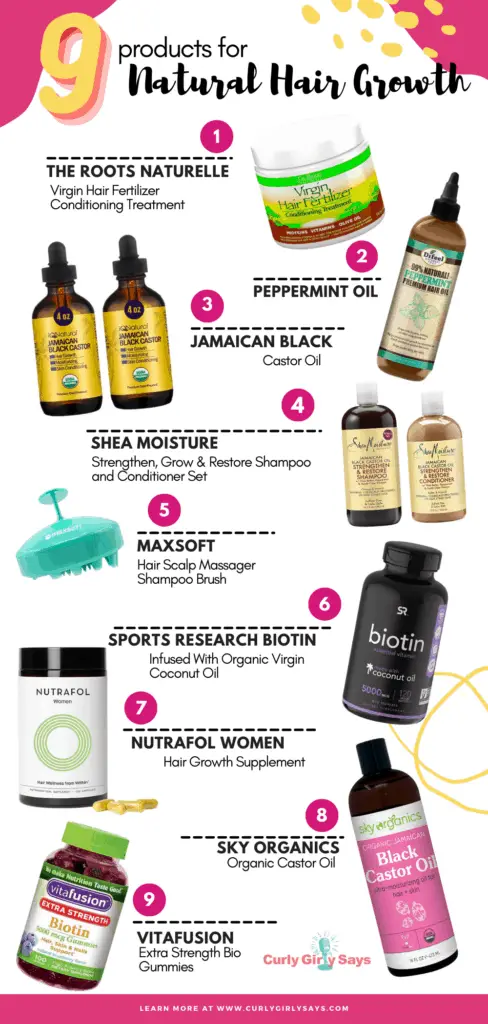 *This post may contain affiliate links. If you use these links to buy something we may earn a commission. I only recommmend products that I use, love, or thoroughly researched.
What to consider before buying products for natural hair growth
Let's face it. There are many gimmicks out there on shelves that do nothing but make our hair smell good – if they even do that at all! Since we don't play around when it comes to our hair, we want to say no to each and every one of these duds. 
Since hair growth starts at the roots, you don't want them to be clogged with dirt, oils, and much less unreliable products. For unrestricted growth, you should maintain clear, clean, and healthy scalp pores. Using a clarifying shampoo once a month is excellent for refreshing roots and stripping away any impurities. 
Following on, you want a product loaded with natural growth-friendly ingredients such as castor oil, proteins, and aloe vera – all of which aid in promoting good hair health and growth.
To help you cut to the chase and avoid the hassle of trying out every product on the shelf, I have compiled a comprehensive list of the best hair products for natural hair to grow.
These are the products that have performed consistently and have stellar reviews to prove it. They've been tried & tested on many hair types and show up on top every time.
So, let's take a look at these winning natural products that grow hair fast :
The Roots Naturelle Virgin Hair Fertilizer Conditioning Treatment 
Any product that reads "hair fertilizer" immediately piques our interest and comes to no surprise that it is one of the top-rated natural products to grow hair. This oily conditioner is suited for textured hair that has been damaged from braiding, heat, or rough treatments. According to loyal users, it produces a sharp and cold sensation when you rub it into your scalp – powerful! That's what it feels like to have numerous active ingredients working together to stimulate and heal your hair. 
One of these active ingredients is Peppermint oil, which is renowned for its potency and hair-thickening properties. Moreover, it utilizes key power players like proteins, vitamins, olive oil, shea butter, and oils from sweet almond to treat and restore weak and brittle strands.
Peppermint oil 
Peppermint oil is famed for its hair health-boosting properties and one of the hair products for natural hair to grow. In fact, if you check the label of any good hair growth-promoting product, you're likely to find healthy amounts of peppermint oil on it.
As mentioned above, it produces a cool sensation when applied to the scalp. This feeling is produced as peppermint oil is a vasodilator. A vasodilator is any substance that can promote blood flow and circulation when applied topically.
One study found that peppermint oil, when used on mice, increased the number of follicles, follicle depth, and overall hair growth. As previous users have claimed, it's well capable of doing the same for humans! I know..what a gross thought – Mice, yuck. I'm just the messenger : )
To safely apply pure Peppermint oil to the hair it must first be diluted with a suitable carrier oil. Almond and Jojoba oils are often used for this purpose and also have some growth-boosting properties of their own!
You May Also Like:
Jamaican Black Castor Oil
Jamaican Black Castor oil is in a league of its own among essential oils. This ingredient is found in almost all hair products for natural hair to grow. Jamaican Black Castor oil sets itself apart from other nourishing oils such as argan and coconut with its ability to treat dandruff, soothe acne, and even relieve muscle pain. However, where it really makes a name for itself is as a 'hair-growing' ingredient.
Castor oil contains multiple nourishing components, including vitamin E and omega fatty acids. Contained within this fatty acid is Ricinoleic acid, which is capable of stimulating hair follicles. However, not only will this wonder-oil help you to grow your hair out, but it'll also help you to retain its length. Jamaican Castor oil is lauded worldwide for being able to coat the hair in a moisture-laden sheet that essentially hydrates and locks in moisture. Because of this, castor oil is also known to lessen the severity of split ends and breakages.
Shea Moisture Strengthen, Grow & Restore Shampoo and Conditioner Set
This product comes highly rated as one of the top natural products to grow hair and is known to prevent breakage and strengthen your hair.
Buying a shampoo and conditioner set that cleans your hair without stripping it of its natural oils and moisture is tough. It seems like there's always a push and pull, which leaves hair looking limp, lifeless, dry, and full of breakages.
However, when it comes to this Shea shampoo and conditioner set, you'll get a powerful shampooing experience without compromising moisture and a nourishing conditioner to follow it up! A key factor contributing to their moisture-packing properties is that they're both entirely sulfate-free.
The result is almost always silky-smooth, shining hair post-shower. However, on a deeper level, both products are getting to work by deep cleaning follicles and giving them the TLC they deserve. And naturally, when your follicles are healthy, they promote healthy hair growth.
Maxsoft Hair Scalp Massager Shampoo Brush
Had enough of flakes, itchiness, dryness, and tightness? So has the Maxsoft Shampoo brush. This adorable, ultra-soft massaging shampoo brush is just the antidote your hair needs. 
To begin with, the wide-end prongs of the brush are adept in wiping away any oils, dirt, or dead skin from the scalp leaving your follicles free to breathe. On closer inspection, behind its ultra-thorough hair cleaning abilities, this brush is stimulating blood flow in your scalp. By doing this, the brush naturally nourishes your follicles, which in turn will push hair to grow faster. Sound good? Millions of people would agree that it does – the reviews don't lie!
Sports Research Biotin Infused With Organic Virgin Coconut Oil 
Biotin and Coconut oil are a power couple when it comes to hair growth. These two ingredients work together to maintain hair health, lock in moisture, and fire up follicles.
According to reviews, this miracle-working product is capable of stemming hair loss, thickening hair, and get this – results can be seen in as little as two weeks of first use! That's called efficiency! And after all, who needs patience when it comes to hair growth?
Interestingly, it's believed that this product kicks in so fast because biotin is packed full of B vitamins, and its sole purpose seems to be cell growth and renewal.
Nutrafol Women Hair Growth Supplement 
This powerhouse supplement is the go-to of many dermatologists and hair-specialists alike. The capsules contain a litany of different ingredients—everything from biotin to saw palmetto extract to collagen to plenty of vitamins and minerals. Not only does this mix work to anchor your hair in your follicles, thus preventing hair loss, it also fires up said follicles causing hair to grow at a faster pace.
However, it may take up to 2 months to see any results, but once they do appear – they're worth it.
In a brand-backed clinical study, 84% of participants saw stronger, thicker, and faster hair growth after six months. This product is definitely a splurge but the results are seemingly worth it.
Sky Organics Organic Castor Oil
Are you an avid advocate of castor oil? Do you regularly treat your hair to a generous layering-on of its nourishing goodness? If so, Sky Organics castor oil is for you.
Castor oil comes highly recommended in the category of "hair products for natural hair to grow". I even use castor oil to grow my eyelashes and eyebrows!
---
Related Articles to Natural Hair Growth:
---
It's 100% pure, organic, cold-pressed castor oil with no other additives. In short, it gets straight to the point and starts working on growing your hair out immediately. Moreover, it's an entirely no-fuss product. All it asks that you do is gently massage it into your scalp and leave it in for 15 minutes. After, you can wash it out using your usual hair care routine.
I love that pure castor oil can be mixed with carrier oils such as jojoba or peppermint to create a super hydrating DIY hair mask.
Vitafusion Extra Strength Bio Gummies
Tasty and easy to consume, you might be surprised to find that these hair, skin, and nail vitamins contain 5000 mcg, or 5 mg, of Biotin per serving (2 gummies). That's 1667% of your daily value. Fortunately, overconsuming Biotin to that extent is completely fine and even healthy.
Biotin is one of the main components used in most hair growth products as it's packed full of core minerals and vitamins. So, why not treat yourself to hair growth and health that starts from within?
Final word …
And there you have it. The best natural products to grow hair and that will bring out all of the length that your hair has in it! Why not unlock the power of your hair when it's at its healthiest by giving a few of them ago? Of course, healthy hair growth starts from the inside and outside equally, so why not incorporate both the edible ingredients and exterior products into your hair care routine?
The above products are my top choices for hair products for natural hair growth but the below natural hair products are also worth checking out to grow hair.
Also, check out this roundup article that features experts including me on 'How to Grow Thicker Hair Naturally'.
Let me know in the comments what has been your hair struggle and which products for natural hair growth that you are going to check out!
Don't for get to subscribe, pin and share this post if you found it helpful!