This article will give you all the deets on how to moisturize natural hair.
Have you ever added tons of oil and butters to your hair to only have it feel dry 30 minutes later?
I know I have!
Many people complain about natural hair dryness which leaves your hair looking dull, faded, and lacking in vibrancy. Some causes are that some people do not produce much natural oil leading to a dry scalp.
Others produce oil, but due to the curves and twists of the hair, it becomes hard for the oil to penetrate the shafts.
Many of us women share a common goal – to have healthy hair.
My specific hair goal is to increase my hair's fullness by minimizing breakage and increasing the length of retention.
To accomplish these goals it is important that we moisturize our natural hair.
Moisturizing is an excellent way to easier manageability, enhance the look and feel of our hair, and prevent damages.
But the confusion comes when people think that they are moisturizing their hair, but it's still dry.
Many people believe that drinking plenty of water can help to moisturize the hair.
However, you can consume liters but get no results.
Others apply a lot of oil only to discover that the scalp is itchy and their hair is dry.
*This post may contain affiliate links. If you use these links to buy something we may earn a commission. I only recommmend products that I use, love, or thoroughly researched.
Here are my 8 tips on how to moisturize natural hair:
Tip 1: Wash your hair
Water is a critical moisturizing element. It softens the hair to help you comb easily without breakages.
Also, it removes impurities and product buildup. Remember, products can clog your hair follicles, thus preventing oil from moving down the ends.
If you are wearing a protective style, wash it with a light shampoo after a few weeks. The shampoo will give your hair additional moisture and prepares it for manipulation.
However, it is not good to wash your hair daily. You can sprinkle water over your hair, paying attention to the ends.
---
---
Tip 2: Oil the scalp
Oiling is an excellent way to keep your hair strong and healthy.
Also, it prevents dandruff. Dandruff appears as a result of a dry scalp that is prone to breakages and itching.
To avoid these frustrations, you need to apply a reasonable quantity of oil to moisturize your hair properly.
But which are the best natural products to moisturize your natural hair?
Natural hair works well with natural ingredients. Because of its texture, it is prone to dryness and breakages.
Thus, you need to use mostly natural ingredients to moisturize.
It is important to experiment with which oil is best for your hair. For example, many people love coconut oil and it is a great oil.
However, it is not the best oil for my hair and acts as a protein rather than a moisturizer in my hair.
My hair is colored therefore susceptible to severe dryness. Protein treatments make my hair hard and extremely dry. So I stay away from products that have coconut oil at the top of their ingredient list
What Products Moisturize Natural Hair?
Water is #1 when it comes to moisturizing your hair, however, I will go over the many popular added ingredients and their benefits that are in some of our favorite products. These oils and butters are also great for your DIY hair projects.
Coconut oil
Some ingredients found in different shampoos can damage your natural hair. Coconut oil acts as a pre-shampoo treatment. It is suitable for adding moisture into your hair, thus, preventing frizz. Also, you can use this oil as a leave-in treatment during the summer season. It is made from ingredients that have natural elements to save you from sun damage.
Shea butter
Shea butter will perform well on your natural hair. It is among the high moisturizing products for hair and scalp. If you have curly or coarse hair texture, Shea butter can be your option. It melts quickly and absorbs into various types of hair perfectly.
Avocado oil
Avocado oil can be your solution if you want healthy hair. You can use it as a deep conditioning treatment.  It helps to unclog blocked follicles, which helps to fight hair loss. Avocado oil also absorbs into the scalp easily and does not leave a greasy feeling on the scalp. It is rich in fatty acids, which help to replenish moisture.
Castor oil
Castor oil contains omega-6 fatty acids, which are good to enrich your scalp and improve hair growth. It helps to moisturize thick hair and restore edges and excessive shedding. A great castor oil is Pura D'or mentioned in a previous article.
Aloe Vera
Aloe Vera helps to repair dead skin cells and acts as a conditioner to moisturize and keep your hair shiny. Also, it promotes growth, reduce dandruff, and prevent scalp itching.
Tip 3: Deep conditioning
Deep conditioning is applying a large amount of conditioner to your hair and leaving it for some time to penetrate the hair strands.
If you have straight, curly, or natural hair, conditioning should be part of your regular care routine. Frequently using conditioner will leave your hair shiny, soft, silk, and manageable.
One of the reasons why your hair becomes dull and encounters breakage is lack of moisture.
Remember to prevent damage, you need your hair moisturized and hydrated.
The Bonnet Hood Hairdryer is perfect for deep conditioning. Click here to read my review.
Tip 4: Keep the natural color
When it comes to enhancing your appearance in an inexpensive way, bleaching becomes a good option. But think about hair loss, itching, and damage. It can lead to frustrations.
Bleaching your hair can lead to dryness, breakage, and reduce the growth rate.
If you desparately want to dye your hair, stick to shades that do not vary much with your hair, or plan to give your strands EXTRA tender, love, and care.
Tip 5: Use protective garments while sleeping
The kind of pillows and scarves you use at night plays a role in retaining hair moisture.
A cotton scarf or pillowcase can damage your hair or cause split ends. Also, they suck out moisture from your hair resulting in dullness and dryness.
Invest in silk or satin hair scarves and pillowcases. These types of materials help to keep moisture in your hair from getting out.
Tip 6: Trim the split ends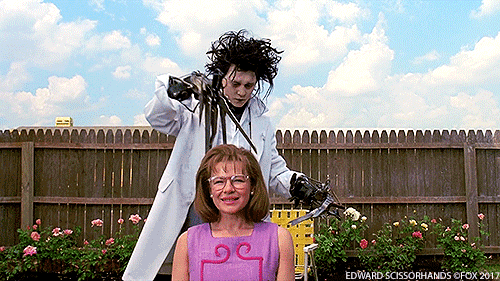 If you are like me, you hate getting your hair trimmed.
I'm always afraid that the beautician is going to go scissor crazy and cut too much off. But to have healthy hair, you must trim your ends.

Tweet
When the hair cuticles begin to wear off, you can experience split ends. Heat styling tools can lead to wearing off of the hair cuticles.
Also, failing to condition your hair regularly can cause cracked ends. These ends cannot disappear on their own.
The only way of doing away with them is by trimming. It helps to prevent moisture from escaping your hair shaft which promotes hair growth.
---
Related Articles:
---
Tip 7: Avoid washing your hair daily
Water is excellent for moisturizing your hair. However, this doesn't mean that you need to wash your hair every time you shower.  
The more you use water to clean your hair, the dryer it becomes. Thus, you need to come up with a schedule.
You can wash your hair twice a week by applying shampoo on the scalp and conditioner at the ends of your hair.
Later, you can use a leave-in treatment or a deep conditioner to stay overnight.
Tip 8: Consider only the water-based moisturizers
Why? Because like I mentioned before – Water is #1 when it comes to moisturizing your hair.
There are different moisturizers designed for natural hair. However, not all are perfect for keeping your hair healthy and strong.
Water-based elements help to keep moisture locked into the hair shaft. Remember, water is a great moisture-inducing agent.
It is recommended to use your moisturizer daily to achieve well-moisturized natural curls.
Final Word on How to Moisturize Natural Hair
You can spend hours conditioning and styling your hair but still experience breakage and dry hair if you are not using the proper products.
Good news! You can improve the feel and texture of your hair by using simple tips and natural moisturizing products such as my above-recommended moisturizers and hair growth vitamins.
Let me know in the comments, what products do you use to moisturize your natural hair?
Here is a great video on How to Moisturize Dry 4c Natural Hair