How to stop Curly Hair Shedding? So your curly hair is shedding and you're panicking. You feel like you've done everything to stop the shedding but it seems like every single time you comb your hair, the chunks of hair left on your comb are increasing.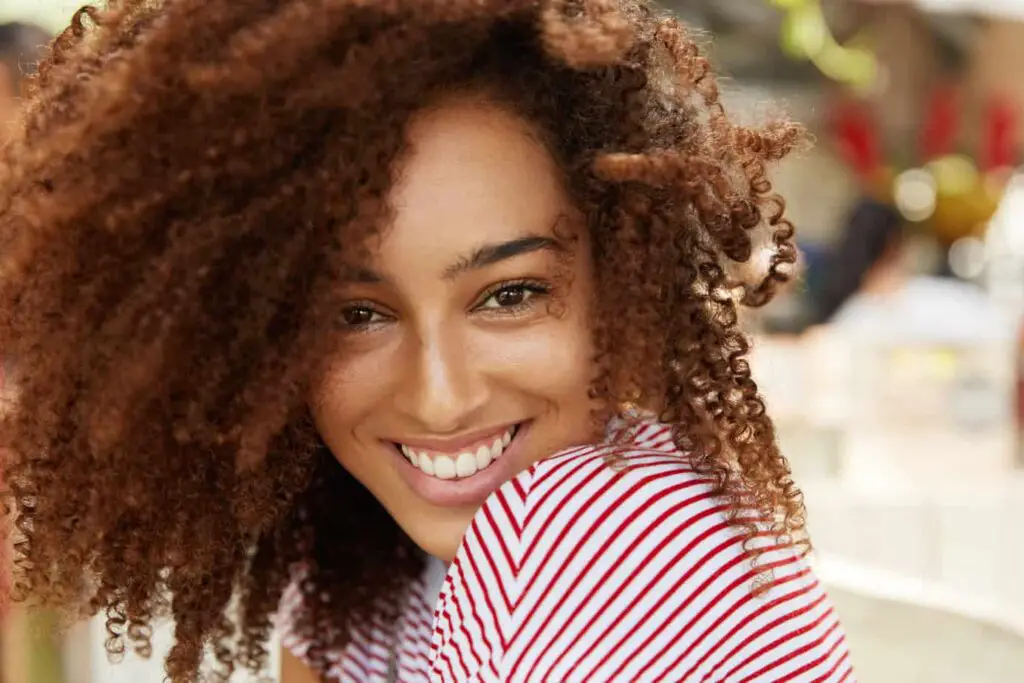 But don't let that scare you. In fact, according to the American Academy of Dermatologists, they say a human being sheds between 50 and 100 strands of hairs in a day. Furthermore, dermatologists urge that hair shedding is part of the body's natural renewal cycle.
So if you're looking for simple ways to reduce the shedding and grow out healthy curly hair then you're in the right place.
Let's get into it!
*This post may contain affiliate links. If you use these links to buy something we may earn a commission. I only recommmend products that I use, love, or thoroughly researched.
Stop Curly Hair Shedding
Curly hair is different from any other hair type. It requires more hydration, a gentle hand, less washing, and a little bit more care to reduce shedding.
But that doesn't mean that it's impossible to reduce shedding in curly hair. It just means that curly hair is special and should be treated as such especially if you want to reduce shedding.
Speaking of which…
What is Shedding?
In simple terms, shedding is when the hair follicle naturally falls out from the root.
What Does Shedding look like?
It's when you find strands of your hair all over your bedding or chair as you relax.
Finding small strands of hair all over your clothes and any other sporadic place.
Getting hair chunks on your comb after combing out your hair.
As you run your fingers through your hair, you find small strands of hair stuck on your finger.
Noticing chunks of hair when you wash your hair.
Why Your Curly Hair Is Shedding
The most common reason why your curly hair might be shedding is because of the hairstyle you recently had or still have.
If you're wearing a hairstyle that causes too much tension to the hair like tight buns, your curly hair will start shedding where the tension was highest.
Other common reasons for curly hair shedding are constantly wearing hats or scarves, stress, medication, or right after giving birth.
Still can't find a reason why your hair might be falling out?
Deeper reasons why your curly hair is shedding
1. Not Protecting Your Hair While You Sleep
Covering your hair every night before sleeping is an integral step in taking care of curly hair as it protects your curls.
A common mistake many do is sleep without covering their hair and that is the one major reason why curly hair sheds off.
If you sleep without covering your hair, the hair experiences friction as you twist and turn on your pillowcase. That causes tension on the hair strands which eventually leads to shedding.
To fight this, you should wrap your hair in a silk scarf/satin bonnet. If not, use a silk pillowcase instead of a cotton pillowcase. That will eradicate hair shedding and promote hair growth.
2. Over Cleansing Your Hair
How frequent one washes their hair is dependent on one's choice as well as a number of other factors such as scalp moisture, sebum production, workout schedule, among others.
However, regularly shampooing your curly hair dries it out and leads to breakage.
In short, wash your curly hair no more than twice a week.
And if you have to wash your hair more often, protect it by using natural oils like castor oil or coconut oil.
3. Detangling
Curly hair is the most fragile hair type, and it needs you to be gentle when combing it out.
To detangle curly hair, you need to work your way from the ends to the roots as it enables you to gently detangle each knot.
Detangling from the roots to the ends is only a recipe for shedding.
To protect hair from shedding and to detangle efficiently, Faith Hufnagle, a stylist and director at Prose, strongly advises that you detangle knots by using your hands instead of using combs and brushes.
And if you simply don't have the time to use your hands, always rely on a wide-tooth comb or a brush recommended for detangling.
4. Heat Damage
Too much heat makes curly hair weak which may be why your hair is splitting.
Hairstylist Jonathan Long advises using products that cater to air drying like Redken's no blow dry range.
When using heat, always use low heat and a hot oil treatment to help your hair retain moisture.
You May Also Like: How to fix hair breakage at the crown and identify the cause
How to Manage and Prevent mid-shaft Breakage and Split Ends
What is a mid-shaft breakage?
A mid-shaft split is hair breakage or weakness occurring anywhere along the hair shaft which is mostly the middle part but never the ends.
It's generally found in women with type 4 and type 3 hair due to the increased amounts of twists and bends along the hair strand.
Every bend of the hair is a point of weakness for mid-shaft splits to flourish.
Do you know your curly hair type? If you don't, it could be the reason you are losing hair!
What are split ends?
Split ends are the oldest part of the hair and occur mostly due to dryness, heat styling, and chemical use.
What causes mid shaft splits/ breakage?
Mid-shaft splits are a direct result of over manipulation, chemical damage, heat damage, or weak hair.
Here are 5 tips and pointers that will help stop your curly hair from shedding with minimal effort.
Tips on How to stop Curly Hair Shedding
1. Avoid Excessive Manipulation
Laying your edges too often, tying your hair buns too tight, frequent twist outs or braid-outs are some styles, if done excessively to curly hair, cause mid-shaft splits and lots of hair shedding.
2. Avoid styling wet curly hair
When styling is conducted on wet hair it breaks as wet hair is weaker and more delicate to handle when styling.
So instead of styling wet hair, either wait for your hair to air dry or use low heat to dry your hair if you're in a hurry.
3. Detangling
When detangling curly hair, always avoid small tooth combs as they do more harm than good to your curl pattern.
Instead, use a wide-tooth comb to detangle your hair.
And if you have to use a brush, opt for a wet brush that is designed to detangle wet hair.
4. A Rule to follow when Heat and Chemical Styling
High heat breaks the bonds in your curly hair so much to the point that it loses its curl pattern permanently.
To care for curly hair, by minimizing shedding, make sure to use a proper heat protectant to ensure the hair is hydrated.
Some of the best heat protectants that have been recommended by professionals are:
CHI 44 Iron Guard Thermal Protection Spray
This thermal protection spray works best with Chi Infra Treatment. So if you want to blow dry your hair or use a flat iron, this is definitely the go-to product for any curly-haired girl.
Kenra Platinum Blow-Dry Spray
TRESemmé Thermal Creations Keratin Smooth Leave-In Heat Protectant Spray Hair Heat Protection Formula
Curl keeper thermal Defence
5. Never skipping your protein treatments
Protein treatment should be every curly-haired girl's best friend.
It helps to fill in the missing gaps within the cuticle where the hair shaft is weak and shows the potential of breaking.
It also locks in the necessary nutrients in the hair by providing a supreme hold without drying your hair or making it crunchy.
Ways to deal with Curly Hair shedding
1. Figure out the root cause of the shedding
When dealing with hair shedding, make sure that the amount of hair you're losing is the normal amount.
A dermatologist can tell you whether you have hair loss or hair shedding and guide you if it's intense.
More on that later.
2. Avoid stress
A research study done by Dr. Ya-Chieh Hsu of Harvard University shows that stress causes hair shedding and the appearance of white/grey hair.
And because you cannot totally avoid stress, make a point of watching your favorite sitcom and laugh a bit to ease the stress.

3. Change/ modify your diet
Have a healthy diet that consists of proteins, carbohydrates, and vitamins as it reduces the risk of curly hair shedding.
Look for ways to increase your iron, Vitamin B, and calcium intake to help curls grow more quickly and stay strong.
4. Take vitamins to prevent and stop hair shedding
Vitamins are not only healthy for your overall wellbeing, but they're also good for your curly hair.
Vitamin A encourages the healthy production of sebum in the scalp.
Vitamin E improves blood circulation in the scalp which helps to strengthen the hair follicles.
Vitamin B helps hair maintain its healthy color.
5. Hydrate
Drink at least four to eight cups of water a day to stay hydrated.
Not only is water good for your body but it also promotes the growth of healthy hair.
6. Avoid Constant heating & drying
Don't subject your hair to frequent heating and drying procedures.
Heat weakens hair proteins, and constant heating and drying can lead to weakness and fragility that causes hair loss specifically hair breakage at the crown.
7. Use oils
If you're not already, start incorporating oils into your curl care routine. Curly hair is naturally dry as the natural oils can't make it to the bottom of the strands because of its curly nature.
Help them out by adding in light oils that can increase moisture.
8. Massage your scalp
Make sure you're treating your curls to regular scalp massages. This can be done with oil before wash day, during your cleansing routine, or just throughout the week.
Use your fingertips to scrub your scalp in circular motions.
This will increase the blood flow to your scalp and encourage your curly hair to grow. It also breaks up excess build-up or oil which can harm curls.
Ways to prevent or stop shedding for curly hair
Find the right cleanser and conditioner for your curl type. This ensures that your curls won't dry out or be damaged which can lead to shedding.
Remove build up. Product build up and dandruff can block your roots and lead to shedding, so be sure to cleanse and exfoliate.
Make sure to detangle your hair every time you finish washing your hair. Using a pre-poo (process of applying a treatment to your hair before the actual shampoo process) before cleansing and finger detangling afterwards can make a world of difference.
Don't apply harmful chemicals as you wish like bleaches and reduce the amount of heat applied to your hair.
When to see a dermatologist when hair starts shedding
If you have curly hair and you start noticing your hair falling out in clumps.
You start to notice circular areas of hair thinning.
If you are concerned about the amount of hair shedding you're experiencing.
When you think you might have alopecia areata. Alopecia occurs when a person's own immune system attacks the hair follicles. Often times, alopecia is characterized by coin-shaped areas of total or near-total hair loss. Alopecia areata tends to respond well to in-office treatments like injections, as well as systemic or topical medications.
If you have other autoimmune diseases such as anemia, thyroid disorders, traction.
You have polycystic ovary syndrome after pregnancy and during menopause in women.
For men, if you notice thinning of the hair on top of the scalp or towards the forehead.
If you notice the widening of their central hair part or significant thinning on the top of the scalp if you're a woman.
All these scenarios should not cause you severe concern as there are numerous treatment options to help grow back your hair, but they are signs to seek medical advice.
Curly Hair Products that Stops and Prevents Curly Hair Shedding
When it comes to finding the right products we all want a product that does what it says it will.
Below are some of the hair products that you can easily incorporate into your curly hair routine to stop hair shedding.
Coconut Oil For Curly Hair
Coconut oil is beloved by curly girls everywhere because not only is it cheap, it's readily available, and it works.
Briogeo Don't Despair, Repair Deep Conditioning Hair Mask
Devacurl Deep Sea Repair For Damaged Curly Hair
Anti-frizz for all types of curly hair
Deva curl B-leave in curl booster for kinky, curly, and wavy hair
Alterna Caviar Anti-Aging Replenishing to be used to coat curly hair before using heat/ as a leave-in treatment
2 Satin Bonnets to ensure your hair is protected every night in case one is dirty or has to be washed