When it comes to achieving beautiful, bouncy curls without causing damage to our hair, we often find ourselves looking for the best no heat curler on the market. Traditional heat tools like curling irons and wands can leave our locks feeling fried and brittle, but luckily, there are plenty of innovative alternatives that allow us to create stunning curls without the need for heat.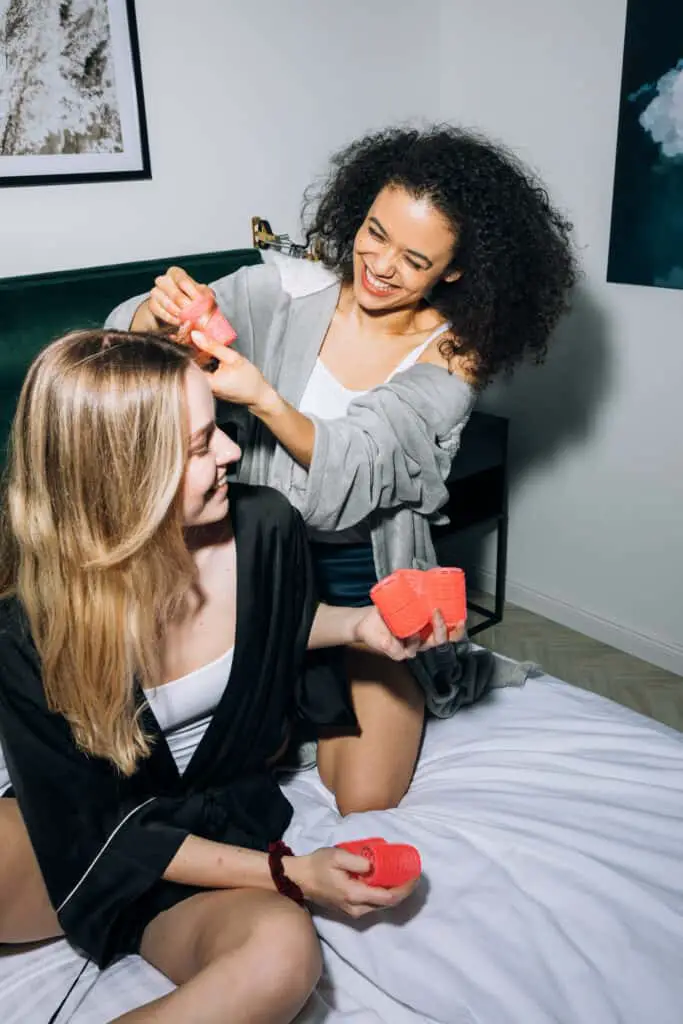 These no heat curlers come in various shapes, materials, and designs, all with the shared goal of giving us gorgeous curls while preserving the health of our hair. Foam rollers, flexible curling rods, and silk headband sets are just a few examples of the many heatless curlers available today. In recent years, they've gained popularity on platforms like TikTok, where users demonstrate the impressive results these curlers can deliver with minimal effort and damage.
So, let's dive into the world of no heat curler and discover how they can give us the fabulous curls we desire, all without subjecting our hair to the strains of heat styling. Whether we're after loose waves or tight, springy curls, we're confident that we can find a heatless solution that suits our individual hair type and curl preference.
*This post may contain affiliate links. If you use these links to buy something we may earn a commission. I only recommmend products that I use, love, or thoroughly researched.
Types of No Heat Curlers
Foam Rollers
Foam rollers are a popular option for people looking to create curls without the use of heat. These curlers are made of soft, lightweight foam and can be easily wrapped around the hair to create curls. They are available in various sizes and can be used on both damp or dry hair. Foam rollers are comfortable to sleep in, making them an excellent option for overnight curling.
Hair Roller Set: Great alternative to velcro, these rollers come in 42 pieces, all 7-inches with 6 thickness types. Perfect for curling short, medium, and long hair.
No Damage to your Hair: These heatless hair curlers are safe to wear during sleep, and will help you achieve the curls that you desire with no heat damage to your hair.
Easy to Use: Effortlessly create pretty curls at home with wet or dry hair. You can sleep or go about your daily tasks while wearing them. Wet hair & blowdryer yields instant curls.
Rod Sizes: 7/8" 11/16" 5/8", 9/16" 1/2 "7 / 16". Using six different rod sizes your hair can be styled anyway from tight to wavy curls.
Material: Soft and lightweight foam rollers designed to smoothly grip you hair without pulling on it and causing no damage to your hair.
Flexibility: These hair rods can be easily molded into different shapes so you have the freedom and fluidity to style your hair however you want.
Curlformers Hair Curlers
Curlformers are a unique type of no-heat curler that uses a patented design to create perfect spiral curls. They consist of a long, coiled sheath that is pulled through to guide the hair into its curled shape. Simply hook the hair into the Curlformer, slide it onto the hair, and then let it set. Curlformers are great for all hair types and can also be used on damp or dry hair.
The extra long spiral curls top up pack is ideal for use on long hair up to 22 inches (55cm) long.
The extra long spiral curls top up pack contains 6 extra long spiral curls Curlformers; 3 clockwise and 3 anti clockwise.
The styling hook is not included in the pack; the styling hook is essential for applying the Curlformers.
Curlformers are a great alternative to heat based styling products keeping your hair healthy.
It also contains a how to use step by step instruction leaflet.
🌸 GORGEOUS BARREL CURLS: This Curlformers classsic styling kit is perfect for creating stunning, defined barrel curls. Ideal for long hair up to 16" (40cm). Packaging may vary.
✨ EVERYTHING YOU NEED: This styling kit contains 30 barrel Curlformers (15 for clockwise curls + 15 for counter-clockwise) and 2 styling hooks. Plus, a super cute and convenient luxury carry bag for storage and travel!
🤍 HEATLESS CURLS: Get gorgeous curls without the compromise. Curlformers are kind to your hair and require no heat, meaning you can forget about heat damage and look your best with healthy, curly locks!
🦋 PERFECT FOR EVERYONE: Curlformers are great for all hair types and textures, including wigs and weaves, meaning anyone can achieve defined, bouncy barrel curls with our styling kit.
🎀 EASY TO USE: Your dream curls are a few simple steps away! Apply Curlformers to small sections of damp, freshly washed hair, combed through with some curl-defining cream. Wait until your hair is fully dry, remove, and make sure the hair is combed through for that perfect smooth curl result. Easy!
Curling Rods
Curling rods, like Tifara Beauty Flexible Curling Rods, provide a versatile solution for no-heat curling. These rods are made from a flexible material that makes it easy to twist and bend around the hair strands. They come in various sizes and are ideal for creating different types of curls, from tight ringlets to soft waves. Curling rods can be used on wet or dry hair and are usually left in the hair for a few hours or overnight.
DIY your own hair stylist: using the spiral hair perm rod with the perm potion, a beautiful wool roll is born; 100 Pieces can meet your needs; you can DIY your hairstyle, becoming the highlight of the crowd
Material: the spiral hair perm rod is made of plastic; These solid perm sticks are durable and long lasting; These spiral rods have bright colors, they have no odor and will not hurt your hair
Size: the spiral perm stick measures 6 inches in length and 0.24 inches in diameter; It is suitable for girls with long hair reaching shoulders; Longer hair requires two spiral perm sticks
Easy to use: these perm sticks are easy to use with the perm potion; First, pick a strand of hair on a spiral perm stick and rotate the hair; Second, wrap the hair with a perm paper; Last, use a clip or a rubber band to fix; You will have the charming wool roll later
You will get: 100 pieces spiral perm bars in 5 different colors include pink, green, yellow, purple and blue
🌸Perm Rods Set Product Include🌸: You will receive 40pcs perm rods for natural hair and 1 piece steel teeth comb in total,(40pcs orange perm rods set for long short hair) hair perm rods set can be applied at home or salon using, and even travelling. it also can be share with your family and friends. It is great gift for women and girls.
🌸Perm Rods for Natural Hair Easy to Use🌸: This cold wave rod is designed with a cover and a rubber band, which can get clung to your hair easily without any support of pins, what's more, it does not require heating, allowing you to curl your hair in a simple and natural way
🌸Perm Rods Set for Hair Material🌸: Our no heat hair rollers are made of quality plastic material, which are durable, non-slip and long-lasting, safe to use and do no harm to your hair; Each hair roller has several vents for better saturation, helping you create beautiful hair styling like wavy hair, curly hair, fluffy hair etc.
🌸Cold Perm Rods Set Features🌸:Professional High Quality non-slip cold wave rod with rubber band and can be opened lid cap. Can be easily fixed. Easy to put in and take out,Quality non-slip cold wave rod with several vents for better saturation, its wide slot design can evenly distribute liquid to the hair during curling, helping you create beautiful hair styling like curly hair, wavy hair, fluffy hair etc.
🌸Perm Rods Set for Long Short Hair Information🌸:Orange Cold Wave Rods: 3.23" x 0.86" proper size that easy to use and store,Total of 40pcs. Can be used to style a full head.
Classic Hair Rollers
Hair rollers are another popular type of no-heat curler. These rollers are usually made of plastic, velcro, or foam material and are designed to be wrapped around the hair. Some hair rollers have built-in clips or pins that help keep the roller in place, while others are self-gripping. Hair rollers can be used on damp or dry hair and come in various sizes to create a range of curl styles.
Annie Foam Rollers 1 1/4" Pink XL 8 Count, For the best looking curls and waves,Rollers hold Securely, Easy to use and wash, Dry or damp sets.
14 Ct. Small Rollers
5/8 Inch Diameter
For best looking curls and waves
Rollers hold securely
Easy to use and wash
PERFECT CURLS: Use these magnetic hair rollers to add smooth volume and long-lasting curly or wavy styles. For all hair types
FAST DRYING: Each roller is vented to maximize airflow and help hair dry quickly
STAY IN PLACE: Includes clip that wraps over roller to secure hair, no additional clips or pins needed
BULK BUY: Each pack includes 8 small pink curlers
HOW TO USE: Start with dry or damp hair. Divide hair into sections no wider than the width of the roller. Starting with ends, wrap hair around roller and roll all the way up to scalp, then snap on clip to secure hair. Remove rollers and style as desired. For damp hair: Use dryer or let hair dry naturally, remove rollers and style as desire
Self-Grip Rollers
Self-grip rollers are a convenient no-heat curling option for those on the go. These rollers have a built-in grip system that allows them to attach to the hair without any additional clips or pins. Self-grip rollers are particularly useful for creating quick and easy styles, as they can be removed and repositioned effortlessly. They are suitable for different hair types and can be used on both damp and dry hair.
Hair Roller Size: 3 different sizes of large- 1.49 inches, medium- 1.18 inches, small- 0.98 inches.
Easy to Use: self grip hair rollers set makes beautiful waves and curls for long, short and medium hair.
Package Included: 36 pcs hair rollers (12 pcs of each size), 12 pcs duckbill clips, 1 pc folding plastic comb(in random color).
Application: hair rollers set can be used for women, men, girls and kids at home or other occasions.
Easy to Carry: lightweight and portable, hair rollers, duckbill clips and folding plastic comb are perfect for traveling.
SELF GRIP HAIR ROLLERS: Create lift & volume with this set of 31 multi-sized Self Grip Hair Rollers. These Hair Curlers smooth the hair & leave no indentation marks and can be used on wet or dry hair with or without styling lotion or gel.
DO-IT-YOURSELF CURLS, WAVES, UPDOS & MORE: From hot rollers, straighteners, bun forms, & styling kits, Conair has everything you need to give yourself a salon-worthy hairstyle at home!
HIGH QUALITY HAIR ACCESSORIES: From classic scrunchies & no-damage hair elastics to glam bobby pins, curlers, rollers, hair wraps, clips, & brushes Conair has the accessories & styling tools you need.
INNOVATIVE HAIR CARE TOOLS: From blow dryers to auto-curlers, combo stylers, & specialty hair brushes - whatever your hair type or length, Conair has a styler that will let you create any look you feel like wearing!
CONAIR HAIR CARE: Since 1959, we have made innovative small appliances, hair styling tools, & more. Our hair care line includes high-quality hair dryers, brushes, styling tools, & hair accessories.
𝐒𝐞𝐥𝐟-𝐠𝐫𝐢𝐩 𝐑𝐨𝐥𝐥𝐞𝐫𝐬 : IENIN rollers are made of nylon, these curler smooth hair without creasing, easy storage or on-the-go then create quick beautiful curls
𝐌𝐮𝐥𝐭𝐢𝐩𝐥𝐞 𝐒𝐢𝐳𝐞𝐬 : There are 3 sizes of hair rollers to choose from, 10 hair clips and 1 rat tail comb included. To accommodate all lengths of hair include thin hair and various curl shapes. The Joy of satin heatless Achieving Salon-Like Bouncy Waves
𝐍𝐨 𝐇𝐞𝐚𝐭 & 𝐍𝐨 𝐃𝐚𝐦𝐚𝐠𝐞 : This is a physical curling tool that is reusable and harmless to hair, giving you the freedom to achieve DIY curls with long-lasting volume
𝐄𝐚𝐬𝐲 𝐭𝐨 𝐔𝐬𝐞: The jumbo hair roller is easy to operate, just put 70% dry hair into the roller, heat it with a hair dryer, and let it cool before taking it out. Once hair is completely cooled and dry, gently remove Rollers and style as desired, You will get natural and healthy curls
𝐖𝐚𝐫𝐦 𝐓𝐢𝐩𝐬 : Each heatless curling roller produces firm support to avoid hurting hair and tangling inside the roller, please take out the roller gently. The included hair clips help you achieve a stronger hold, allowing you to use it while cooking or running and exercising
There are various types of no-heat curlers available that cater to different preferences and make it easy to create a range of curly styles without heat or damage. Choose the curler type that works best for your hair and desired outcome to achieve beautiful, healthy curls.
Best No Heat Curler for Different Hair Types
In this section, we will discuss the best no heat curlers for different hair types, including fine hair, thick hair, short hair, and long hair. We will provide recommendations based on our research to help you find the best option for your specific hair type.
Fine Hair
For those with fine hair, it is essential to use no heat curlers that provide gentle tension and are easy to remove without causing damage. The Satin overnight headband hair rollers are a fantastic option for fine hair. These colorful foam rollers are soft and lightweight, making them an ideal choice for those with delicate hair. As they do not require any heat, they can protect your hair from damage while providing beautiful curls.
Thick Hair
For individuals with thick hair, we recommend using no heat curlers that can handle more hair at once and maintain a strong grip without slipping. The 30pcs Spiral Heatless Hair Curlers are perfect for thick hair as they come with hooks and can hold a large amount of hair. Their spiral design allows for even distribution of hair and creates well-defined, bouncy curls without the need for heat.
Short Hair
Short hair can be difficult to curl, but there are still options for no heat curlers that work well with short hair lengths. Velcro Rollers are an excellent choice for short hair. They are easy to use and can be placed close to the scalp, allowing you to create volume and waves even in short hair. Make sure to prep your hair with hairspray to ensure a better hold and longer-lasting curls.
Long Hair
Long hair can sometimes be challenging to manage when looking for no heat curler. A fantastic option for long hair is the Conair Soft, Bouncy Curls Foam Rollers. These foam rollers are soft and gentle on your hair, offering the perfect solution for creating beautiful curls without heat. They can be used on all hair types and lengths, making them highly versatile and effective for long hair.
Heatless Curls Technique
Wet Hair Method
One of the most effective ways to achieve heatless curls is by using the wet hair method. This approach requires you to work with damp hair, which allows the curls to form more easily and last longer. Here's how you can apply this technique:
Begin by washing your hair with your preferred shampoo and conditioner. Towel-dry your hair lightly, leaving it damp but not soaking wet.
Apply a leave-in conditioner or styling product to provide hold and definition. A Woman & Home article recommends dressing gown curls as a simple and effective technique.
T-shirt hair curling is another popular method to create heatless curls with wet hair. Simply twist a T-shirt into a roller shape and tie the ends together to create a DIY halo. Place the halo on top of your head, wrap sections of your hair around it, and pin the hair in place, as mentioned in Seventeen.
Allow your hair to dry with the T-shirt or dressing gown technique in place. Once your hair is dry, remove the T-shirt or dressing gown to reveal beautiful, heatless curls.
Dry Hair Method
For those who prefer to work with dry hair, there are several effective techniques to create heatless curls. Just follow these steps:
Start with clean, dry hair. It's best if you've washed and dried your hair within the last 24 hours.

Apply a light styling product or hairspray to provide hold and definition.

One method that works well for dry hair is using large curling rods, as suggested by

The Right Hairstyles

. Wrap sections of your hair around the curling rods, securing them in place.

Another option for dry hair is the chopstick and sock method, which is known for producing tight curls, as highlighted by

Insider

. Wrap sections of your hair around chopsticks and secure them with socks.

Either method will require you to leave the curling rods or chopsticks in place for several hours, or until you achieve the desired curl intensity.

Remember to be patient and allow the curls to set properly. With either the wet or dry hair methods, your final result will be gorgeous, heatless curls that are kinder to your hair than heat styling tools.
Top No Heat Curler on the Market
Tifara Beauty Flexible Curling Rods
We found that the Tifara Beauty Hair Rollers are one of the best no-heat curlers on the market. These colorful foam rollers come in various sizes, making them suitable for different hair lengths and types. They are easy to use and create bouncy curls without the need for heat, reducing the risk of damage to your hair.
The Sleep Styler
Another great option is The Sleep Styler. It allows you to curl your hair while you sleep, saving you time in the morning. The soft rollers are made of absorbent material that dries your hair as it curls, resulting in beautiful and frizz-free curls in the morning.
Conair Soft Curlers
The Conair Soft, Bouncy Curls Foam Rollers are suitable for all hair types and lengths. These no-heat curlers provide a gentle and effective way to create soft, bouncy curls without the use of heat styling tools or chemical treatments.
Aimin Soft Pillow Hair Rollers
Aimin Soft Pillow Hair Rollers are another excellent choice. These comfortable and lightweight rollers can be used on damp or dry hair, making them perfect for overnight use or during the day. They are made of sponge material that cushions your hair, preventing breakage and ensuring a comfortable night's sleep.
Xnicx 47pcs Curling Rods
Xnicx 47pcs Curling Rods might be the ideal option for those looking for more pieces in their set. These flexible foam sponge hair curlers come in a variety of sizes and offer good quality. Their no-heat design helps protect your hair from damage, allowing you to achieve the perfect curls without any negative impacts.
With these top no-heat curlers, we can achieve stunning curls and waves without compromising on the health of our hair. Each option is designed to cater to different hair types and styling preferences, making it easy for users to find the ideal curler to fit their needs. So, go ahead and try one of these fantastic no-heat curlers and embrace your beautiful, natural curls.
Benefits of No Heat Curler
No heat curlers have several advantages over traditional heat-based styling methods. Let's explore some of the key benefits they offer:
Reduced risk of heat damage:

One of the primary benefits of no heat curlers is that they eliminate the risk of heat damage to our hair. Curling irons and other heat-based tools can cause breakage, split ends, and dryness. By using no heat curlers, we can protect our hair from these harmful effects and maintain its health.

Preserved moisture levels:

Avoiding the use of heat on our hair allows us to maintain its natural moisture levels. Heated tools strip away essential oils and moisture from our hair, which can lead to dryness and brittleness. No heat curlers, on the other hand, allow our hair to retain its natural hydration, leading to more vibrant, healthy-looking locks.

Improved hair health:

By reducing the potential for heat damage and preserving our hair's natural moisture levels, no heat curlers promote overall hair health. In the long run, this means our hair will be stronger, less prone to breakage, and more resistant to environmental stressors.

Versatile styling options:

No heat curlers come in a variety of shapes and sizes, allowing us to achieve different curl patterns and styles without the need for multiple heated tools. This versatility not only gives us more creative freedom with our hairstyles but also saves us time and money.
Application and Maintenance Tips
In this section, we'll provide some helpful tips on how to apply and maintain your no-heat curler for the best results. We'll discuss preventing breakage, maximizing volume, and using hairspray or other styling products.
Preventing Breakage
When using no-heat curlers, it's essential to prevent hair breakage. Here are some suggestions:
Always handle your hair gently, especially when wrapping it around the curler.
Choose a no-heat curler with a soft material.
Make sure your hair is fully detangled before applying the curlers.
Don't pull or tug on your hair while it's in the curlers; this may lead to breakage.
Maximizing Volume
To achieve voluminous curls without heat, follow these tips:
Apply your no-heat curlers on damp hair; this will help create more volume and bounce.
Use larger curlers or pillow rollers for more substantial curls and added volume.
Implement sectioning techniques when applying curlers to ensure your hair wraps evenly around the curler.
Leave the curlers in your hair for an extended period of time to achieve long-lasting volume.
Using Hairspray or Other Styling Products
While using no-heat curlers, you may still want to use hairspray or other styling products to enhance the look and hold of your curls:
Apply a light hold hairspray to your damp hair before wrapping it around the curlers; this will provide extra hold and definition.
Use a styling mousse or gel for added control and to help create more polished looking curls.
After removing the curlers, gently scrunch your curls with a finishing spray or serum to create a natural, tousled look.
Experiment with various styling products to find the ones that work best for your specific hair type and desired look.
By following these application and maintenance tips, you'll be able to achieve beautiful, no-heat curls while also protecting your hair from potential damage.
Popular No Heat Curling Trends
In this section, we will explore two popular no heat curling trends that have gained traction in recent times. We'll discuss the TikTok Heatless Curl Challenge and how to create beach waves using claw clips.
TikTok Heatless Curl Challenge
The TikTok Heatless Curl Challenge has taken the internet by storm, showcasing various methods for achieving stunning curls without using heat. Through these methods, users across the platform have shared innovative approaches to styling hair without damaging it. One popular method is the use of a silk headband, which can be wrapped around the head while the hair is twisted around it. After wearing the headband for about eight hours, users can remove the band to reveal bouncy, voluminous curls similar to those achieved using a curling iron.
Beach Waves Using Claw Clips
Claw clips have been around for quite some time, but they have recently gained popularity as a tool for creating beach waves without heat. Here is a step-by-step guide on how to create beach waves using claw clips:
Start by dampening your hair with a spray bottle filled with water or your favorite leave-in conditioner.
While the hair is still damp, separate it into sections.
Taking each section, twist it from root to tip to create a rope-like strand.
Fold the twisted strand onto itself to form a loop, and secure it using a claw clip.
Repeat this process with all sections of your hair and let it air dry.
Once the hair is completely dry, remove the claw clips and gently untwist the loops.
To add a bit more texture to your beach waves, use a wide-tooth comb to rake through the curls and apply a texturizing spray for the perfect amount of messiness.
With these two popular no heat curling trends, achieving beautiful and healthy curls has never been easier. Give them a try and enjoy the benefits of these styling methods in the comfort of your own home.