Did you just recently reach the conclusion that your hair is of type 2b? Or are you still trying to find out the right type? Knowing your hair type is very important because that will help you make important styling choices. 
You have come to the right place, so read on to learn more about your hair type. We will discuss the best tips, tools, and more so that your hair can flourish. Here is all you need to know about how to style 2b hair.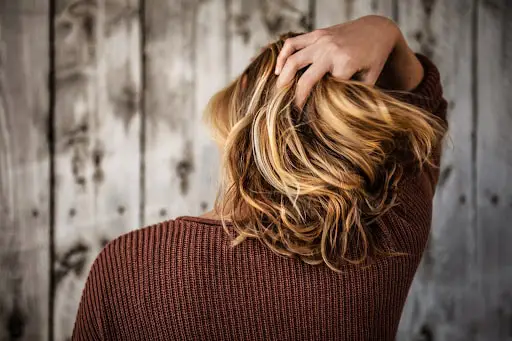 *This post may contain affiliate links. If you use these links to buy something we may earn a commission. I only recommmend products that I use, love, or thoroughly researched.
The Basics You Need to Know About 2B Hair to Style it
Does your hair look more like waves than a bounce curl? If your hair has a medium texture, with somewhat more prominently s-shaped strands, you probably have type 2b hair. 
Type 2 hair is generally considered to be wavy. Your hair is the kind that people think of when they think about wavy tresses. It is best described as hair that sits perfectly between straight and curly. 
Your hair is likely to have a moderate texture with a somewhat loose curl. The strands are likely to be flatter near the root and prominent s-shaped waves all through the length. The medium texture can be compared to natural beach waves.
How is 2b Different From Hair Types 2a and 2c?
You may wonder what differentiates hair type 2b from the others. The difference is in the wave. The hair type 2b is similar to a wave pattern and needs a bit of extra effort for styling.
The other types are quite different in both ways. The hair type 2a is a bit thinner, lifeless, and easier to straighten. Whereas people with hair type 2c have waves that start at the roots, and this hair is often somewhat coarse and thicker. 
The Best Way to Style Type 2b Hair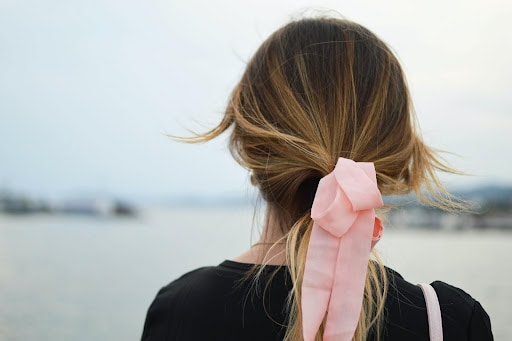 Once you start styling your type 2b hair with the goal of enhancing your hair's natural wave, it will be pretty easy. All you need is some anti-frizz styling cream, a diffuser, sea salt spray, and a wide-tooth comb, and you are good to go. 
With your hair texture, choose styling options that showcase the beautiful, natural waves in your hair. You can also opt for making your waves curlier. However, if you've been straightening your hair in the past, we recommend that you stop doing that for your type 2b hair. 
As the flat iron is not likely to work well, you will have to resort to the traditional round brush and blow-dry method. Not only is it time-consuming and requires a lot of energy and effort, but it also hides the unique and beautiful features of your hair. So give yourself a break and keep your hair the way it looks best, its wavy natural self. 
The Best Hairstyles for Type 2b Hair
Knowing your options and choosing from the best and most popular hairstyles among people with your hair type will make all the difference. You are sure to find one that works for you the best and brings out the beautiful wave in your hair. 
We have put together the top five hairstyles and haircuts for type 2b hair. Once you get the right cut, styling will be so much easier, and you will save a lot of time and effort. 
1. Medium length cuts
For your type 2b hair, the best length is a medium one. Your hair type is in between curly and straight, and that is just what the length should ideally be, between long and short. 
The reason is that very short hair is more prone to frizz. On the other hand, if your hair is very long, it will be weighed down. Therefore, by choosing a haircut with a medium length, you will be able to accentuate the natural waves in a perfect manner. 
2. Messy beach waves
Beach waves are the closest to how your hair looks naturally and could always be the first option. As your hair already falls in this style, simply use your sea salt spray to enhance these lovely waves. 
This style can work with several different hair lengths. Whether your hair is shoulder length or longer, the messy beach waves will look fantastic. 
For inspiration, look up celebrity pictures with this hair styling. While their waves may be more glamorous, you can use their styling as a starting point. 
DEEP WAVER: Includes a double dosage of tourmaline ceramic technology for massive shine and frizz-free, long-lasting results.
ALL HAIR TYPES: Multiple heat settings make this waver ideal for all hair types, from thin to coarse.
ADVANCED: Features a plate-locking switch for easy storage in less space and a tangle-free swivel cord that makes it easy to style with.
FAST & EASY: This deep barrel design quickly and easily waves the hair with High Heat up to 400˚ F, while instant heat recovery ensures consistent heat.
TRAVEL READY: Comes with worldwide dual voltage so you can take it wherever your jet setting heart desires.
GET THE LOOK: Starting at the roots, lightly clamp a small section of hair between the barrels and hold for a few seconds.
Natural extracts intensely soften and condition dry strands, leaving them silky soft – never sticky
Salvia Officinalis (Sage) Leaf Extract adds luster and body to hair, while helping fortify strand
Achillea Millefolium (Yarrow) Extract absorbs excess oil on hair and scalp, leaving hair with body and fullness
The Ultimate Beach Hair Is This OUAI - Get beach waves without stepping foot in the ocean. Our Wave Spray gives you the perfect amount of texture, body and shine for that effortlessly chic undone look.
Great For All Hair Types - Created with rice protein instead of sea salt, this hair texture spray is safe for all hair types, even if color- or keratin-treated. Whether you have thick curls or you're looking for a texture spray for fine hair, Wave Spray is the hair mist of your beachy dreams.
OUAI Means Yes - In that casual Parisian way. OUAI is about being better IRL. It's about having honest conversations with our community. It's about letting go of unrealistic expectations and embracing your imperfections.
Made For Effortless Routines - All OUAI products including this beach wave spray are carefully crafted to cut styling time and nourish your hair health. We put the good stuff in and leave the bad stuff out, without ever sacrificing quality.
Live Life Your OUAI - OUAI offers luxury products at affordable prices that are user-friendly — no glam squad needed. Lightly mist this volumizing spray on damp or dry hair about ten inches from your head to enhance waves and add volume.
3. Multiple layers
Another excellent styling option for type 2b hair is to add a few layers to your hair. This will give your hair some additional dimension while making it somewhat more manageable. However, before you do this, do consult a curl specialist for the haircut. Your hairstylist will be able to give you the right layers for your hair, keeping in view the length, texture, and volume. 
4. Half-up styles
Some people just love these half-up hairstyles for a number of reasons. If you have too much of the 2b type hair, it can be a bit of a handful to style, and the half-up half-down style is perfect in this case. 
By using this styling option, you can remove some of the volume and, at the same time, highlight your beautiful facial features. The half-up style can work with all kinds of hair lengths ranging from short to medium or long. 
Adding a fashion accessory to the top can add that element of glam you need to complement a glamorous evening outfit. 
5. Brushed out ringlets
While straightening your wavy type 2b hair may be rather tough, curling is much easier. You can add some of the most beautiful ringlets to your hair. Once the ringlets are in place, use your fingers or a wide-tooth comb to brush through the curls. This will create a gorgeous brushed-out look that will look completely natural yet very glamorous. 
6. Turn Your 2B Waves Into Curls
Having wavy hair is absolutely the best as you can style it in so many different ways. You can add curls to your wavy hair very easily. Here are a few ideas on how to do it. You can try some or all of them to find the one that works the best for you. 
It depends on whether you want a semi-permanent curl or a quick hairstyle for an evening out. You can also choose between heat-free or heat-based methods. Although, do keep in mind that frequent use of heat-based methods may damage your hair.
Scrunching
This is the best and simplest way of adding more curl to your wavy hair. Simply scrunch it immediately after you wash your hair. Squeeze your hair towards the scalp in an effort to compress the waves into curls. You can also use your styling mousse while scrunching for a greater effect. 
Leave-in Conditioner
Using a leave-in conditioner is another excellent way to add more waves to your already wavy hair. This will simply make your hair neater by reducing frizz and adding more volume. Your hair will remain hydrated all day but not weigh it down.
Use Pin Curling
Pin curling works best if your hair is wet. Right after you wash your hair, apply your choice of styling product. Then curl small strands and pin them using bobby pins, working through all your hair. Remove the pins when your hair is dry, and you will see beautiful, soft curl formations. 
Get The Right Haircut
If you have been using heat-based styling products, your hair is likely to be damaged. When this happens, your hair may have lost its natural curls, especially at the tips. Getting a haircut or trim will help you get rid of the damaged ends and give your hair a healthier look. Your hair will also show its natural curl more prominently. 
Braid Your Hair at Night
Before you go to bed, braid your hair tightly. Then, when you open your hair the next morning, you will see some lovely waves and curls according to the braids you made.
A simple braid will just give you a wave. For tighter curls, make several small braids. Use mousse before you make them or hair spray on them before opening the braids for better impact. 
Use Heat-based Methods
While these methods are likely to damage your hair, they are often more convenient and reliable. As long as you do not do so regularly, you can retain your hair's health and texture. Also, it is important that your hair is clean and dry before using a heating product. 
A curling rod is straightforward to use. You can choose between a 1" or 1.25" rod for short or long hair respectively. Just keep in mind that the rod should not stay in your hair for more than 10 seconds. Furthermore, use a styling product for long-lasting curls. 
You can create lovely curls with a straightener too, though it may be slightly more complicated. Use a thin and flat iron with round edges to make smooth curls. For loose curls, move the straightener faster, while you must make a full circle for tighter curls. 
Tips for Managing 2b Hair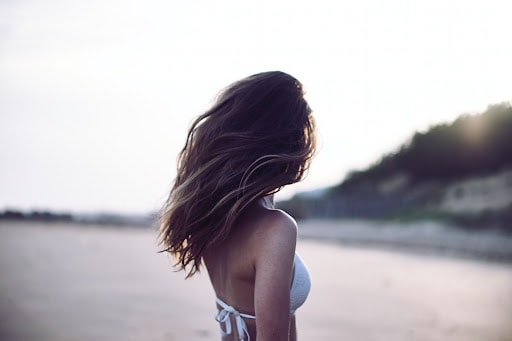 Taking care of and managing hair with a natural wave can be more challenging than it appears to be. Your hair is prone to get tangled easily and has troublesome frizz often. However, once you start using the following tips for managing 2b hair, you will not have to deal with these issues at all or at least less frequently than you have so far. 
Use Sulfate-Free Shampoo and Conditioner
Hair products with sulfates can damage your hair, particularly if it has the tendency to become frizzy often. By using shampoos and conditioners that are sulfate-free, you can keep the frizz at a minimum.
These products will provide your hair with better care and ensure that your hair and scalp are cleansed gently without removing the natural oils. Your hair will be clean but not dried out. 
You May Also like:
Replace Your Brush With A Wide-Tooth Comb
Always use a wide-tooth comb to brush your hair instead of a hairbrush. Because your hair gets knotted and tangled quite often, you may need frequent brushing. The brushing does remove the tangles, but it may also damage your hair in the process. When you replace the hairbrush with a wide-tooth comb, it will work more gently on your hair to remove any tangles. It is also better for enhancing your naturally wavy hair.
Use Product
People with most hair types are unable to use much product in their hair. The reason is that any product, other than a bit of serum, can make their hair be weighed down heavily. 
With type 2b hair, you are rather fortunate because you can use an ample amount of product and your hair will be fine. This is good for you because your hair needs some essential products to look the best. 
You can use serums, gels, leave-ins, and more until you find what works the best for you. 
Give Up Straightening 
Straightening hair takes a lot of time and effort, and even more so with type 2b hair. You may even find that the flat iron simply isn't working and have to switch to the old-fashioned process of using a round brush and hairdryer. And that can be very exhausting. 
In any case, you have been blessed with beautiful wavy hair, and the best thing to do is show it off. All you need to do is spritz them using a sea salt spray and you are all set. 
Use A Diffuser With Your Hairdryer
Using a diffuser attachment with a hairdryer is very good for type 2b hair. The reason is that the diffuser helps to enhance the waviness of this kind of hair. As this attachment enhances your gorgeous waves, you will be able to appreciate the natural beauty of hair. So use a diffuser the next time you are using a hairdryer and see the difference. 
Final Thoughts
Having gone through all the styling ideas and suggestions, you are now ready to start trying them out. Remember that your hair is unique and special the way it is. And the idea is to find the styling tips and techniques that work best for you. 
As you keep trying new ideas, you will find the one that suits your hair and styling needs the best! Whether you keep your type 2b hair in waves or curls, it is important that your styling methods help you look your best.