If you have high porosity natural hair it means your hair is easily able to soak up moisture from water, oils, or hair care products, however, this could also mean that it is difficult to retain moisture as other hair types can. 
If you're not sure what hair type you have, you can do the following steps to find out – firstly, shampoo and rinse your hair to remove the build of any products or excess oils, let your hair dry naturally, and then fill a glass with clean water and drop a single strand of your hair into the glass of water.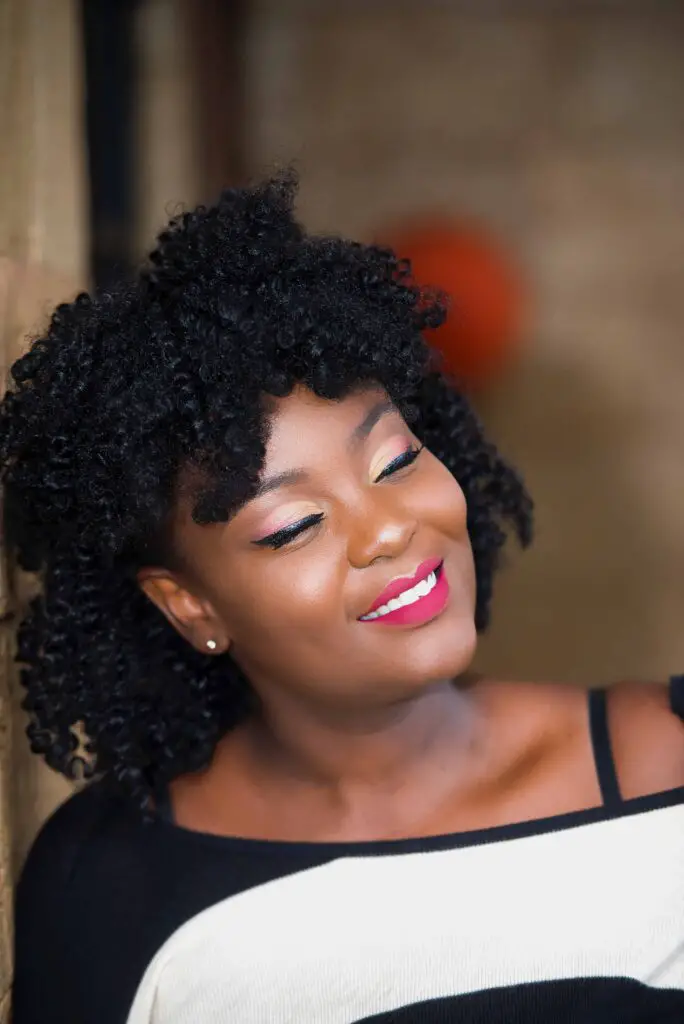 If your strand of hair sinks to the bottom then you have high porosity hair and if it floats before sinking then you have low porosity hair. 
High porosity means that your cuticles are more widely spaced. As the cuticles are too far apart, the moisture that manages to easily be absorbed by the hair cannot stay long enough to moisturize the hair properly. 
Most people who have high porosity hair will have dry or frizzy hair, hair that tangles easily or is prone to easily breaking when running your fingers through it, brushing it or when removing it from hair toggles.
If your hair takes ages to dry naturally or absorbs any hair product very quickly then you probably have high porosity hair. 
*This post may contain affiliate links. If you use these links to buy something we may earn a commission. I only recommmend products that I use, love, or thoroughly researched.
Does high porosity hair dry quickly?
No, high porosity hair does not dry quickly, this is because higher porosity hair types love and need water and moisture so try to hold on to that water for as long as possible while it dries.
Some high porosity hair can take up to a day to dry naturally. If you shower before you go to bed at night and wake up with hair that is still wet in the morning, then you probably have high porosity hair.  
However, people with thin but highly porous hair will find that their hair dries quicker than people with thick highly porous hair, especially if it is shorter. 
You can develop high porous hair from overusing heated tools, bleaching or coloring your hair, using incorrect hair products, or styling your hair in ways that are too rough.
As a result of this, you should avoid using any more heat on your hair than you already can, try letting your hair dry naturally instead of blow drying it every time you wash it. 
Try to use hair straighteners or curlers on your hair as little as possible, and when you do make sure to use proper heat protection on your hair. 
You May Also Like: Hair Porosity Series
How often should you moisturize high porosity hair?
You should use a leave-in conditioner or a deep conditioner each time you wash your hair, focusing on protein-rich products.
Make sure to use a highly conditioning hair mask once a week and follow up after your shampoo and conditioner with rich cream and hair oil to lock in all the moisture so your hair can begin to repair itself. 
What does high porosity hair need?
High porosity hair normally means that it is damaged and you'll want to try and use products and work to help reverse this damage so your hair can begin to retain any moisture that you give it and you can begin to slowly fix your damaged cuticles. 
High porosity hair will need more nourishing and moisturizing products than low porosity hair will, so you'll want to focus on using heavier ingredients like oils and hair butters that are moisture-rich and your hair will absorb all the good nutrients from them. 
You should also try to use a clarifying shampoo now and again on your hair, that aims to clean your hair but not strip it of all the natural oils. Using harsh shampoos on high porosity hair can easily dry it out and cause more breakage than normal. 
Some of our favorite shampoos for high porosity hair are, the Shea Moisture Coconut & Hibiscus Shampoo, Olaplex No.4 Bond Maintenance Shampoo (especially good if you've got color-treated hair), and the Shea Moisture Manuka Honey & Mafura Oil Shampoo.
High porosity hair needs a lot of protein so look for hair products that have good proteins like keratin, wheat, or silk protein as that will help build the strength up in your hair and begin to reverse the damage. 
Every time you shampoo your hair, you should make sure to use a wash-out conditioner each time or put a leave-in conditioner each time.
Some good recommendations for wash-out conditioners are the Shea Moisture Moisture Retention Conditioner and the Olaplex No. 5 Bond Maintenance Conditioner. 
Then once you've left your leave-in conditioner or washed out your conditioner, you will need to apply a cream and then a hair oil to your hair.
This may seem excessive and if you struggle with developing greasy hair quickly, then you'll want to make sure you focus on putting these products on the mids to the ends of your hair whilst avoiding the roots. 
Some of our favorite cream and oil products are the Olaplex No.3 Hair Perfector and the Olaplex No.7 Hair Bonding Oil, these two can be applied to towel-dried hair and should be used after each time you wash your hair. 
Focus on using a deep conditioning and moisturizing hair mask on your hair once a week, look carefully at the products used, and look out for sulfates and silicones that will dry your hair out but give the appearance of smooth healthy hair.
Products like the Olaplex No.0 Intensive Bond Treatment or the Shea Moisture Raw Shea Butter Deep Treatment Mask are great. 
The products you may need to use will differ depending on what kind of hair you have, for example, if you bleach your hair then you'll need to use blonde or colored targeted hair that is highly beneficial for highly porous hair.
However, if you have curly hair then you'll need to use specialized curly hair shampoo that'll give your hair lots of moisture. 
This is What High Porosity Hair Looks Like Wet