You can rehydrate your curly and frizzy hair at home or your salon if you wish! You would need regular appointments at your salon and will probably need to purchase additional products to use in between appointments too.

For those who put their lives in their stylist's hands, it's the option for you! But for those wanting to rehydrate at home, we have some handy tips! There's also lots more later on that too, so be sure to stick with us!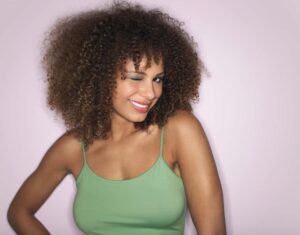 Reducing the amount of time you shampoo your hair to twice a week can help hydrate your hair. Excessive shampooing can dry your hair out, leaving it brittle and limp. When shampooing, opt for products that feature natural ingredients and are sulfate-free.

These products tend to be more lightweight and better suited to curly and frizzy hair. Maui Moisture's Curl Quench Shampoo is perfect for those with curly and frizzy hair that is also dry. It will rehydrate, soothe, and detangle your hair for luscious curls!
It features aloe vera, coconut milk, papaya, and plumeria extract to ensure that your hair is hydrated and frizz is kept at bay!


You can even use this on colored hair without any worry, and it's free from sulfates, parabens, and silicones that weigh your hair down! There's also an entire range you can purchase, including leave-in treatments that are sure to revolutionize your hair!
Remember to follow with a conditioner and any leave-in treatments or masks to provide further moisture and hydrate your hair. You can opt for staying in the same range or purchasing from other brands. We've got a section dedicated to some fantastic leave-in treatments below, be sure to check it out!
It's also worth avoiding heat where possible, as this can damage and dry out your hair further. Try to leave your hair to air dry if possible, and avoid using a towel to dry your hair.

The motion can be too vigorous and cause tangles and knots to form; it can also damage your hair and undo the good of your leave-in conditioning treatment! Avoid brushing your hair when it's wet, too, as it can pull on your hair and damage the strands further.
Be sure that you rehydrate your hair when it's exposed to elements. The saltwater in the ocean can be particularly damaging, so a hair mask and some TLC are much needed! Why not pack some of our recommendations today and use them mid-tip to rehydrate your curly and frizzy hair?
You May Also Like:
*This post may contain affiliate links. If you use these links to buy something we may earn a commission. I only recommmend products that I use, love, or thoroughly researched.
How can I hydrate my curly hair at home?
Hydrating your curly hair at home starts with your hair care routine. Start by only shampooing your hair once or twice a week. Too much shampoo can strip your hair of its natural oils and dry it out, leaving you with dehydrated and sad-looking curls!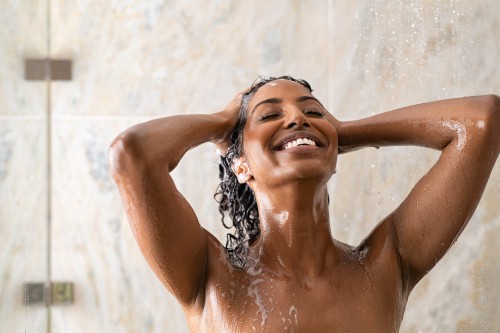 Avoid shampooing the ends of your hair and concentrate most of it on cleaning your scalp and the build-up of oil, grease, and products that can sit there. Opt for sulfate-free and hydrating shampoo such as SheaMoisutre's Hydrate and Repair Shampoo. It's affordable, sulfate-free, and packed full of shea butter that will hydrate your hair for a salon feel at home!
OGX's Quenching Coconut Curls is another fantastic option, too, for those looking to save some coins! You can also purchase matching conditioners, heat sprays, and leave treatments from these brands to provide further hydration to your curly hair!


These treatments should also be used once to twice a week to wash your hair to pour moisture back in after shampooing.
Avoid products with chemicals in, and opt for natural and lightweight products that won't weigh your curls down. That will only make matters worse and can cause brittle hair and breakages!
How do you fix dry damaged curly hair?
There are several ways you can fix dry and damaged curly hair. Start by limiting the amount of heat your hair is exposed to. Reducing or avoiding blow dryers, curlers, and straighteners will make a world of difference!
When using them, incorporate a heat defense spray into your routine before the heat touches the hair! It provides a barrier of protection between your hair and the heat and can often add a silky shine! We love HSI's Professional Argan Oil Protector, as it helps moisturize your hair as well as protect it!
Reducing the number of shampoos can also help as these can dry out your hair. Look for brands designed to re-moisturize your hair and incorporate a  hair mask or hydrating treatment at least once a week.

Carol's Daughter's Almond Milk Ultra-Nourishing Mask is a fantastic choice, and you will see results in as little as 15 minutes! It's made with dry and damaged curly hair in mind and is packed full of natural ingredients that will soothe your curls, hydrate them, and repair any damage!
Be sure to avoid brushing your hair while it's wet too. The pulling motion on damp hair can damage it further, causing it to split and become brittle over time.

Detangling brushes or those designed for curly hair are worth investing in too. These will tease any tangles out without pulling on and damaging your hair further. We love Osensia's Hair Brush for teasing out tangles without pulling or damaging our hair.
They say you can use the brush on dry hair, but generally, we avoid it so that our hair doesn't get damaged even more!

It's also worth having your hair regularly trimmed. This removes the damaged hair from your head and can even help your curls bounce back quicker! It's best only to have a small amount trimmed off; we don't need a drastic cut; as little as ½ inch can make a massive difference!
We recommend popping to the salon for a trim every 3-4 months to have the damaged ends snipped away! While there, why not ask the experts what they think your hair needs? You can often pick up fantastic recommendations and even a bargain while supporting your local salon!
When selecting your products, avoid those with sulfates, silicones, parabens, and other harmful chemicals. These can strip your hair and leave it drier and more damaged than before, which is the last thing you want! Natural ingredients are best such as coconut oil, avocado, shea butter, and aloe.
Don't worry; we've got some more fantastic recommendations coming up to stock your bathroom cupboard with!
Is coconut oil good for curly hair?
Yes, coconut oil is excellent to use on curly hair! Coconut oil is an ingredient we often see in hair products as it provides moisture and leaves your curls with a glorious shine that is sure to make everyone jealous!
You will also find your hair much softer and healthier than before, as coconut oil reverses protein loss for healthier and stronger hair! You shouldn't notice as much breakage or brittle hair when using it!
For those with dry scalps, coconut oil can also treat dry skin or flaking on your scalp. It will soothe any soreness from this, too, for a soft and smooth head!
You can purchase coconut oil on its own; we recommend COCO&CO's Pure Extra Virgin  Coconut Oil; it's designed for hair and skin and will provide hydration and smoothness after one use!
You can also purchase products infused with coconut oil; Maui Moisture's Curl Quench is another favorite and works to hydrate and detangle any curly hair! It will tame any frizz too and leave you with soft and lightweight feeling hair. They have an entire range that features coconut oil too, why not treat yourselves today?
Coconut oil is super simple to use too! If it's infused in the product, simply follow the instructions you normally would for smooth and hydrated hair! However, if you are using coconut oil raw, you just need a small chunk warmed up in your hands.
Brush it through your hair with your fingers until it's melted in. You can either leave it for a few hours or rinse it off immediately. We recommend leaving it in for a deep and hydrating treatment and rinsing with warm water. Avoid using hot water as it can damage your hair!
You should notice results immediately after use, and regular use will see your hair stay smooth and hydrated for longer!
What is the best moisturizer for dry curly hair?
To rehydrate your dry and curly hair, Sheamoisture's Curl Enhancing Smoothie is the one for you! It's formulated with thick, curly hair in mind and adds the moisture you crave back into your locks!
It's packed full of coconut oil, sulk protein, and neem oil to give you moisture and a luxurious shine. It also contains hibiscus, which works to add even more moisture and leave your hair feeling soft!
The smoothie creme also comes with no mineral oil, sulfates, parabens, silicone, or petrolatum so that you can use it with confidence on your locks! The cream works like a styling wax, meaning you apply it to sections of your hair and leave it in!
There's no need to rinse, and the cream will get to work to deliver soft and moisturized hair. We recommend using it quite sparingly; a little goes a long way, making the cream an absolute bargain!
If Sheamoisture's cream doesn't take your fancy, there are plenty of other options on the market! EDEN BodyWorks Curl Defining Creme features coconut oil, shea butter, aloe, and avocado oil to add the much-needed moisture back into your dry and curly hair!
It even works to keep your curls in place and resist humidity! At such a low price, we think it's worth a try!
The creme works to seal in the moisture and hydrate your hair for a soft and moisturized look. What's more, you can pick up the complete range to treat your hair and provide it with moisture and humidity fighting products!
When choosing your moisturizer to rehydrate your hair, leave-in conditioners are also a fantastic option. Marc Anthony has a tremendous deep conditioning mask that you can check out below!
Choosing between a creme, hair mask, or conditioner is a personal choice and one that should fit in easily with any hair routine!
Be sure to check the ingredients to ensure that you are getting plenty of moisture! Shea butter, coconut oil, avocado, and aloe are some of the most popular on the market! Vitamin E is also an excellent option and has been used in skin care for years now.
Check that there aren't any nasty chemicals that can weigh your hair down or damage it while you try to hydrate it. We would avoid sulfates and silicone, especially as they will weigh your curls down and can even dry your hair out further!