Having wavy hair is great because you can easily change its texture. Going from wavy to curly hair is super simple. There are a few methods you can use to do so. 
Here are 11 ways how to make wavy hair curly: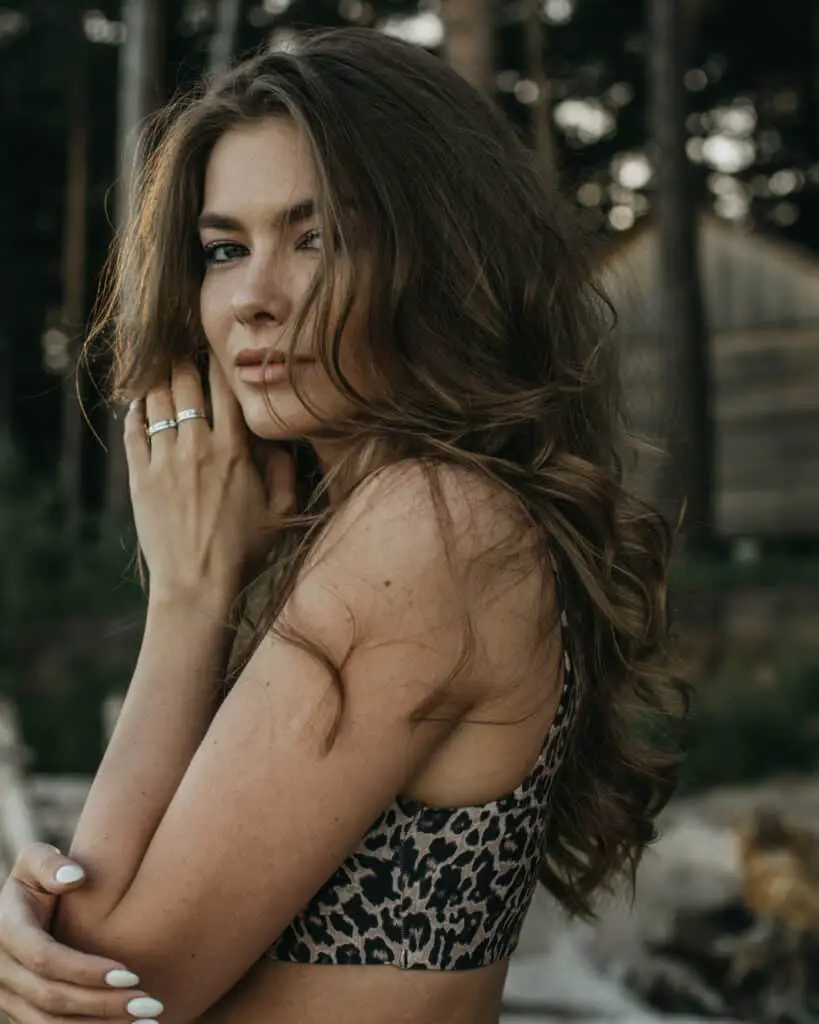 Scrunch 
Use leave-in conditioner 
Diffuse 
The curly girl method 
Pin curling 
Get a haircut 
Use a heat protectant
Increase curl definition with a Denman brush 
Braid your hair before sleeping 
Use the sock curling method 
Use heat
In this article, we'll explain each of these techniques in detail. Try each of them until you find the one that suits your hair the best. Keep reading.
*This post may contain affiliate links. If you use these links to buy something we may earn a commission. I only recommmend products that I use, love, or thoroughly researched.
11 Ways to Make Wavy Hair Curly
There are endless ways to make wavy hair curly. We're explaining 11 of the best ones in detail. Depending on whether you're looking for a long-term semi-permanent way to get curlier hair or an immediate solution for an event, you can pick the most appropriate technique for you. 
There are heat and heat-free ways to make wavy hair curly. However, if you want to have curly hair regularly, using heat tools isn't a great idea because you'll damage your hair. So we'd recommend going with one of the heat-free methods listed below. 
On the other hand, if this hairstyle is a one-off, feel free to use heat if you want to. We'll explain how you can do so at the end of the list. 
1. Scrunch 
One of the easiest and most effective ways to make wavy hair curly is by scrunching it right after your shower. This method involves you squeezing the ends of your curls towards your roots.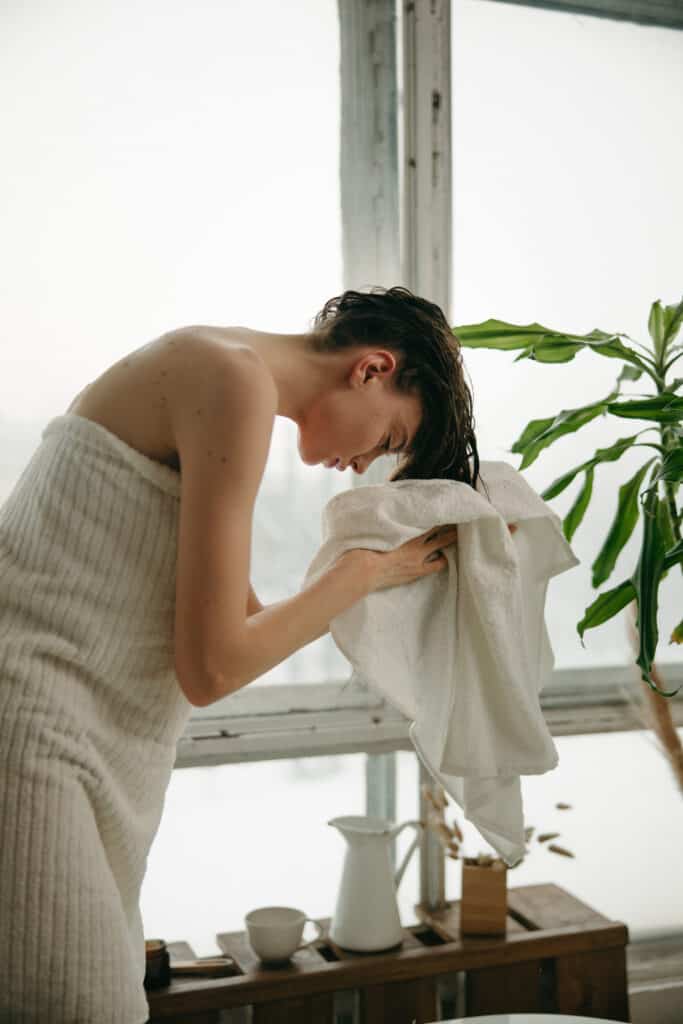 Consider your hair to be like a string. Your job is to compress the string to the top without ruining the coils. In fact, you have to try to enhance those coils.
If you use products like styling mousse, you'll find it quite effective to scrunch it in instead of brushing it in. Apply your product and then gently squeeze your hair upwards.  
You Make Like: How To Plop Hair For Defined, Frizz-Free Curls
2. Use Leave-In Conditioner
Another great way to make your hair wavier is by using a leave-in conditioner. While this won't enhance curl formation, it will neaten up your hair. This is because such products are designed to combat frizz. 
They keep your hair hydrated throughout the day without weighing it down. Since curly hair already has more volume than straight hair, avoiding excess tension in your hair is great. 
3. Diffuse
Sometimes curly hair becomes wavy because wet hair is quite heavy. This pulls hair down and stretches out the curls. So they lose their natural curl texture, and you end up with waves instead of curls. 
CELEBRATE YOUR CURLS: Give your curls the attention they deserve with Xtava's hair diffuser, designed to enhance your natural curl and texture
GET RID OF FRIZZ: 360 degree airflow diffuses hair evenly and gently to maximize volume while banishing frizz
SAVE TIME WITH QUICK DRYING: If you've ever felt the pain of an arm cramp while drying your hair, you'll appreciate how Xtava's extra large design speeds up blow drying, even for thick, long, curly hair. The fingers feature drying vents, so you get simultaneous air flow at both the root and tips
The Black Orchid Diffuser is not a universal fit for all hair dryers. Our diffuser has a 1.8 in diameter and will securely attach to any hair dryer with the same diameter. Push and twist the diffuser 1 in downward onto the hair dryer tip to begin use
STRONG AND DURABLE: An inner banded seal ensures that the blow dryer diffuser stays in place on your hair dryer while styling
You can counteract this by diffusing your hair. Now, you may have heard that diffusers cause frizz in wavy and curly hair. However, you can easily avoid it with the right products. So don't be afraid of using diffusers. Get your hands on styling products like gel or mousse to keep your curl definition. 
Dry your hair with a diffuser attachment until it is about 80% dry. Then flip your head forward, cup your wave and dry the rest of your hair like so. Add the gel at this point and scrunch your hair towards the roots. 
Combining scrunching and diffusing like this can lead to excellent results. 
4. The Curly Girl Method
The curly girl method is a long-term way to make wavy hair curly. You'll see drastic differences in your curls after a couple of weeks. 
You've probably heard of the curly girl method before. However, if you haven't come across before and after pictures of people using this technique, let us tell you that they are dramatic transformations. 
People who had no idea they were curlies have found out by using the curly girl method. So if you want to make wavy hair curly, you need to give this technique a shot. 
Start by only using sulfate-free and silicone-free hair products and swearing off heat. This may sound extreme if you're accustomed to using curly irons and straighteners. However, the results will speak for themselves. 
You'll notice increased curl formation within a few weeks. Your hair will be healthier and stronger too.
5. Pin Curling
Pin curling is a great way to get curlier hair immediately. Your hair needs to be wet for it to work properly, though.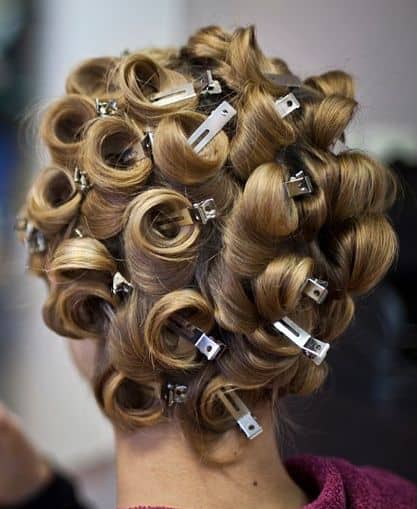 As soon as you shower, apply a styling product of your choice to your hair. Then take a small strand of hair and curl it with your finger. Use a bobby pin to secure each curl. Make your way through all your hair. 
Let your hair dry with the clips in place. When you remove them, you'll notice curl formations according to the clips and coils you set. 
You can increase the durability of this hairstyle by using hair spray on the finished product. Alternatively, you could scrunch in some setting mousse. 
6. Get A Haircut
Damaged hair loses its elasticity and becomes straighter than its natural texture. So if you want to make wavy hair curly and haven't gotten a cut in a while, go to a salon and get a trim. 
You can tell when damaged hair is causing your hair to be straight by looking at your roots. If the hair there is curlier than the hair at the ends, getting a trim will fix it. 
Getting a trim also reduces the weight pulling down on your waves. This further increases the chances of you getting curlier hair.
7. Use A Heat Protectant
Heat makes curly hair wavy. Using a heat protector is a precautionary measure that will reduce the impact of using heat. 
It will protect your hair and help it be healthier and curlier. If you use heat tools like hair dryers regularly, you'll notice a difference in your curl formation within a couple of days. 
Getting a trim along with using a heat protectant will produce the best results. This is because you'll get rid of the damaged hair and avoid damaging any more hair. 
8. Increase Curl Definition With A Denman Brush
Denman brushes have plastic bristles. They are ideal for curling small sections of your hair. 
You will get the best results with this brush if you use it right after a shower. This is because your hair will be completely wet at this point. Apply a leave-in conditioner or styling product and brush it into your hair with your fingers. 
Flip over your head and brush through your hair with the Denman tool. Then stand straight again. Brush small portions of your hair, starting at the root and moving away from your head. 
Since Denman brushes have thick bristles, they encourage curls. Brushing your hair away from your head leads to small and tight curls that look great. This makes Denman brushes one of the best ways to make wavy hair curly. 
9. Braid Your Hair Before Sleeping 
TIghtly braid your hair before going to bed. Open your hair in the morning, and it will be curly. The exact curl formation will depend on the type of braid and the amount of hair used.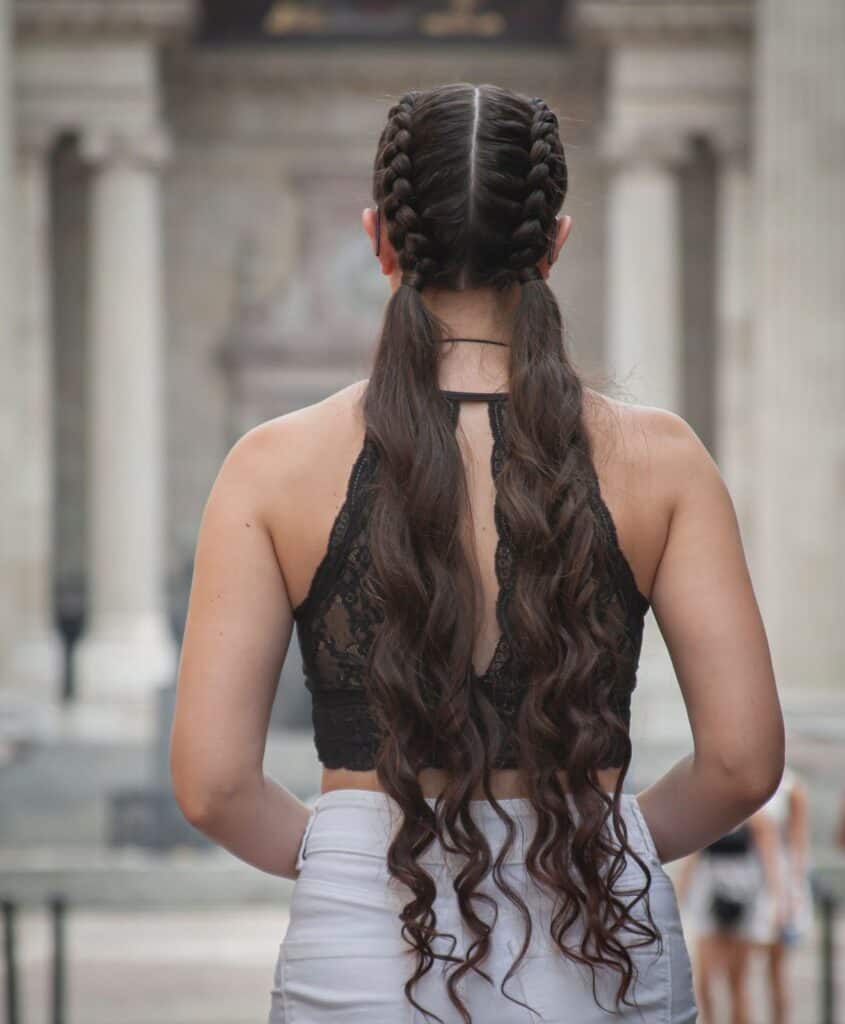 You'll get the tightest curls by making many small braids all around your head. Making one or two french braids will lead to looser curls. Whereas a simple braid will just make your hair wavy. You won't get curls. 
You can also impact curl formation by using some product in your hair when making the braids. For instance, you can spray the finished braids with hair spray. Alternatively, you can apply some styling mousse or gel to your hair while you're making the braids. Both will secure your hair into place and ensure that you wake up to tight curls. 
You'll have noticed that most of the methods we've talked about so far work for wet hair. You have to use them right after a shower because they require drenching hair to be successful. However, this technique is different because you don't have to do it right before you go out. 
An important downside to using this method is that you will pull your hair. This can lead to tension in your scalp. So avoid doing this regularly, or your hair will become weak. 
Even so, braiding is an excellent way to make curly hair wavy for a special day. 
10. Use The Sock Curling Hack
The sock curling hack will make your waves tighter and similar to curly hair. 
You don't need to do this immediately after a shower. However, you would benefit from dampening your hair before you begin. Also, rake some styling mousse before you add the socks. 
Separate your hair into four sections and grab four socks. Then use a clip to attach the first sock to one section. Further, separate this section into two portions. Now you have two strands of hair and one sock. 
Braid all three like you normally would until you reach the end. Then, attach a hair tie to the end. You can remove the clip you attached at the top. 
Repeat this process on all four sections and leave your hair to dry. Some people do this before sleeping and dry their hair overnight. While you don't need to do so, it is essential to let your hair fully dry before removing the socks. 
You will need a few hours, to say the least. If you haven't done the sock method the night before and plan to do it while you get ready, make sure hair is the first part of your routine. This way, your hair can dry while you do your makeup and put your outfit together. 
11. Use Heat 
While heat definitely damages your hair, it is also one of the most reliable ways to curl wavy hair. Truth be told, as long as you don't do it too regularly, you won't damage your hair too much with it. 
Curling Your Hair With A Curling Rod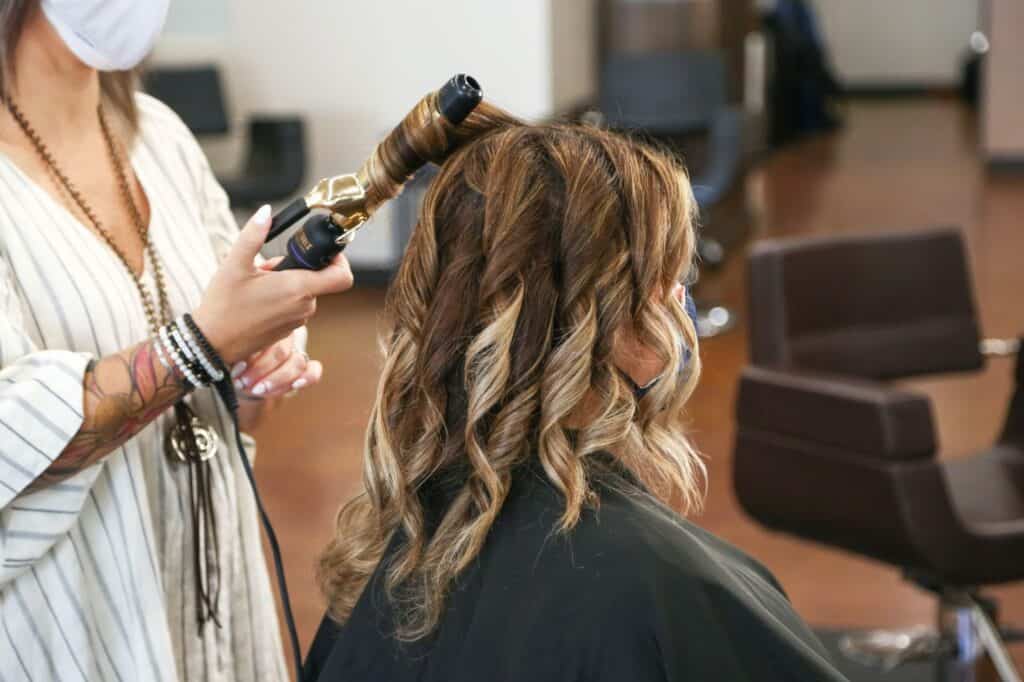 Curling with a curling rod is fairly straightforward. So instead of telling you how to do it, we'll give you a couple of useful tips about the process:
Use a 1" rod for short/medium hair and a 1.25" rod for long hair
Put hairspray on your hair before you start curling
Use your rod at a low setting for fine hair and at a higher setting for thick/coarse hair
Clip irons will give you glam waves while curling wands will give you loose, beachy waves
Don't keep the rod in your hair for longer than 10 seconds
1inch 1½ inch Wide Conical Barrel Creates Tousled Waves
Professional Pearl Ceramic for Less Damage and Faster Salon Results.Wipe the handle and barrel with a damp cloth
Ceramic Coating for Even, Consistent Heat
Crushed Pearl Infused Barrel for Smooth, Lustrous Waves
410°F High Heat
As long as you keep these tips in mind, you'll get great curls with a curling rod. Add in some styling products to secure your curls and keep them for a long time. 
Curling Your Hair With A Straightener
Curling your hair with a straightener is a popular but slightly complicated process. Start with clean and dry hair. Both these conditions are essential. You won't get the curl formation you're looking for without meeting them.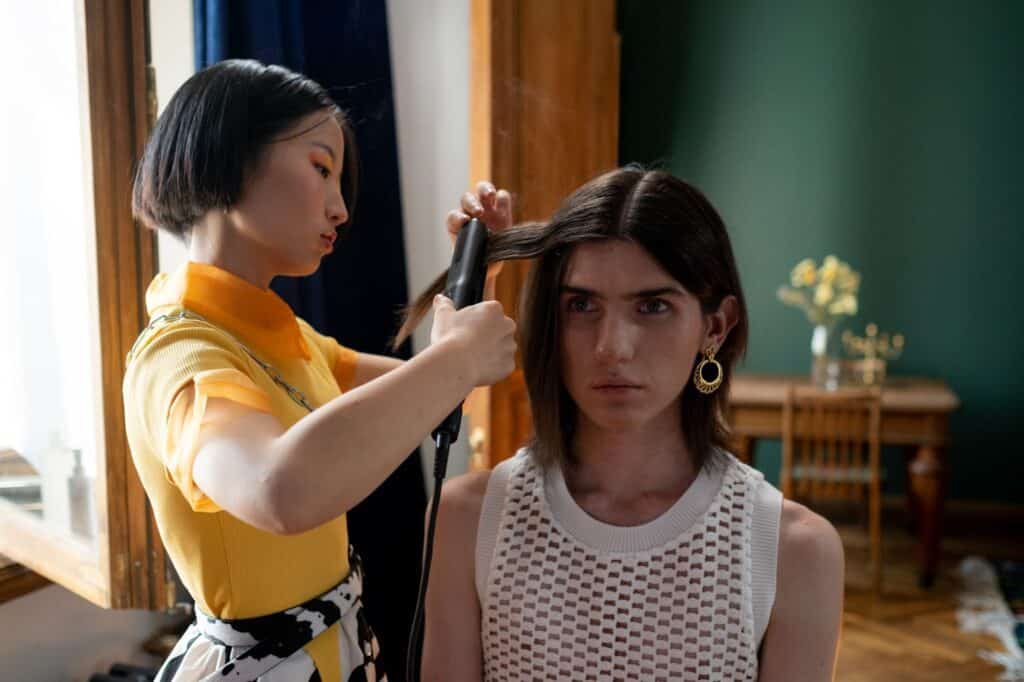 Use a thin flat iron to get the best shape. Also, make sure it has rounded edges. Otherwise, you won't get smooth curls that stay in place. 
Start close to the scalp. Then, curl your iron towards your head and turn it hallways. Next, move the iron downwards. The faster you move the iron, the looser your curls will be. 
You can make the curls tighter by curling the straightener in a full circle instead of only halfway. 
𝐓𝐇𝐄 𝐖𝐎𝐑𝐋𝐃'𝐒 𝐋𝐎𝐍𝐆𝐄𝐒𝐓 𝐏𝐋𝐀𝐓𝐄: The Titanium Plate with Argan Oil provides faster straightening and increased shine while high levels of negative ions produce silky, smooth and conditioned hair. This Damage-free Flat Iron helps retain moisture and enhances your hair long-term.
𝐒𝐔𝐏𝐄𝐑 𝐄𝐀𝐒𝐘 𝐓𝐎 𝐔𝐒𝐄: The Human-factor Engineering Designed Shape helps you relax your arm when you styling. The floating plates glide through hair, smoothing and polishing each strand, Create the look you want in just 1 pass that makes styling easier than ever.
𝐏𝐎𝐖𝐄𝐑𝐅𝐔𝐋 𝐇𝐄𝐀𝐓 𝐔𝐏: The Invisible Screen shows only after turned on helps you set desired temperature, 11 temperature settings(265℉-450℉) for all hair types, it leaves your hair looking polished and healthy after you find the proper heat setting for your hair.
𝐃𝐔𝐑𝐀𝐁𝐋𝐄 𝐀𝐍𝐃 𝐇𝐀𝐍𝐃𝐘: Vanessa Flat Iron uses sturdy materials with a durable design to ensure a long service life of over 3 years. The important convenience features as well as good for storage like Swivel Cord, Dual Voltage and Automatic Shut-off are included.
𝐌𝐔𝐋𝐓𝐈 𝐓𝐀𝐒𝐊𝐈𝐍𝐆 𝐓𝐎𝐎𝐋: Get silky-smooth straight or bouncy dreamy curls in just one tool! Vanessa works perfectly as a Flat Iron, Meanwhile it can be used as a Curling Iron, meeting your different needs of straightening or curling your hair.
Final Thoughts on How to Make Curly Hair Wavy
That's all we have for ways to make curly hair wavy. Try whichever ones stand out to you and then pick one which gives you the best results to use regularly. If you get a haircut, come back to our list and pick new techniques for your new style. 
Remember to think about what sort of curls you're looking for and pick a technique accordingly. You'll get the tightest curls with heat tools and pin curling. Sock curling will give you the loosest curls.