Low porosity in hair can be challenging to manage because your strands are resistant to most products. And finding the right low porosity hair products that cater specifically to your coils can be a tedious process. No doubt you also have tons of questions about how to use those products and other methods to maintain healthy locks.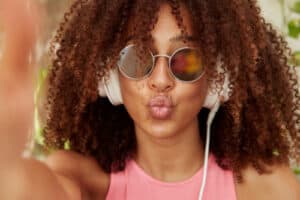 Now to spare you the trouble of doing dissertation-level research on your low porosity hair, this entire post is going to cover products for low porosity hair, what it means to have low porosity hair, how to test your hair, and methods to grow your hair.
*This post may contain affiliate links. If you use these links to buy something we may earn a commission. I only recommmend products that I use, love, or thoroughly researched.
Best Shampoo for Low Porosity Curly Hair
Since low porosity hair types are prone to product build-up from lack of absorption, it is important that you do not forget about shampooing your hair.
If you're looking at this and going 'Well, I co-wash my hair, then stop. Right now. Stop.
Co-washing is not an effective replacement for shampooing your hair because it doesn't eliminate all the grime and product deposits on your strands. Chances are your hair is screaming for some fresh air amidst the dirt and nastiness.
Moreover, not shampooing your hair properly makes you liable to scalp dermatitis, dandruff, and other scalp conditions. That would mean extra effort in treating your scalp on top of taking care of your low porosity hair.
Shampoos generally help remove the build-up of products and grime from the creases of your cuticles, which slightly widens the gap between each cuticle. While this doesn't necessarily aid in balancing your porosity level completely, it does allow better moisture retention.
You May Like:
What You Should Be Looking for in a Shampoo for Low Porosity Hair
The best shampoos are those which are sulfate-free. Unless you have extremely oily hair, sulfate-free shampoos are a godsend because they don't make your strands fatigued and droopy after your shower.
Sulfate typically strips away the things coating your cuticles. Most shampoos that contain sulfate can be extreme in this process of stripping your hair, making it more vulnerable and drier than before.
Therefore, you should look for a clarifying shampoo that doesn't contain sulfate. You might also opt for shampoos with moisturizing effects to detangle your locks and leave them with a soft, bouncy, and luscious look afterward. 
What Are the Best Shampoos for Low Porosity Hair?
#1: TGIN Moisture Rich Sulphate Free Shampoo
HEALTHY NATURAL HAIR: Our shampoo and conditioner set for both men and women includes two products to give you soft, shiny, moisturized and manageable hair with smoother cuticles.
ULTIMATE TREATMENT: The Sulfate Free Shampoo and Triple Moisture Replenishing Conditioner work together to heal damage & improve health for all hair types. Even dry, straight, curly, or color treated.
SULFATE FREE SHAMPOO: This shampoo is enriched with both Coconut oil, to gently cleanse your hair, and Pro Vitamin B5 to reduce breakage and increase moisture retention for healthier hair.
TRIPLE MOISTURE REPLENISHING CONDITIONER: A combination of three moisturizers, Shea butter, Argan Oil and Jojoba oil, ensures that your hair is moisturized and sealed from the inside out.
This Duo does not contain harsh detergents that strip hair of its natural oils. Also, our products are made without parabens, sulfates, petrolatum, lanolin, artificial colors, or tested on animals.
Formulated with coconut and amla oil, the TGIN Moisture Rich shampoo is made for denser and sturdier coils. This shampoo has a great replenishing effect as it brings back moisture into your dry, damaged locks. The formula also cleans out your cuticle surface and penetrates inside to provide vitamins and other moisturizing natural ingredients such as shea butter, sweet almond oil, and more to ensure manageable, healthy, and soft curls.
The natural and chemical-free formula is definitely a MAJOR plus-point as your hair will not be stripped bare and neither penetrated with harmful ingredients.
#2: Shea Moisture Bamboo Charcoal Deep Cleansing Shampoo
This shampoo contains tea tree oil and willow bark extract to provide a calming effect on your scalp and cuticles. This relaxes them and helps in skin turnover – an important part of scalp treatment. With its deep cleansing properties, you can easily have dirt, oil and other build-up scraped and scrubbed away from your hair shaft.
Apart from low porosity hair types, this shampoo works wonders on scalps with problems such as flakiness, dryness or excessive oiliness, itchiness, and dandruff. It's also very commendable that the company swears against animal testing and purchasing from them would be a great show of support for their ideals.
You May Like: 4D Hair Type: Does it Exist?
Best Deep Conditioner for Low Porosity Hair
Shampoos clean off the build-up over your hair cuticles but it doesn't exactly penetrate and cleanse your strands from cuticle to medulla. Most shampoos simply address the superficial layer of your hair shaft – you need something that goes much deeper and actually treats the dry and damaged cells inside.
Deep conditioners should be the second step of your low porosity hair treatment. These are incredibly penetrative and can moisturize, nourish and clean everything from the inside to out.
Before you apply a deep conditioner to your hair, it's advised that you use heat or steam to open up your cuticles to help the penetration. You can purchase a steamer for this purpose but if it seems too expensive, you can go on the cheaper route of getting a hot head thermal cap, if you haven't got one already. Alternatively, you can soak up the steam from a hot shower to loosen up your cuticles.
What You Should Be Looking for in a Deep Conditioner for Low Porosity Hair
Your deep conditioner should be moisturizing and lack ingredients such as petroleum that creates a stubborn film that can clog your cuticles again.
 It's best to opt for deep conditioners with a buttery and oil base. This might include shea butter, mango butter, honey, and other types of moisturizing oils. Fatty alcohols and panthenol are also great moisturizers for your hair.
Remember that this stage is primarily for getting as much moisture inside your hair shaft as possible so the more fat, oils, and butter, the better!
What Are the Best Deep Conditioners for Low Porosity Hair?
#1: Camille Rose Naturals Algae Renew Deep Conditioner
Help to strengthen and protect your hair with our hair balm infused with Blue Green Algae
Lock in moisture and enjoy lasting hydration with the intense moisturizing benefits of Mango Butter
Nourish and strengthen your hair with our vitamin-packed treatment infused with blue green algae, providing moisturizing benefits and promoting hair health
Enjoy the goodness of natural ingredients including Aloe, Coconut Oil, Cocoa Butter, Mango Butter, Honey, Jojoba Oil, Evening Primrose Oil, Blue Green Algae, Biotin, Vitamin E, Peppermint Oil
Rest easy knowing our hair balm is phthalate-free and crafted with love, providing a natural and nourishing hair care solution
The Camille Rose deep conditioner contains all the favorite oils and butter you'd want. Manuka honey, mango butter, aloe vera, hemp seed oil, blue-green algae, and a host of other vitamins – this conditioner is an all-in-one spa for your hair.
The minerals and vitamins from the all-natural ingredients offer plenty of nutrition to your cells. It's a perfect treatment for low porosity hair types that are particularly facing dry, damaged, and limp hair strands. And to add icing to the cake – the conditioner smells completely like mint chocolate chip. Nourishing and delicious – your hair will love every bit of this treatment.
#2: TGIN Honey Miracle Hair Mask
INSTANT MAKE OVER FOR DRY, DAMAGED, COLOR TREATED HAIR: This luxurious deep conditioner contains raw honey for softer, shinier tresses and jojoba and olive oils, which nourish and heal strands in need of repair. Hair never looked so good!
A MIRACLE TREATMENT FOR YOUR HAIR: Raw Honey moisturizes your hair, making it softer and shinier. Restore health and strengthen damaged and over-processed hair to give your hair a beautiful and healthy look.
NOURISHES, REPAIRS, MOISTURIZES: Olive and Jojoba oils provide vital nutrients to your hair and Vitamins A, E and D to nourish and heal strands in need of repair. Keeps your hair moisturized and less prone to breakage.
HOW TO USE: Apply a generous amount. Comb to ensure thorough distribution from roots to ends. Place a plastic cap on and sit under dryer for 10-15 min (35 min to 1 hour no heat). Rinse thoroughly with warm water, followed by cool water.
BLACK, WOMEN OWNED: Our team at tgin is 96% women and 100% black-owned. Our products do not contain sulfates, parabens, petrolatum, lanolin, artificial colors, and we do not test on animals.
The TGIN Moist Collection would be a great addition to your shelf of hair care products. The Honey Miracle Hair Mask in particular offers an instant moisturizing effect to your hair.
The instant effect is achieved by the raw honey that's one of the key ingredients to the deep conditioning hair mask. The others include jojoba and olive oil, babassu seed oil, acai, rosemary leaf oil, and an array of other vitamins and amino acids. This list of ingredients is powerful with its healing, nourishing and moisturizing properties. You can certainly expect beautiful and shiny coils once you've rinsed off the hair mask.
#3: Shea Moisture Raw Shea Butter Deep Treatment Masque
PROMOTE HEALTHY HAIR GROWTH: The Raw Shea Butter Deep Treatment Masque is a highly moisturizing hair mask designed to promote healthy hair growth and is ideal for use when transitioning from chemically processed hair to natural.
RAW SHEA BUTTER: Certified organic shea butter provides deep hydration to the scalp. Hair and scalp are protected and restored to their natural balance. Moisturized hair feels softer, is easier to manage and style.
NOURISHING VITAMIN E, ARGAN OIL & SEA KELP: High quality ingredients include mineral rich Sea Kelp to nourish, seal and smooth the hair cuticle along with Argan Oil filled with Vitamin E to restore shine while promoting hair's elasticity.
HEALTHY LOOKING HAIR: Instantly transform the look and feel of dull, dry, and damaged hair to be healthy looking, with beautiful gloss and shine after using this deep conditioner hair mask and scalp treatment.
FOR BEST RESULTS: We recommend applying this hair mask to the scalp after dividing hair into wide sections. Distribute from roots to ends for 5 minutes before rinsing or cover with a plastic cap and apply moderate heat for up to 30 minutes.
If your curls are a bit looser and wavier rather than tightly packed, this moisturizer is more suitable for your hair type. The brand recommends the mask for hair types 3A to 4C but Type 2 and 3 are the most to benefit from using this. That doesn't mean it lacks proper nourishment properties because believe me, it's brimming with the perfect moisturizing ingredients.
The mask is made out of raw shea butter and a bunch of natural botanicals to provide an all-natural and chemical-free product to be used on damaged, natural, and even chemically treated hair.
Best Leave-In Conditioner for Low Porosity Hair
Once you're done treating your hair with a deep conditioner, you must remember to seal the moisture in to keep your cuticles hydrated. This is important because your hair has been dehydrated for a long time.
A leave-in conditioner or gel ensures that moisture is locked into the cuticles and left so that your cells can regenerate and become healthy again. Ideally, you want to use a conditioner that contains proteins and minerals so that you're offering the proper nourishment back into your hair follicles.
This step comes after you've rinsed your hair from the deep conditioner. However, make sure you don't completely dry off your hair before you apply the leave-in conditioner as that can hamper the treatment process.
You need to have damp (not wet) hair that can easily take in the conditioner. If you have Type 4 hair curls, however, you need to moisten up your hair more than Type 2 and 3 naturals.
Please detangle your locks so that the leave-in conditioner is sufficiently applied to every bit of your tresses. No strand should be left behind. This is why having dampened hair is important as it can ease the application step.
What You Should Be Looking for in a Leave-In Conditioner for Low Porosity Hair
As mentioned above, you should be looking out for a conditioner that contains lots of minerals and proteins for nourishment. More importantly, however, you need a conditioner that is rich in moisturizing properties. Again, a butter base in the conditioner is well-suited for low porosity hair.
Water or H2O should be the primary ingredient to your leave-in conditioner as you need lots of hydration. You should also avoid any labels that have mineral oil or petroleum listed in the ingredients section. This can worsen your porosity rather than improve it.
What Are the Best Leave-In Conditioners for Low Porosity Hair?
#1: Camille Rose Curl love Moisture Milk
A softening leave-in conditioning cream with silkening light notes of macadamia nut and vanilla
Specially crafted with rice milk, providing all the potent benefits of Vitamin A, D, and B12 for optimal hair health
Blended with Macadamia Seed Oil, for its anti-breakage benefits, sealing hair strands
Mixed with Slippery Elm Bark to soften and smooth the hair shaft, for an easy detangling experience
How to Enjoy: Upon cleansing hair, use as a leave-in conditioner, applying evenly from root to tip. May also be used to refresh styles on dry hair in need of moisture
Who doesn't want to smell like an absolute garden of fresh flowers and fruits? This butter-based leave-in will make you feel exactly like you've entered the Garden of Eden.
The product contains a mix of different botanicals and oils that offer plenty of nourishing properties. The rice oil infused in the concoction is a great suppliant of natural vitamins to redeem your damaged hair while other ingredients such as macadamia seed oil, elm bark extract, avocado oil are all used for their effective moisturizing abilities. With the beautiful nutty fragrance of macadamia nut combined with vanilla, this leave-in conditioner will soothe and nourish your hair.
#2: Mielle Pomegranate and Honey Leave-in Conditioner
NATURAL & ORGANIC TREATMENT: Mielle Organics Pomegranate & Honey Leave-In Conditioner fuses pomegranate extract, honey, babassu oil, citrus extracts, and other natural, restorative ingredients to moisturize and strengthen thick, curly hair
LIGHTWEIGHT LEAVE-IN FORMULA: Our weightless, nutrient-rich leave-in conditioner smoothes and soothes dry, damaged, and dull hair instantly without weighing it down or leaving behind a greasy or sticky residue
FRIZZ-FREE SHINE: This daily replenishing protectant quenches even the unruliest Type 4 hair, taming stubborn frizz and flyaways while defining coily or curly hair for bouncy, shiny locks and long-lasting hydration
EASY TO USE: Our deep moisture serum is gentle enough for daily use, deeply penetrating damaged hair for visibly improved texture; Apply from root to tip and style as usual for soft, manageable hair and powerful damage repair
BY WOMEN FOR WOMEN: Mielle Organics aims to empower women of all hair types and styles with powerful products and gentle, organic ingredients that amplify your natural beauty and are the "root to results" that leave you looking and feeling your best
The Mielle leave-in is a fantastic pick-me-up for your hair. The product doesn't just moisturize your curls but also primes them into perfectly round and bouncy twirls. It also spreads out every easily over your strands and covers each one of them for long-lasting hydration.
Made out of babassu oil, citrus extracts, and other moisturizing agents, the Mielle leave-in conditioner is the perfect solution for all Type 4 hair to achieve glossy and tight curls without losing moisture or getting frizz.
#3: Shea Moisture Coconut and Hibiscus Curl and Style Milk
SheaMoisture Coconut & Hibiscus Curl & Style Milk is a leave-in moisturizer and hair treatment product that makes curly hair soft, shiny, bouncy and frizz-free.
You can use this anti-frizz cream for curly hair from SheaMoisture every day for enviously lustrous and easily manageable curls.
SheaMoisture's Coconut & Hibiscus Curl & Style Milk, blended with Coconut Oil, helps to hydrate, reduce breakage while providing frizz-control and curl definition.
This curly hair milk, blended with Silk Protein and Neem Oil, will smooth messy and wavy curls giving your hair a soft and silky feel.
We are natural, sustainably produced goodness. Natural hair care made with love for you and your body. SheaMoisture is pioneering fair trade through Community Commerce at home and abroad.
This curly hair cream is formulated with no silicone, no sulfates, no parabens, no phthalates, no mineral oil or petrolatum. It's been tested on our family for generations and never on animals. Dispenser Style: Squeeze
Another champion of moisture retainment in low porosity hair is the Shea Moisture Curl and Style Milk. The cream can be used for everyday styling to achieve sturdy and manageable curls. Its coconut oil-infused formula prevents any form of breakage and eliminates frizz.
If you have particularly unmanageable wavy hair that's dried and damaged, you can surely add this product to your collection. It's the perfect fit for natural ladies who love styling their luscious locks daily.
#4: EarthTones Naturals Curl Enhancing Jelly
If you are in the market for a strong leave-in conditioner that doesn't loosen your styling throughout the day, you can trust yourself with the EarthTones Naturals Curl gel. You can use the gel for days on end without losing your curl definition – it's that strong!
The formula is mainly based on watery substances containing aloe leaf juice, citric acid, glycerine, and more for lasting moisture retainment. The brand also constantly experiments and improves its product so you can always expect additions to the product's features.
This curl-enhancing leave-in gel is great for those Type 4 hair that are constantly exposed to humid atmospheres. You don't have to get into a hassle while applying the conditioner as it glides smoothly over your strands and remains locked in place until you rinse it off.
LOC Method for Low Porosity Curly Hair
If you've just recently gone natural, you might not be familiar with the LOC method. These are pretty much the fundamental steps of ensuring that moisture is retained in your hair but it's very important to learn for natural women, specifically with low porosity hair.
What is the LOC Method?
The LOC method stands for Liquid/Leave-in, Oil, and Cream respectively. This is phrased in the order that you'll be applying each product so that you can get effective results on your hair.
Simply put, the LOC method dictates that you need to start with either a liquid or leave-in conditioner, before moving on to oil for sealing the conditioner and adding a glossy look with a cream.
For new naturals, it might be confusing as to which product you should use to try out the LOC method for moisture retainment. Well, fear not. I'm going to dive deeper into the products I've personally used and recommend for all-natural women with low porosity hair:
Qhemet Biologics has an entire line dedicated to low porosity hair!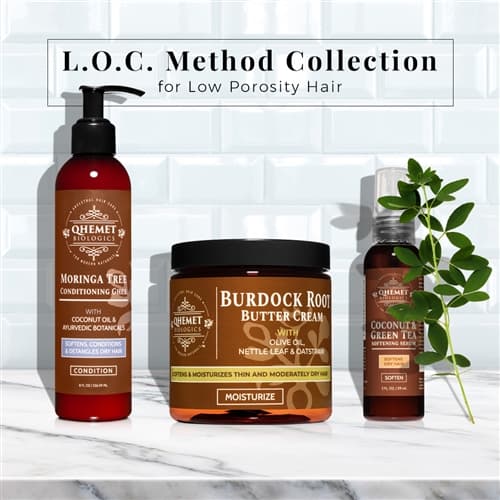 Step One: QHEMET Biologics Leave-in Conditioner
Once you've properly rinsed off all the product residue in your hair, go with the QHEMET Leave-in Conditioner to detangle, soften and even style your coils.
I recommend this product for low porosity hair because it is perfectly lightweight and therefore won't sit on top of your strands. The conditioner is incorporated with moringa tree conditioning ghee that has excellent moisturizing properties.
To use the product, section off your hair and coat each area with the conditioner. Make sure to get in with a wide-toothed comb to evenly spread out the product over each strand for softer coils. You'll be amazed at how immediate the results are!
Step Two: QHEMET Biologics Oil
Once your hair has been detangled, you can rub the QHEMET Coconut and Green Tea Softening serum onto your hands to warm it up a little. Afterward, thoroughly move through your hair with your palms so that the oil coats your strands. This works to seal in the moisture from the leave-in conditioner and also adds a visible sheen to your tresses. By this time, you can style your hair with twists or braids and expect frizz-free and shiny results.
Step Three: QHEMET Biologics Burdock Root Butter Cream
At the end of your routine, you can take a portion of the cream to evenly distribute it over your curls. The cream offers additional moisture and protects your strands from breakage or dryness as you move along throughout the day. Since the cream is very light, your curls will still maintain a bouncy look.
The reason why I love the QHEMET product line for the LOC method is that they provide all-natural products with no parabens or chemicals that may damage your cuticles.
<<Shop Qhemet Biologics Low Porosity Hair Products Line>>
Frequently Asked Questions
What is Low Porosity Hair?
If you're unfamiliar with this term, don't worry. This term can be confusing to most of us because we aren't well-acquainted with how our hair strands are formed.
To put it simply, each of your strands is made up of thousands of dead cells layered on top of each other. Remember your middle school Science lessons? You can think of your hair like how the Earth is structured: one layer on top of each to make the entire thing strong and sturdy.
The innermost layer of your hair is called the medulla while the outermost is the cuticle. The cuticle has cells tiled closely together and with low porosity hair, this tightly-packed layer can be quite resilient against letting moisture enter the medulla.
Porosity essentially means how open or closed your cuticle layer is. If you have high porosity, it indicates very sparsely packed cuticles that are easy to penetrate. On the other hand, low porosity happens when your cuticles are enmeshed with each other and thus allows no gaps for water or other molecules to enter. Therefore, no matter how many times you soak your hair, water molecules will simply roll down like beads on a leaf.
You May Also Like: Low Porosity Hair Natural Guide
How to Grow Low Porosity Hair?  
Healthy hair is happy hair, or at least that's how the saying should go. The truth is you can't easily expect your hair to start growing if it's damaged from its very core.
Low porosity hair will often be locked in place because it has too little moisture in its hair follicles to activate hair growth. When hair is properly hydrated, nourished, and sturdy, you can expect it to grow like a blossoming flower. But take away the moisture and nutrients and your strands will wither and eventually die out like an uncared-for plant.
The steps to growing your low porosity hair are easier than you think. Here is what you should do to remedy your low porosity and stimulate faster hair growth:
Keep your strands as moisturized as possible
Obviously, moisture is key here. Our entire body is made out of 70% water and without it, we would suffer. Your coils aren't that different.
Since low porosity hair is naturally resistant to water, you need to follow the aforementioned LOC method and use the appropriate products to allow products to penetrate inside your cuticles.
Remember that the more hydrated your hair is, the faster it will grow.
The LOC method, as outlined just above, is applying products step-by-step to offer maximum moisture retainment.
Use this treatment after your shower or while carrying out your hair routine. The QHEMET product line caters greatly to low porosity hair needs so you should definitely consider investing in their LOC category.
Pre-shampooing is a great strategy for moisture retainment before shampooing or soaking your hair. It is also a recommended process so that you don't burn off your strands and snap them into bits when stepping into a hot water shower.
Health and damage protection are the main factors affecting hair growth. The more careful you are with your hair, the faster your hair growth will be.
Healthy hair also comes from a healthy body. If you've been binging on junk food or forgetting your daily exercises, you can't expect your body to treat you with love and care if you've been ignorant to its needs.
Now most of us promise to get started on exercising or improving our diet, but let's be frank here: none of us actually do it in the end. While rethinking your lifestyle choices is better for you in the long run, a faster way of growing your hair length is by taking daily vitamin supplements.
Biotin, in particular, is great for hair growth and you can add a couple of other vitamins (based on your doctor's recommendation) to grow healthy and strong curls quickly.
What are the Best Oils for Low Porosity Hair?
You might have already guessed this: not all oils are suitable for low porosity hair. Since low porosity hair is inherently resistant to any form of moisture or product, oils won't be able to enter your cuticles.
This is why you need oils that are more lightweight than the regular ones. You'll find that some oils such as castor oil have a very dense and sticky texture which is the opposite of what you want for your low porosity hair.
Therefore, the best type of oils for low porosity hair is that which can be easily absorbed and won't weigh down your cuticles.
You may also ask if low porosity hair needs oils at all, and yes, it does. Oiling your strands is the step you need to take after slathering on your leave-in conditioner. This seals in the product inside the cuticles to allow moisture to penetrate deep inside your hair shaft.
You should note that oils in themselves are NOT moisturizers. Oil will not moisturize your hair! At most, it is a sealant and a great add-on to a product's ingredient list.
Here is a list of all the best oils for low porosity hair that you can incorporate into your hair care regimen:
#1: Argan Oil
Exported from Morocco, argan oil boasts a number of vitamins, minerals and is abundant in the essential fatty acids, Omega 3 and Omega 9. This oil is also very light and can be quickly absorbed into the most stubborn of cuticles.
Argan oil is a great remedy for frizzy and unmanageable hair as it improves your hair elasticity and adds a natural shine to your locks. You can use it to style your baby hair or push down flyaways.
Furthermore, argan oil is a natural UV protector and will ensure that your cuticles aren't being fried under the sun. If you're someone who's regularly outdoors, specifically in hot and sunny environments, argan oil is best suited for your natural locks.
#2: Avocado Oil
A great suppliant to seal in moisture and vitamin E, avocado oil will ensure that your hair shaft can properly retain moisture. It is also potent in essential unsaturated fatty acids which helps soften your damaged strands and regain their natural vitality.
Even though avocado oil has a slightly thicker consistency than argan oil, it is still usable on low porosity hair. It can easily penetrate your cuticles and help keep moisture in the medulla without creating a film over your hair follicles.
To effectively use avocado oil, try heating it up before applying it all over your hair. This helps its penetrative ability. It also won't heat up and burn your hair shaft due to avocado oil's high smoking point.
#3: Jojoba Oil
This is a cult favorite for low porosity hair types. Jojoba oil not only maintains high moisturizing properties but also replenishes your strands with its natural hair oil. So if you have particularly limpid hair that's been stripped bare of its natural oil, definitely consider using jojoba oil.
The oil itself is extracted from jojoba plant seeds in North America, and therefore it can be a more cost-effective option, in contrast to avocado oil which many will find to be slightly expensive.
Furthermore, the oil has a composition of fatty acids and It also maintains antibacterial and antioxidant properties that eliminate product residues.
#4: Sweet Almond Oil
Extracted directly from the almond tree, sweet almond oil works wonders for low porosity hair and can be confidently called the most suitable lightweight hair oil for natural women.
The oil has a composition of a variety of vitamins and nutrients ranging from vitamin A, vitamin E, proteins, zinc, and potassium. It also hosts a few acidic properties that are good for moisture retention and lasting hydration for your hair follicles.
If you want to ditch deep conditioning your hair daily (which you probably shouldn't do anyway), sweet almond oil is your deep conditioning savior. It is potent in all the ingredients you need for soft, healthy, and gleaning tresses.
#5: Baobab Oil
If you've noticed from the list of shampoos and conditioners above, baobab oil keeps popping up. This is because baobab oil, although criminally underrated, is the perfect oil for low porosity hair.
The reason baobab works so effectively is because it has all three omega fatty acids, from Omega 3, Omega 6 to Omega 9. Most hair oils do not have such high content of fatty acids, making baobab oil a very unique product indeed.
In addition to the fatty acid contents, baobab oil boasts a variety of vitamins that resolve your hair's vitality. The oil can soothe, nourish and revitalize your hair strands more than any other oil can. So, this is definitely a MUST for your shelf.
#6: Pomegranate Oil
Those delicious red pomegranate seeds are pretty tasty for your hair strands as well as your belly.  Pomegranate oil is extracted from the plump red fruit and harbors many of the fruit's nourishing and juicy benefits for your hair.
The oil is potent in vitamin C, linoleic acid, and punicic acid that aids in stimulating blood flow to your scalp and the roof of your hair shaft. This regenerates your cells to both stimulate hair growth and improve your scalp's natural oil production. Safe to say, this oil really does address the problem at its heart, or should I say scalp.
If you're a victim of dandruff or frequent hair shedding, pomegranate can eliminate those issues alongside other scalp conditions.
#7: Grapeseed Oil
If you're a sufferer of oily scalps with limpid strands that often shed away from your head, grapeseed oil is your saving grace. Extracted from cold-pressed grape seeds, the oil has a very light consistency that is easily absorbed into your strands with no resistance.
It's also non-greasy and acts as a spectacular heat protectant, giving you all the more reason to use it daily. With its completely natural properties and moisture retention ability, grapeseed oil is the cost-effective heat protectant that you've been searching for your flat ironings.
Moreover, if you'd like to avoid having your hair smell of oil, grapeseed can also benefit you in that area. Unlike pomegranate or sweet almond oil where the fragrance is rather strong, grapeseed is a good odorless alternative for your low porosity hair care.
Why Should You Bother with Low Porosity Hair?
You may flaunt a beautiful head of curls now but ignoring the needs of your low porosity hair can be very damaging to your tresses in the future. It is particularly frustrating to deal with when you want to style your natural hair since low porosity makes your hair immune to typical styling products.
Since your cuticles are tightly packed together, no amount of product will be able to enter inside your hair shaft. You'll find that even applying oil can be hard as it will just sit over your hair strands. It's unlikely that even a single molecule will be allowed to penetrate your cuticles, leaving your hair strands dry and unhealthy.
It's the same during showers. Low porosity hair does not absorb water easily and even if you spend an hour or so dampening your hair, it'll only worsen things.
Once your hair is actually wet, you'll have to spend a cumbersome time drying out your strands. The densely packed cuticles in your hair shaft are as equally resistant to letting water out of your hair as it is to let it in.  
Since letting water inside your medulla was the problem, you may think why take so much trouble in drying your strands again.
Well, retaining an excessive amount of moisture inside your medulla without allowing it to evaporate out can make you a potential victim of hygral fatigue.
How to Test if You Have Low Porosity Hair
If you're unsure whether you have low porosity hair, there's a very simple test you can manufacture at your home with no cost at all!
Called the 'Float test', this determines the range of absorbency in your hair. While this test is often very accurate, you may find inconsistent results around some places of your scalp. This is because a few areas of your scalp can react differently, purely cause a few sections of your hair may have more or less porosity over the rest of your tresses. So, you may find a few drier or wetter sports with more defined or looser curl variations.
Now, to conduct the 'Float test' is simple and you do not need to purchase anything that isn't already there in your kitchen.
Here are the following steps for the 'Float test':
If your hair neither falls nor floats completely but rather drifts in the middle of the glass, you have a normal porosity level and needn't worry about excessive or deficient moisture retainment.
Rinse your hair thoroughly so that there's no product slathered on your strands. Make sure to shampoo so that you've got all dirt, grime, and product build-up removed. The most accurate results are received with 100% clean and natural hair.
Fill a glass up with lukewarm water. Make sure the water is neither too hot nor too cold as that will affect the density of your cuticles.
Dry up your hair and take a couple of strands that have shed naturally from your scalp. Put them inside the glass of water and observe whether they float or sink.
Since hair with high porosity is more water-absorbent, the strands will easily sink to the bottom of the glass. However, if the strands remain floating on the surface of the water, you'll know that you have low porosity hair.
So, now that the test has been done and you've learned for certain that you have low porosity hair, what do you do? Most hair products will just sit on top of your hair and not work at all, turning it into a complete waste of money.
But does that mean all hope is lost? Can't you ever style your hair again? Will you wait until every strand withers and shed away from your head? ABSOLUTELY NOT! Low porosity is not an uncommon condition for natural women. This means there are many brands and labels that cater to curly hairs with low porosity. But it's important that you know which product to use and why.
Top 3 Tips for Low Porosity Hair
Final Word on Products for Low Porosity Hair
The Best Way to Take Care of Low Porosity Hair besides using the right products is to Pay Attention!
We all have unique textures and styles in our hair. Our problems and needs are equally diverse.
Low porosity hair might bring you dry and damaged strands but slathering on product after product isn't a helpful tactic. Or at least it's not a sustainable tactic.
The best way to truly take care of your low porosity hair is to focus on what you've been lacking. Your lifestyle and health choices are as important as your haircare routines. Try addressing every facet of your life and see what's the source of harm to both your body and mind.
By assessing our bodies and life choices; and resolving the issues we find, we can retain not only a mane of luscious coils but also stronger physical and mental states.