Having dry hair after finishing your hair care routine is no fun. If you are one of those who experience frizzy hair and dry scalp, chances are you have high porosity hair.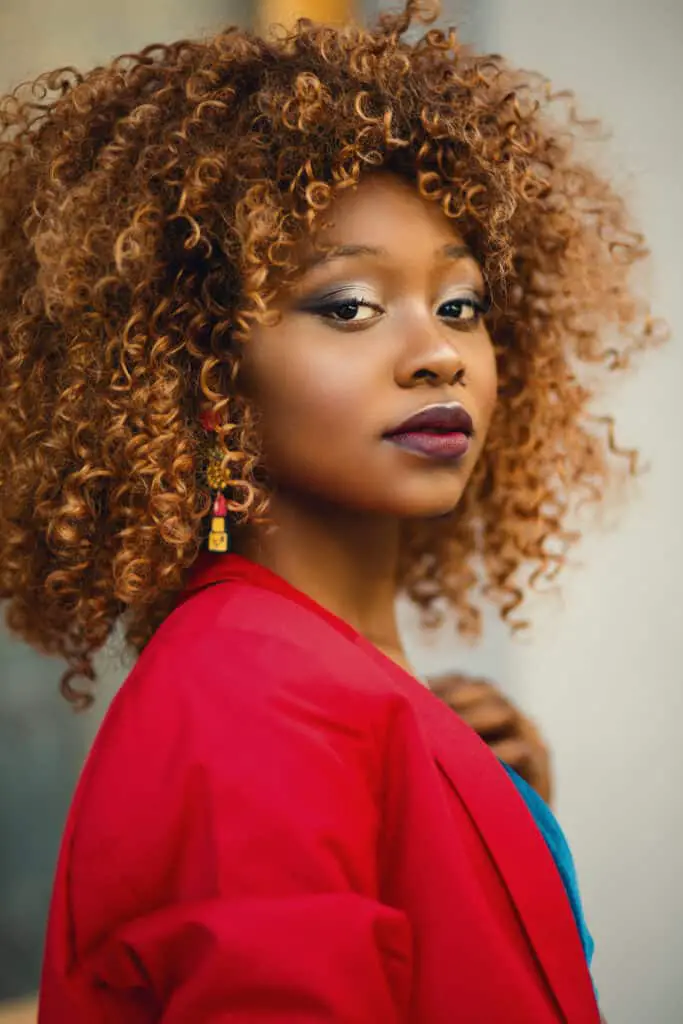 In a nutshell, high porosity hair refers to how easily your hair can soak and retain moisture. This hair type can absorb water/oil easily, but it can fail to retain all the moisture, making your hair rough and dry. 
But worry not, there are numerous products out there that can help. In this article, we go over some of the best products for high porosity hair and why to get them. 
That being said, let's get started. 
*This post may contain affiliate links. If you use these links to buy something we may earn a commission. I only recommmend products that I use, love, or thoroughly researched.
What are the Products You Should Get for Your High-Porosity Hair? 
The myriad of products available on the market for dry and brittle hair can be intimidating, especially when you don't know where to start or which products are must-haves for you to achieve that goddess-like gorgeous hair. 
So here, we have listed some of the essential products you must include in your hair care regimen and give you insight into their benefits. 
Shampoo
First off is the shampoo; before you use any hair care product, you must ensure that you have a great shampoo to start your hair care regimen with. The ideal shampoo-type for high porosity hair should cleanse but not strip your hair of moisture. In addition, the shampoo must have moisturizing elements like argan oil, vitamins, coconut oil, or even cocoa butter for soft, smooth hair.  
It is better to use a sulfate-free shampoo when you have high porosity hair, retaining moisture and keeping your locks looking fresh. Although the 'perfect' shampoo will vary from person to person, it is great to have these key elements to keep the frizz away and leave your hair feeling healthy.  
Deep Conditioner 
Next up is an amazing deep conditioner that hydrates your scalp and promotes hair growth. Including this in your hair wash regimen ensures that your scalp gets all the goodness from elements like Vitamin B and E, film-forming humectants, shea butter, argan oil, etc. 
Deep conditioners bring the natural glimmer to your hair and strengthen the roots, taking care of your overall hair health. 
Leave-in Conditioners 
The leave-in conditioner you use on your hair after you are done with your hair-washing ritual determines how much moisture your scalp will retain. And when you have dry hair, you need to be sure that you get a product that keeps your high porosity hair hydrated. 
Check if they contain cuticle-filling proteins, film-forming humectants, and conditioning fatty alcohols, as these ingredients promote deep moisturizing. 
Styling Products
Getting products that minimize damage to your hair while making it look gorgeous and stylish is something everyone seeks. You should select a styling product that keeps your hair smooth and hydrated until your next wash day. Moreover, when you have high porosity hair, you need to be extra careful with the styling product, as your hair is more vulnerable to heat and treatments. 
You May Also Like:
Here is an overview of our top products for high porosity hair 
1. Camille Rose Sweet Ginger Cleansing Rinse
The sweet ginger cleansing rinse is an absolute customer favorite because of its aromatic smell and natural ingredients that help moisturize your scalp and promote hair growth. This gentle cleanser ensures that your strands are cleaned as it contains surfactants like Cocamidopropyl Betaine and Sodium Cocoyl Isethionates. 
The ginger root in this product naturally cleanses your scalp, and the aniseed oil prevents it from drying. This cleansing rinse also has elements like lemon peel which further makes your hair fresh and bouncy. Also, topping this off is the rating of 4.7 that the Camille Rose cleansing rinse has on Amazon. 
An enlivening hair cleanser that clarifies and moisturizes the scalp and hair
Crafted to cleanse without stripping the hair of moisture, perfect for curly hair
Aniseed Oil relieves dry scalp, providing root to tip moisture while promoting hair growth
Features natural notes of fresh sweet ginger and invigorating lemon peel
How to Enjoy: Drench strands in the shower and apply throughout the hair. For thicker textures, section first before applying. Using fingers or palms and massage, cleansing the hair. Follow up with Camille Rose Algae Renew Deep Conditioning Mask
Key Ingredients 
Infused Ginger Root –
Aniseed Oil 
Cocamidopropyl Betaine and Sodium Cocoyl Isethionates 
Castor Seed Oil 
Essential Fragrances 
2. Redken All Soft Shampoo
Redken is known for putting forward some spectacular hair products used and adored by hair care experts. The All Soft shampoo replenishes your hair and gives it a gorgeous look by retaining moisture. This shampoo by Redken is added with natural ingredients like argan oil to detangle the hair and leave it soft and moisturized after the wash. 
This is also a sustainable hair product that, apart from being an excellent moisturizing shampoo, contains cleansing agents like Sodium, Laureth Sulfate, and Simethicone which gently cleanses your scalp. With a rating of 4.7 by over 12000 hair care enthusiasts worldwide, this is quite a reliable product that you can use to elevate your hair care regime for a lovely and carefree day! 
Redken professional salon shampoo formulated with Argan Oil, a plant oil that softens and moisturizes and conditions hair from root to tip. Leaves hair silky soft with increased manageability, suppleness and shiny look and feeling of hair.
Shampoo for dry hair formulated with Redken's Moisture Complex. Provides conditioning, hydration, moisture, silkiness and healthy look of hair. For fine to medium hair types in need of moisture and nourishment.
Provides hydration, moisture, and softness for all dry hair types looking to condition. Replenishes moisture balance of hair. Conditions 15x more when used as a set with Argan Oil Conditioner as full system.
Conditioning, moisturizing shampoo with argan oil for dry hair. For color-treated hair and non color-treated hair types. Adds moisture and nourishes damage and all dryness.
Color treated hair stays protected, looks vibrant, soft and hydrated. Cleanses, restores, and softens dry, brittle hair, while creating soft and silky hair.
Key Ingredients 
Argan Oil for moisture complex 
Sodium Laureth Sulfate
Dimethicone
Disodium Cocoamphodiacetate 
Added perfume/fragrance 
3. Philip Kingsley Elasticizer Deep-Conditioning Mask
Elasticizer is a derp conditioning pre-shampoo mask that nourishes your hair with essential elements for perfectly defined curls and ever-lasting shine. This deep conditioning hair mask prevents hair breakage and promotes healthy and strong hair growth. 
Moreover, this product contains hydrolyzed elastin, which helps boost your hair shaft's elasticity, preventing dryness, frizz, and split ends. The Philip Kingsley Conditioning mask is formulated with a fine blend of castor oil and glycerine that gives extensive hydration therapy to your hair by locking it with moisture. 
This Elasticizer nourishes your curls with Vitamin E and other essential fatty acids, which help hair look shiny and healthy. It is recommended you keep this conditioner on for at least 15-20 minutes before shampooing. This product has an overall rating of 4.4 stars on Amazon by hundreds of shoppers worldwide. 
RESTORE NATURAL BOUNCE AND SHINE – Restore your hair's natural bounce and shine with the Elasticizer Deep-Conditioning Hair Mask for all hair types. Deeply conditions adding flexibility, bounce, and shine.
VISIBLY IMPROVE YOUR HAIR'S CONDITION – This deeply conditioning treatment is a pre-wash hair repair mask ideal for dry, damaged, colored, or bleached hair. It gives hair a boost of hydration improving elasticity to leave it stronger and more nourished.
HYDRATES DRY HAIR – A hydrating and moisturizing treatment it includes Hydrolyzed Elastin which reduces breakage, by providing stretch and strength, and making hair look shiny and healthy.
IDEAL FOR ALL HAIR TYPES – A perfect treatment for fine, medium, and coarse hair that gets to work after just 3 minutes. It can be used as an overnight conditioner for dry, brittle, or damaged hair.
DEVELOPED BY LEADING TRICHOLOGISTS – Developed with over 60 years of hair and scalp expertise, each product is informed by a thorough understanding of Trichology - the scientific study of the hair and scalp - and is designed to cater to the specific texture, length and level of your hair.
Key Ingredients
Hydrolyzed Elastin
Castor Oil 
Olive Oil 
Glycerine 
4. Camille Rose Algae Renew Deep Conditioner
The Camille Rose deep conditioner is rich in vitamins and protein, which helps promote hair growth by strengthening the scalp, preventing hair breakage, and more. This deep conditioning mask contains about 50-71 percent of the protein from the blue-green algae and amino acids to 'detox' your hair and encourages cell growth.
This augmented hair mask is manufactured using fine cocoa and mango butter blend for excellent moisture effects. This one-of-a-kind softening emulsion for all hair types is infused with algae-derived growth-stimulating biotin. Overall, this is an awesome product with a rating of 4.7 on Amazon. 
Can be used as a pre-shampoo conditioning treatment
Great for natural, colored and chemically treated hair
Stop breakage, strengthen hair fibers and promote growth
Stop breakage, strengthen hair fiber
Key Ingredients
Deionized water
Aloe vera juice
Shea butter
Cocoa butter 
Mango seed butter
Hemp seed oil
Blue-green algae 
5. Mielle Organics Babassu & Mint Deep Conditioner
This intense conditioning mask helps replenish your dry curls while promoting hair growth and better scalp health. The Amazonian palm fruit babassu is the primary ingredient used in this conditioning mask that helps nourish your hair with essential fatty acids and natural oils to maintain overall moisture. 
The Babassu and Mint Deep Conditioner contains a complex mix of amino acids that are derived from wheat and soy, which helps decrease frizz and split ends. This deep mint mask is formulated using oil and other organic ingredients that detangle and seal the moisture content present in your hair. 
Apply this deep conditioner to clean damp hair and leave it in for at least 15 minutes to get cushiony soft hair. The Babassu and Mint Deep Conditioner has a rating of 4.5 and retails for around $13. 
THE BENEFITS OF BABASSU: This unique formula fuses invigorating natural oils with a rich blend of healthy fatty acids from pure South American babassu oil to strengthen hair elasticity and reduce breakage while smoothing ends, frizz, and flyaways
NOURISH HAIR & SCALP: With nutrient-rich oils and complex amino acids from wheat, soy, and other natural ingredients, this moisturizer penetrates and replenishes your follicles and skin for a healthy scalp and soft, bouncy hair
SCULPT & DEFINE: Our intensive blend of proteins and conditioners can be used as a sculpting gel to hydrate and condition hair while adding definition and lasting shine to curls, waves, coils, and chemically-treated styles
SAFE FOR ALL HAIR TYPES: Our versatile Babassu & Mint Deep Conditioner with Protein promotes manageable, radiant hair for all hair types, deeply nourishing types 3A to 4C, color-treated hair, braids, weaves, and both low and high porosity level hair
BY WOMEN FOR WOMEN: Mielle Organics aims to empower women of all hair types and styles with powerful products and gentle, organic ingredients that amplify your natural beauty and are the "root to results" that leave you looking and feeling your best
Key Ingredients
Babassu oil 
Mint 
Amino acid 
Added fragrance
6. Tgin Butter Cream Daily Moisturizer
The ButterCream Daily Moisturizer contains top-quality ingredients to make your hair sleek and shiny. The shea butter in this leave-in conditioner locks in all the moisture content and gives it a natural shine. 
Moreover, this hair care product prevents hair loss and stimulates better hair growth as it contains Vitamin E and coconut oil for deep moisturizing. Applying this thoroughly on your scalp improves blood flow which encourages hair growth, and the cocoa butter makes your hair super shiny. 
The Tgin Daily moisturizer helps smooths the hair's cuticle by providing natural shine and softness without leaving it greasy or heavy. This is also a great style product that you can use to finish your styled hair. This buttercream's moisture sealing and smoothing properties make you appreciate all your curls, kinks, and waves. This conditioner has 4.6 stars on Amazon. 
Maximum hydration for natural hair: get the beautiful hair you desire with our butter cream Daily Moisturizer uses shea butter to lock in moisture from the root to the tip of every strand of hair
Promotes hair growth: This everyday moisturizer has Vitamin E Oil to encourage hair growth while preventing hair loss It does this by enabling better blood flow to the scalp
Improves shine and softness: due to the vitamin E Oil and cocoa butter being used directly on the hair It begins to condition the hair making it more lustrous and stronger than ever
Reduces frizz and fly aways: our butter cream reduces frizz by smoothing the hair's cuticle, adding natural shine and softness without leaving the hair greasy or heavy
Great for styling: can also be used as a setting cream to create soft, smooth and shiny two strand twist and twist-outs
Key Ingredients 
Shea butter 
Coconut oil
Olive fruit oil 
Cocoa seed butter 
Tocopheryl Acetate (Vitamin E)
Panthenol (Pro-vitamin B5) 
7. Kinky-Curly Knot Leave-in Conditioner/Detangler
Kinky Curly Knot Conditioner is a light plant-based deep moisturizing mask that helps remove knots, tangles, and snarls easily. In addition, it helps by smoothing your cuticles, which promotes hair growth and retains moisture. This can also be used to style your hair and detangles the extensions or braids. 
This deep conditioning mask is manufactured using organic ingredients like mango extract, slippery elm, marshmallow root, and more, providing the hair with protein and vitamins and making it stronger.
After you've washed your hair, apply this deep conditioner and use a wide-toothed comb to untangle the knots. If you're using the conditioner as a leave-in, do it in the shower after washing your hair. Rinse well and evenly spread the conditioner to get luscious hair all day around. 
Kinky Curly Knot Today Detangler and Conditioner - 8 oz (Pack of 2)
Organic curl care conditioner
Promotes wavy or curly hair
Helps remove knots, snarls & tangles
 Key Ingredients
Extracts of mango fruit
Slippery Elm 
Root of marshmallow 
Lemongrass 
Cetyl Alcohol
Phenoxyethanol 
Fragrance 
8. L'Oreal Paris Advanced Thermal Smoother Cream
If you are looking for a way to style your curly hair while also protecting your hair from heat, then the L'Oreal Paris Advanced Hairstyle Blow Dry It Thermal Smoother Cream is the one you should consider. 
This light heat protectant cream rapidly smooths and protects your hair. In addition, the fiber lock technology of this emulsion helps minimize dryness by making your hair soft and ready for any hairstyle.
This product adds volume and texture, complimenting all hair types and protecting them from further heat damage. With a rating of 4.5 on Amazon by over 23000 happy customers worldwide, this is a fantastic styling product. 
Thermal Smoother Cream: This lightweight heat protectant cream instantly smoothes and protects, taming frizz with fibralock technology and prepping hair for styling with heat tools
Heat Protection: This formula instantly smoothes and protects from heat, de frizzing with no pulling and no tugging, leaving your hairstyle smooth and full of shine; Suitable for all hair lengths
Create Your Perfect Hairstyle: From classic sprays to the latest styling creams, we provide support for every hairstyle with products specially formulated for straightening, shine, volume, texture and curls
All Things Beauty: Keep your beauty stash stocked with the best; We have a variety of products to help you achieve any look, whether you need eye makeup for a killer cat eye or face makeup for a flawless complexion
L'Oreal Paris Beauty: A leading total beauty care company based in Paris, we offer innovative products and unique expertise from beauty experts in makeup, skin care, hair care, styling and hair color
Key Ingredients
Propylene Glycol 
Peg-40 Hydrogenated Castor Oil 
Isopropyl Myristate
Trideceth-12
Arginine
9. HSI Professional Hair Protector & Conditioner
The HSI professional manufactured this lightweight mist to keep your hair smooth and prevent heat damage; it can protect your hair up to 450°F of heat exposure. Moreover, this conditioner contains antioxidant-rich argan oil, making your hair smooth and luscious. 
This HSI protective conditioner contains an assorted blend of vitamins like A, E, and C to boost the overall health of your hair by repairing frizz, split ends, or hair breakage. 
You can even use this as a leave-in conditioner for more hydration and shine, as this will quickly fix your curly hairs. In addition, you don't have to worry about any hair breakage as this doesn't contain any harmful ingredients like sulfate, parabens, artificial dyes, or phosphate. 
And the best part is you can be rest assured as this great product has a global rating of 4.4 by over 41000 beautiful women out there!. 
EXTREME HAIR PROTECTANT: Protect hair from heat exposure up to 450º F. HSI's argan oil hair heat protectant is a weightless mist to be used before styling with flat irons, blow dryers & curling wands. Style safely and worry free!
LEAVE-IN CONDITIONER: This light thermal protection spray can be also used as a leave in conditioning serum. Get smooth, hydrated, frizz-free hair that's healthier than ever before.
PROUDLY MADE IN THE USA: Ensuring you get a premium quality high grade hair oil Infused with highly concentrated antioxidant-rich argan oil and shine-boosting vitamins. Not tested on animals.
SUITABLE FOR ALL HAIR TYPES: For Natural hair and Human hair extensions.
MILD FORMULA: Sulfate-free, phosphate-free and paraben-free, Color-safe.
PROFESSIONAL SALON LEVEL PROTECTION: Hydrates, detangles, speeds up drying time, boosts shine & creates a nourishing protective barrier between your hair & high heat styling tools.
Packaging may vary, may come in red or white packaging.
Key Ingredients
Highly concentrated antioxidant-rich argan oil 
Shine-boosting vitamins A, B, C, and D 
Protective barrier from heat exposure up to 450°F 
10. Uncle Funky's Daughter Products
I'm a big fan of Uncle Funky's Daughter's products because they are known for their premium ingredients, and based on reviews their products work well on all hair types including low, medium, and high porosity. My favorite products from their line are Extra Form Butter Curl Forming Creme and Supercurl. I use them to re-moisturize the second and third days of my wash and go's.
Bottom Line on High Porosity Hair Products
There you have it! Some of the most in-demand products for high porosity hair are incorporated with all the essentials features, from ensuring nourishment and moisture for your scalp to preventing damage to your gorgeous locks. 
All the recommended products have been thoroughly reviewed and are worth your consideration. 
I hope this article was helpful for you to understand your hair and its needs better.