Curly hair can become frizzy quite quickly if you don't handle it well. This is especially true right after you come out of a shower. Dry your curly hair correctly, and it will look great once it dries.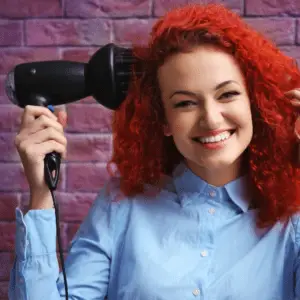 Here are some tips to help you dry properly:
Get the right blow dryer for your hair 
Use blow-dryers on low/medium settings
Only blow-dry 80% of your hair
Don't be afraid to use product
Plop your hair with a cotton t-shirt 
Diffuse your hair when you're in a rush 
Alternate between the diffuser and normal attachment to increase volume
Let your hair air-dry
Add extra product when wet if your hair gets super frizzy 
Stretch out wet hair by braiding it
Clip your roots
Dry on the go in your car
*This post may contain affiliate links. If you use these links to buy something we may earn a commission. I only recommmend products that I use, love, or thoroughly researched.
12 Tips for Drying Curly Hair
We'll explain each of these tips in detail in this article. Moreover, we'll go over reviews for the best hair products and dryers. Keep reading.
1. Get The Right Blow Dryer for Your Hair
Each hair type has to be treated differently because it has its own specific needs. So when drying curly hair, you have to invest in a blow dryer explicitly made for this hair type.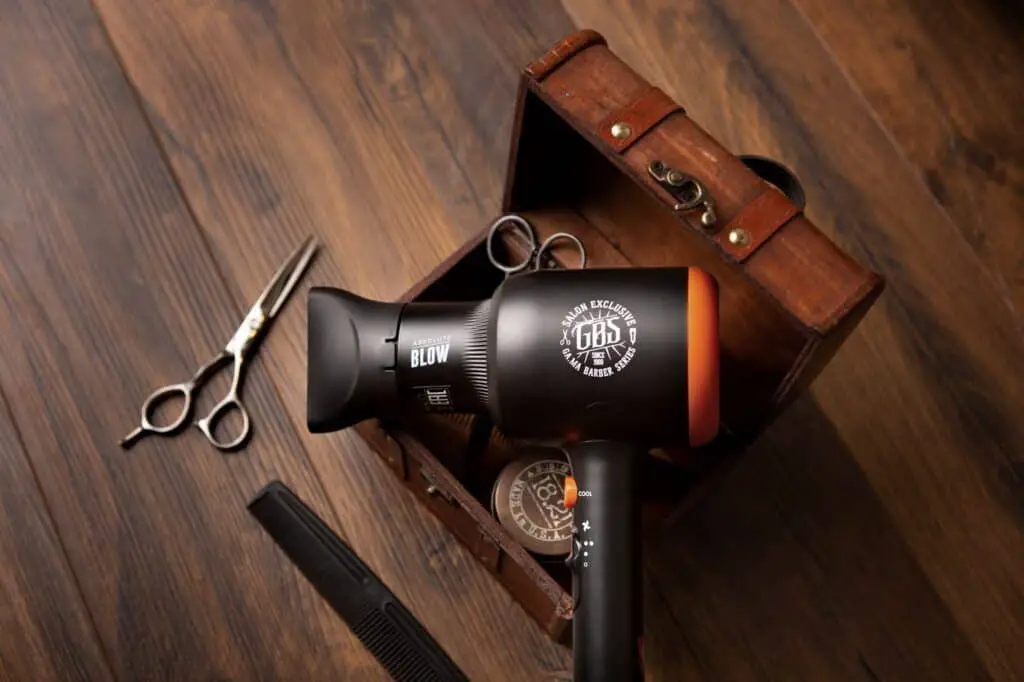 You need a machine that will reduce frizz and static while enhancing shine. The best products for these needs are porcelain, ceramic, or ionic blow dryers. They're made keeping your requirements in mind.
2. Use Blow-Dryers on Low/Medium Settings
Exposing your hair to too much heat will damage it. In the case of curly hair, this damage looks like losing texture, increasing frizz, and extreme hair fall. Using the machines in low or medium settings can avoid these unfortunate side effects of using hair dryers. 
You'll get the job done without ruining your beautiful locs. 
Country Of Origin: China
Item Package Dimension: 4.0" L x 9.5" W x 11.5" H
Item Package Weight: 2.3 lb
Model Number: BNT5548
The BaBylissPRO Nano Titanium Universal Finger Diffuser dryer attachment fits most blow dryers. This diffuser lifts hair to add volume & natural ions help style curls without frizz.
Made with Nano titanium technology, this diffuser attachment helps create beautiful curls without unwanted frizz.
Use this diffuser as an easy way to create soft, frizz-free, bouncy curls on naturally curly or permed hair.
Nano Titanium technology
Diffuser lifts hair while far-infrared heat penetrates hair for quick drying
Natural ions seal the hair's cuticle to help maintain curl without frizz
Universal attachment - Fits most dryers
3. Only Blow-Dry 80% of Your Hair 
Another great tip to avoid breakage and retain texture in curly hair is to only blow-dry 80% of your hair. Let the remaining 20% air dry. This will keep your hair from drying out and won't get super frizzy. 
4. Don't Be Afraid to Use Product 
Curly hair needs more attention than straight hair to look good. In fact, the curlier your hair is, the more product you'll need. This is because curly hair can dry out and turn frizzy easily. 
Adding moisture to your hair with leave-in treatments will soften your hair and make it easier to manage. 
5. Plop Your Hair With A Cotton T-Shirt Instead of A Towel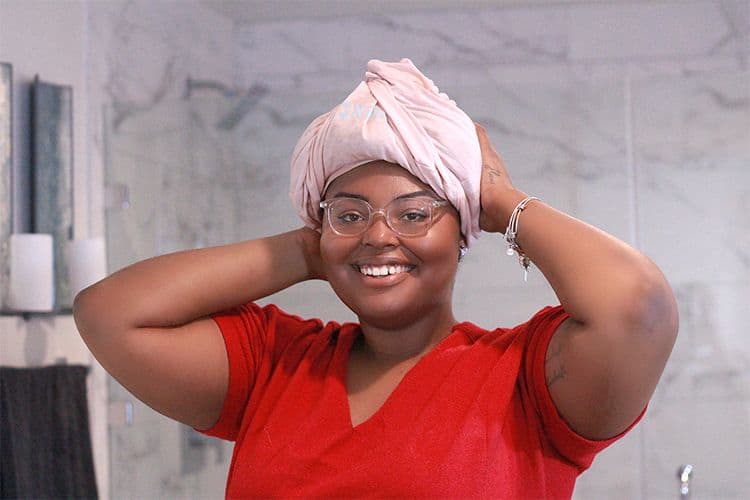 You'll have noticed that wrapping your hair in a towel right after a shower will make your hair quite frizzy. This happens because the towel soaks up almost all the water from your curls and leaves them without any moisture.
Using a cotton t-shirt instead of a towel removes exactly the right amount of water from your hair. As a result, you won't have to deal with dripping or frizzy hair if you use this alternative method to wrap your hair. 
Try this method once or twice, and you'll see a dramatic difference in your post-shower curls. They will have more curl volume and definition without any of the unnecessary frizz. 
SUPER-ABSORBENT MICROFIBER HAIR TOWEL -- Hicober hair towels are made of a super-absorbent microfiber towel, breathable, odorless for quick dry hair.
REDUCE THE HEATED DAMAGE -- Tender microfiber hair towel dry quickly in a healthier way without damaging hair with a hairdryer.
SUITABLE FOR ALL TYPES HAIR -- No matter your hair is curly, straight, dry, oil, dyed or dyed to super-straight. Hair turbans for wet hair meet the needs of your family.
SOFT & ULTRA LIGHTWEIGHT: The Hicober microfiber hair towel much gentler than regular hair towels, all in a tender cuddle with super-light microfiber.
DURABLE AND EASY TO USE DESIGN: Experimental proof that the Hicober hair towel will not deform or shrink after 10000 washes.
How to Wrap Your Hair in A T-Shirt 
If you haven't seen anyone wrap their hair in a t-shirt before, you may be confused about how to do so. It isn't the same as using a towel because shirts have a unique shape. While you could eye-ball it, we prefer methodically folding the shirt around your curls. 
We've found that doing so leads to the best results. 
First, apply styling products to your hair. Use whatever mousses and gels you normally use. Then lay out your t-shirt on a table or bed with the sleeves facing you.
Bend over and plop your hair in the center of the shirt. Fold the back flap of the shirt over your head and bring the sleeves to your forehead. 
Next, gather the sleeves on the back of your head and secure them by making a knot. Finally, wrap the back of your shirt over your head and tuck in any excess cloth. 
Once your hair dries, you can remove the shirt and scrunch your curls. 
You May Also Like:
6. Diffuse Your Hair When in A Rush
Using a hairdryer with a diffuser attachment is the best way to dry your curly hair if you're in a rush. Some dryers come with this attachment, but some don't. So you'll have to check if you need to purchase it separately. 
It will dry your hair quickly without damaging it as a regular blow dryer nozzle would.
Make sure to scrunch your curls toward your roots to avoid making them frizzy. Also, you'll benefit from applying a leave-in conditioner or gel before running the diffuser. It will help shape your curls and make them look extra good.
7. Alternate Between The Diffuser and Normal Attachment to Increase Volume
If you want to dry your hair so that it becomes big and poofy once you're done, you can do so by alternating attachments. Dry around half of your hair with the diffuser. Then switch over to the blow dryer nozzle. 
Use a comb and tease out the areas you want more volume in. 
8. Let Your Hair Air Dry
The best way to dry curly hair is to let it air dry. This method leads to great curl formation with the right products and an appropriate amount of scrunching. 
Avoid touching your hair once you've scrunched it. Running your hands through it or adjusting the partition will lead to unnecessary frizz. You must set your hair when it's wet.
9. Add Extra Product When Wet if Your Hair Gets Frizzy 
If your curly hair always frizzes up when it dries, you can add some additional product to it when it's wet. Add twice the necessary amount and let it set in your hair. You will feel your hair start to harden and become tough as it dries. But don't worry as you can deal with this later. 
Once your hair dries, you can scrunch it to break up the hard cast of the styling product. This way, your hair won't be frizzy. Instead, it will have soft, defined curls. 
10. Stretch Out Wet Hair by Braiding it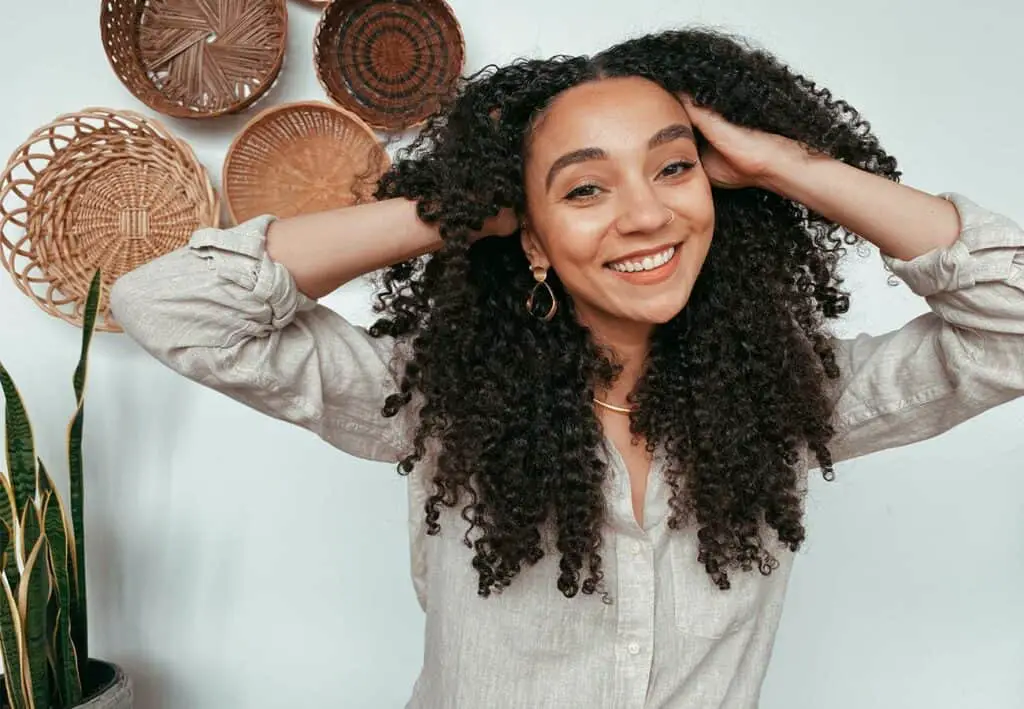 Altering your curl pattern is a great way to switch up a hairstyle. But doing so regularly with a hair curler or straightener can damage your hair. 
Making buns or braids when drying your hair is an excellent way to curl it without exposing it to unnecessary heat. Although you only get a temporary curl pattern with this method, you can add products like hair mousse or gel to lengthen its effects. 
Add styling products while they are wet and comb through your hair with your fingers or a brush. Then make braids, twists, buns, or knots in your hair and leave them there while your hair dries. 
Once your hair has dried, you can open the hairstyle. You'll see some great curls. The curl pattern and volume depend on a variety of factors, including the style you choose, the products you use, and your natural hair texture. 
11. Clip Your Roots
Clipping your roots when your hair is wet can significantly affect how your hair dries. It works especially well for people who have flat hair at the top of their heads and curls at the end. 
This is a super easy technique, and you'll get the hang of it quite quickly. All you need to do is turn your hair over and away from your head and insert clips at the roots. Make sure the mouth of the clip points away from your roots.
Do this a couple of times. Then leave the attachments in for 15 minutes. You'll notice a bouncier wave formation when your hair dries. 
SECURES CURLS: Flat hair is usually caused by liquid that gets trapped in the hair and weighs it down. Roller Jaw Clamps will secure curls while providing a lift at the root, allowing for a bouncier and more luscious curl.
EASY TO USE: Roller Jaw Clamps are extremely easy for anyone to use. Clamps can be used on wet hair for curl maintenance or on dry hair for styling!
SILICONE FREE: Curl Keeper is a series of products created using only high-quality ingredients that are safe and gentle enough for daily use. Our formulas are silicone-free, and our products are never tested on animals.
WHAT CUSTOMERS ARE SAYING: These Roller Clamps are excellent for lifting hair for volume! Use a styling mousse or light amount of favorite hair styler before applying the clamps. - Satisfied Customer (July 2019)
FOR BEST RESULTS: Try pairing Curl Keeper's Roller Jaw Clamps with Curl Keeper's Flexy Brush. The Flexy Brush is designed especially for curly tresses and detangles knots painlessly.
12. Dry On The Go in Your Car
This next drying method is great for someone who has no time to dry their hair. If you can not spare the time for a diffuser or product, simply get in your car and turn on an AC or heater, depending on the weather. 
Close all the windows and create a hooded environment. Some people have found that this technique dries their hair perfectly. You can experiment a couple of times to figure out what temperature suits you best. 
If you have low porosity waves, you can combine this with a diffuser to increase volume drastically. Even if you just clip your roots and create a closed environment when in a car, you'll dry your hair quickly and properly. 
Final Thoughts
Drying curly hair is an art form, and every curly-haired person has their own favorite medium. Getting the best look depends on you figuring out what works best for you. Try everything from a diffuser to your car's AC and clips till you find your favorite. 
Video on How to Dry Curly Hair